My niece recently moved into her first apartment and she is seriously missing her dog (who has stayed at home with my sister and her husband). So for a Christmas present, I decided to make a 4-piece canvas collage of her dog, Boomer for her.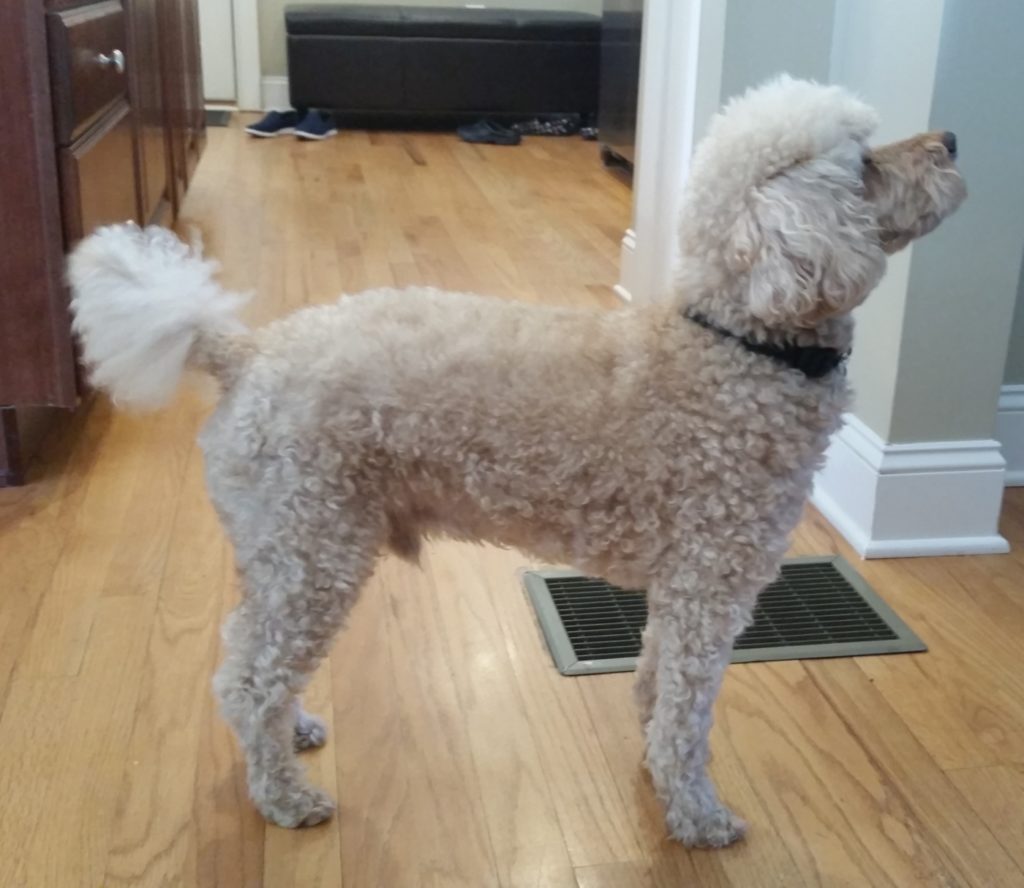 I started with a full profile picture of Boomer where he was looking up and alert. Then I cropped away the excess before uploading the picture to BlockPosters.com (my first step-by-step post of how to create easy silhouette wall art is HERE). I love how easy this program makes creating large format stencils and masks from pictures using a regular printer and standard 11 x 8.5″ paper.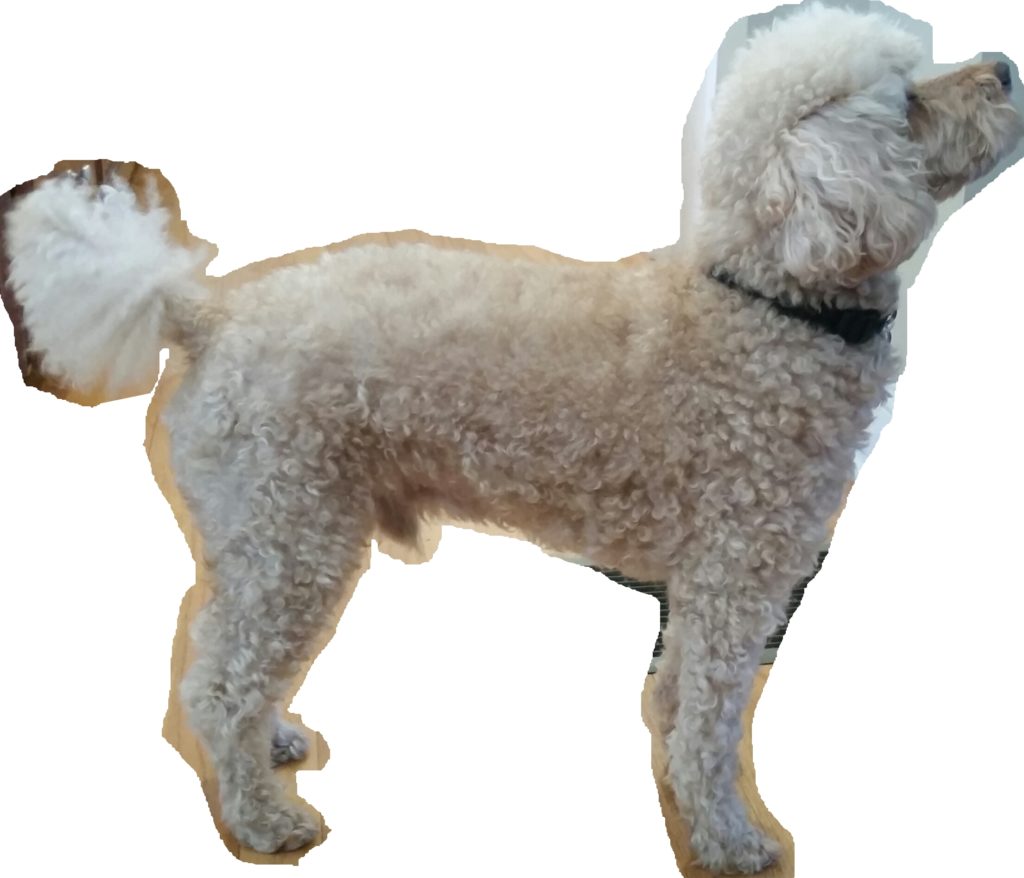 Then I took my time and carefully fussy cut out each part of the composite picture just around the image of Boomer with my favorite Fiskars Spring Loaded Scissors. I simplified and rounded some of the scraggly parts of his tail and front left leg which detracted from the clean and simple silhouette.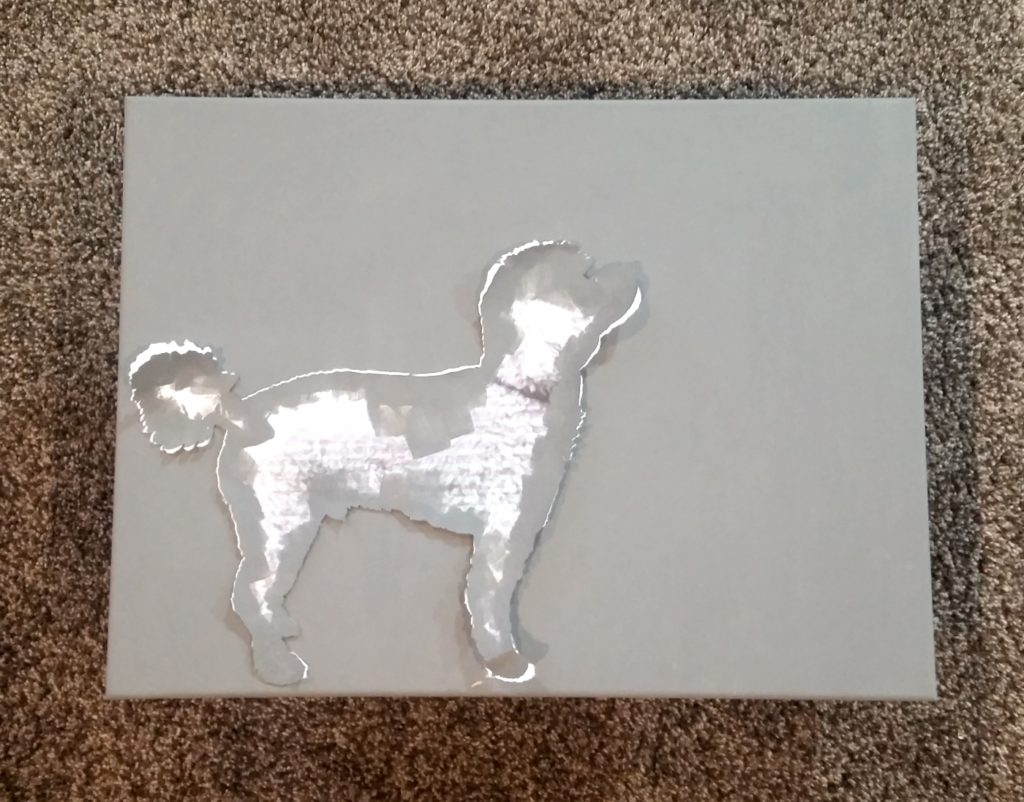 Then I positioned it on the 18″ x 24″ canvas that I had prepped with a coat of Liquitex white gesso. One of the things I learned from my last attempt at this type of color-blocking acrylic painting is that for certain dark colors like red and blue, most acrylic paint doesn't have enough pigment to give solid coverage even with 3-4 coats! After a bit of online research, what I found was that an undercoating of grey really helps achieve a deep saturated red or blue. So I applied 2 coats (letting the first coat dry a bit before adding the second) of a dark grey (I used an inexpensive Craftsmart that I had in my stash) around the Boomer mask first.
I removed my mask carefully then and let the canvas and the mask fully dry. Since the mask was just printed on copy paper, it tore in a few places, but I repaired those with plain tape and the mask was ready to go again.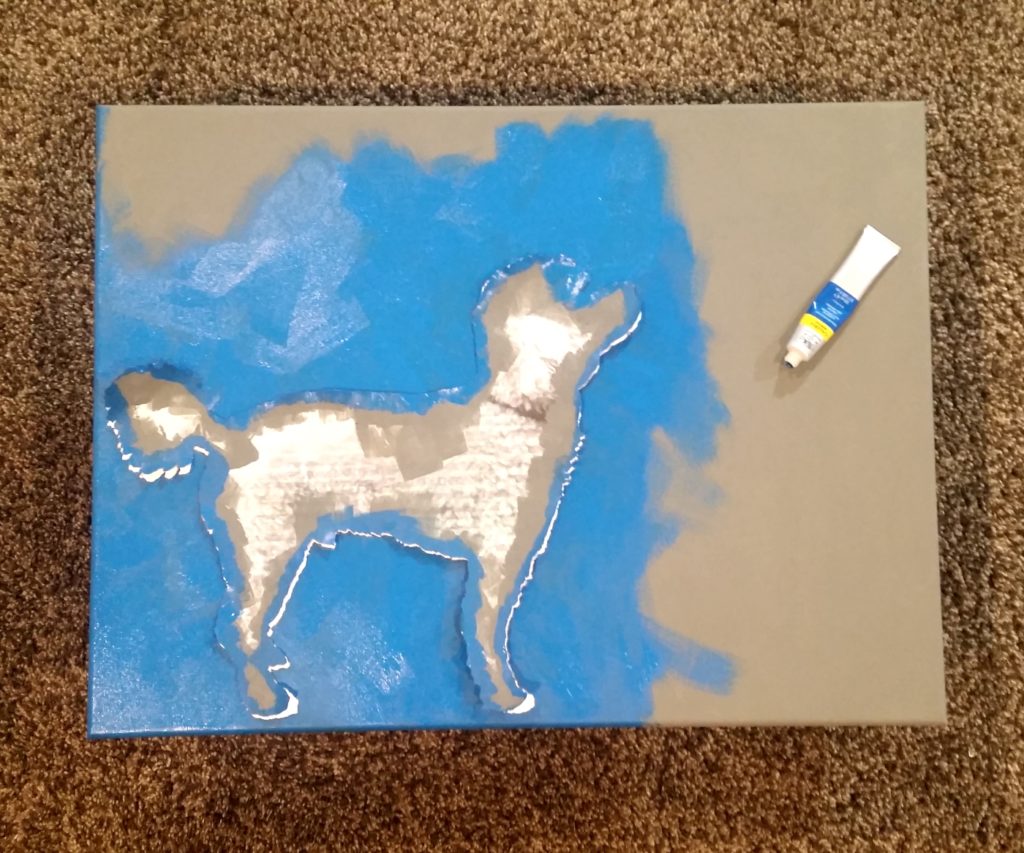 I thought about ironing the mask so that the curled up edges wouldn't pose a problem for re-use with the blue paint, but I didn't want to risk ruining my iron so I decided to just take my time and hold down the edges of the mask as I proceeded to add two coats of Winsor & Newton Cerulean Blue.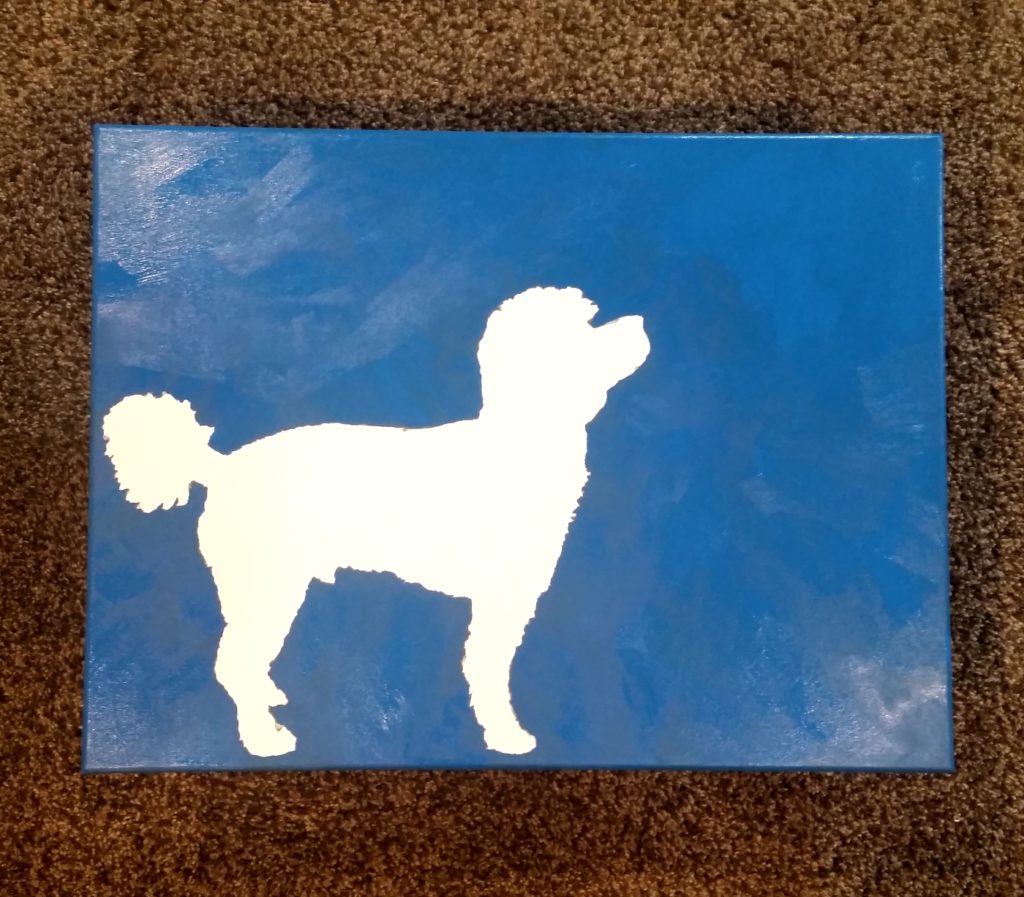 As you can see, there were a few areas that the masking of the the grey and the blue paints didn't line up perfectly and a couple of areas where the paint seeped under the mask altogether, but these were all things I could fix with a detailed 6 Silver Black Velvet Paint Brush and some Winsor & Newton Titanium White.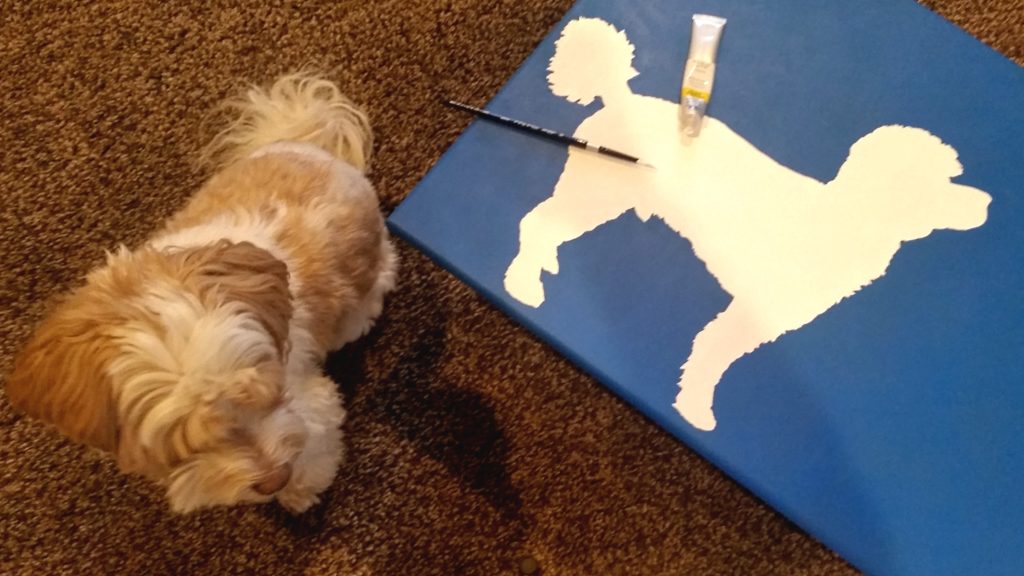 Since I knew my niece really wanted a large scale piece but was going to be carrying this present back to her new apartment via carry-on baggage after the winter holidays, I decided to add 3 smaller solid color-block canvases that she could attach to the back of the main silhouette canvas in colors that would coordinate with her apartment decor (I'm going to be sending her off with a small bottle of E6000 so that she can attach the canvases together once she gets home). For the mustard yellow canvas, I mixed Winsor & Newton Titanium White, Yellow Ochre and Lemon Yellow. For the black canvas, I used some old black acrylic paint that had unfortunately congealed so after it had dried, I sanded down the bumps and layered an inexpensive Apple Barrel Gloss Black paint that surprisingly gave super coverage and shine. For the silver canvas, I used a DecoArt Elegant Finish Metallic Shimmering Silver Paint that went on incredibly smoothly and layered beautifully (I did 3 coats of this to make sure I got comparable thick coverage as the other canvases but I may have been able to get away with 2 — that's how great this metallic paint is!).
The following is a video share of this project (Bandito photo bombing: he wants to be near me so much it's really hard to get pictures of larger pieces, especially if I'm working on the floor like I do for my painting LOL):
Disclosure: Many of the supplies I've used for today's project are linked. Some may be affiliate links, which means if you make a purchase I receive a small commission at no extra cost to you. I truly appreciate your support toward the costs of running this blog!
This art piece is being entered into the following challenges:
Crafty Gals Corner Anything Goes Challenge
Simon Says Stamp Monday Christmas/Winter Holidays Challenge
Simon Says Stamp Wednesday Gift It Challenge
Lil Patch of Crafty Friends Anything Goes Challenge
Word Art Wednesday Anything Goes Challenge
Creatalicious Anything Goes with Optional Flourishes Challenge
Through the Craft Room Door Anything Goes Challenge
Crafts Galore Encore Anything Goes Challenge
613 Avenue Create Anything Goes with Optional Christmas/Winter Challenge
Not Just Cards Anything Goes Challenge