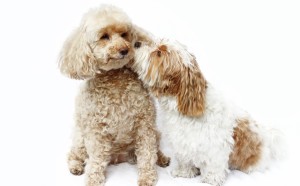 I am an avid part-time crafter who absolutely loves my dogs, Biscuit and Bandito. They are often featured in my craft projects, and they can usually be found at my side whenever I am crafting.
I turned to crafting as a way to engage in something that I enjoy, joining Youtube in the fall of 2013 on a whim (because I wanted to comment on a video). Since then, I have been embraced by the crafting community, that amazingly spans the whole world. Now I enjoy every minute I can spare to this wonderful activity.
I don't limit myself to one type or style of crafting. That is, while my first love is drawing (as you might guess from all my digis), I also enjoy scrapbooking, card making, altering items, water coloring, painting, and art journaling.  There are no limits, and I find that the more things I try, the more I want to try!  After all, what's the point if we don't enjoy the process? Crafting surprisingly helps me relax and focus at the same time, which I think also helps my health.
You can also find me on
YouTube: https://www.youtube.com/user/KraftyPaws
Instagram: https://www.instagram.com/kristina_craftypaws/
If you are a company interested in having me review a craft product, please contact me at: [email protected]
Design Teams:
Current DT of Diemond Dies
Guest DT member for Maymay Made It – Aug thru Oct 2017
Guest DT of MarkerPOP – Jan 2017 and April 2017
Guest DT member for The Greeting Farm May and June 2016
Guest DT member for Flairbyme.com June 2016
DT member for HappyCreating – Oct thru Nov 2015
Guest DT member for MarkerPOP – Sept 2015
Guest DT member for Through The Craft Room Door – Sept 2015
DT member of Not2ShabbyShop – February thru April 2015
Guest DT member of MelsCraftBoutique – Oct 2014 thru Feb 2015
Guest DT member for Little Blue Button Stamps – Jan 2015
DT member for Wicked Designs by Brenda
Awards (more recent listed on main page sidebar):
613 Avenue Create Top Rocker 2017: https://www.craftypaws.us/spring-fantasy-wreath/
Creatalicious Anything Goes with Flowers April 2017: http://creataliciouschallenges.blogspot.de/2017/05/winner-top-3-challenge-112.html
Where Creativity Meets C9 One Layer April 2017: http://www.wherecreativitymeetsc9.com/challenge-8-winners/
Through the Craft Room Door April 2017: http://ttcrd.blogspot.com/2017/04/winner-and-top-3-picks-for-week-of_26.html
Crafty Purple Frog Lovely Ladies March 2017: http://craftypurplefrog.blogspot.co.uk/2017/04/time-to-celebrate-little-people.html
Tiddly Inks Animal Magic March 2017: http://tiddlyinkschallenge.blogspot.com/2017/04/challenge-200-road-trip.html
Addicted to Stamps and More Holiday March 2017: http://addictedtostamps-challenge.blogspot.de/2017/03/winners-challenge-233.html
Crafty Purple Frog Love March 2017: http://craftypurplefrog.blogspot.co.uk/2017/03/thank-you-so-much-to-everyone-that-took.html
Creatalicious Add Hearts Feb 2017: http://creataliciouschallenges.blogspot.de/2017/03/winner-top-3-challenge-108-109.html
Addicted to Stamps and More Holiday Feb 2017: http://addictedtostamps-challenge.blogspot.de/2017/02/winners-challenge-228-and-229.html
Papercrafters Corner Inspiration Jan 2017: http://papercrafterscorner.com/blog/papercrafting-challenge-wk-168-entries/
MarkerPOP Twinkle Twinkle Jan 2017: http://blog.markerpop.com/2017/02/06/challenge-112-top-picks/
613 Avenue Create Totally Technical Jan 2017: http://avenue613.blogspot.com/2017/02/challenge-194-anything-goes-optional.html
Paper Sweeties Inspiration Dec 2016: https://papersweeties.com/blog/paper-sweeties-inspiration-challenge-january-2017/
613 Avenue Create Top Rocker Dec 2016: http://lilpatchofcraftyfriends.blogspot.com/2016/12/lpocf-46-winners-top-3.html
Lil Patch of Crafty Friends Dec 2016: http://lilpatchofcraftyfriends.blogspot.com/2016/12/lpocf-46-winners-top-3.html
Creatalicious Nov 2016: http://creataliciouschallenges.blogspot.de/2016/12/winner-top-3-challenge-103-104-re-draw.html
Lawnscaping Honorable Mention Nov 2016: http://lawnscaping.blogspot.com/2016/11/winners-cas-queen-of-green-top-mow-it.html
MarkerPOP Sketch Nov 2016: http://blog.markerpop.com/2016/11/19/challenge-107-top-pick/
Addicted to Stamps and More Holiday Nov 2016: http://addictedtostamps-challenge.blogspot.de/2016/11/winners-challenge-218-and-219.html
Just Keep On Creating Nov 2016: http://justkeeponcreating.blogspot.com/2017/09/random-winner-and-featured-artists-for.html
Simon Says Stamp Monday Autumn Oct 2016: http://www.simonsaysstampblog.com/mondaychallenge/?p=7590
Lawnscaping Challenge Color Scheme Oct 2016: http://lawnscaping.blogspot.com/2016/10/winners-color-scheme-queen-of-green-top.html
Crafty Gals Corner Oct 2016: http://craftygalscornerchallenges.blogspot.com/2016/11/challenge-96-anything-but-card.html
613 Avenue Create Oct 2016: http://avenue613.blogspot.com/p/challenge-190-winners.html
Virginia's View Focal Point Oct 2016: http://virginiasviewchallenge.blogspot.com/2016/10/spotlight-feature.html
Crafty Gals Corner CAS It Oct 2016: http://craftygalscornerchallenges.blogspot.com/2016/10/challenge-94-be-fa-boo-lous.html
Crafty Gals Corner Oct 2016: https://craftygalscornerchallenges.blogspot.com/2016/10/happy-wednesday-creative-friends.html
Simon Says Stamp Monday Inspired by Music Sept 2016: http://www.simonsaysstampblog.com/mondaychallenge/?p=7228
Just Keep on Creating Sept 2016: http://justkeeponcreating.blogspot.com/2016/10/random-winner-and-featured-artists-for.html
Essentials by Ellen PIN-sights Challenge Aug 2016: http://ellenhutson.typepad.com/the_classroom_new/2016/09/essentials-by-ellen-september-mix-it-up-challenge-with-concord-9th.html
Through the Craft Room Door Aug 2016: http://ttcrd.blogspot.com/2016/08/winner-and-top-3-picks-for-week-of_31.html
MarkerPOP Embossing Aug 2016: http://blog.markerpop.com/2016/08/21/challenge-101-top-picks/
Addicted to Stamps Aug 2016: http://addictedtostamps-challenge.blogspot.de/2016/08/winners-206-anything-goes.html
613 Avenue Create Top Rocker Aug 2016: http://avenue613.blogspot.com/p/weekly-top-5.html
Creatalicious CAS July 2016: http://creataliciouschallenges.blogspot.de/2016/07/winner-top-3-challenge-94-95.html
CAS-ual Fridays Tic Tac Toe July 2016: http://cas-ualfridays.blogspot.com/2016/07/happy-hour-for-cfc152.html
MarkerPOP! Die Cuts June 2016: http://blog.markerpop.com/2016/07/24/challenge-99-winners/
Through the Craft Room Door June 2016: http://ttcrd.blogspot.com/2016/06/winner-and-top-3-picks-for-week-of-june.html
Fab 'n' Funky Enchanted I'm Sure June 2016: http://fabnfunkychallenges.blogspot.com/2016/06/winners-307-enchanted-im-sure.html
Crafts Galore Encore May 2016: http://cardsgalorechallenges.blogspot.com/p/winners.html
SanDee & Amelia's Steampunk April 2016: http://sandee-and-amelie.blogspot.com/2016/05/top-5-and-prize-winners-for-april.html
Card Mania Spring April 2016: http://cardmaniachallenges.blogspot.com/2016/04/cmc79-winners-and-top3.html
CASology Sprouts April 2016: http://casology.blogspot.com/2016/04/week-192-weekly-winners.html
Fab 'n' Funky Spots and Stripes March 2016: http://fabnfunkychallenges.blogspot.com/2016/03/winner-top-3-challenge-296-spots-and.html
Crafty Gals Corner All About Girls March 2016: http://craftygalscornerchallenges.blogspot.com/2016/03/challenge-63-show-me-green.html
613 Avenue Create March 2016: http://avenue613.blogspot.com/2016/03/challenge-166-anything-goes-woptional.html
Simon Says Stamp Monday Inspired by a Song Feb 2016: http://www.simonsaysstampblog.com/mondaychallenge/?p=4878
Word Art Wednesday Feb 2016: http://wordartwednesday.blogspot.com/2016/03/challenge-221-anything-goes-two-week.html
Card Mania Add Some Red Feb 2016: http://cardmaniachallenges.blogspot.com/2016/02/cmc77-winners-and-top3.html
Craft Your Passion Feb 2016: http://craftyourpassionchallenges.blogspot.com/2016/02/winner-top-3-299.html
613 Avenue Create Birthday Jan 2016: http://avenue613.blogspot.com/2016/01/challenge-159-anything-goes-woptional.html
MarkerPOP Valentines Jan 2016 (double winner): http://blog.markerpop.com/2016/01/10/challenge-85-winners/#comment-64489
613 Avenue Create Jan 2016: http://avenue613.blogspot.com/2016/01/challenge-157-anything-goes-woptional.html
Through the Craft Room Door Dec 2015: http://ttcrd.blogspot.com/2015/12/winner-and-top-3-picks-for-week-of_23.html
Art Impressions Go For A Spin Oct 2015: http://artimpressionsstamps.blogspot.com/2015/10/challenge-171-use-water-based-inks.html
The Shabby Tea Room BOO-rific Oct 2015: http://theshabbytearoom.blogspot.com/2015/10/week-261-boo-rific-winners.html
Art Impressions Shake It Off Oct 2015: http://artimpressionsstamps.blogspot.com/2015/10/AiDTReunionBlogHop.html
The Shabby Tea Room Twirls and Swirls Sept 2015: http://theshabbytearoom.blogspot.com/2015/10/week-260-swirls-and-twirls-winners.html
Through the Craft Room Door Sept 2015: http://ttcrd.blogspot.com/2015/09/winner-and-top-3-picks-for-sept-8-sept.html
Oddball Art Fall Is In the Air Aug 2015: http://oddballstamps.blogspot.ca/2015/09/fall-is-in-air-challenge.html
MarkerPOP Aug 2015: http://blog.markerpop.com/2015/09/06/challenge-76-winners/
Through the Craft Room Door Aug 2015: http://ttcrd.blogspot.com/2015/08/winner-top-3-picks-for-week-of-august_26.html
Paper Crafters Corner Summer Aug 2015: http://papercrafterscorner.com/blog/papercrafting-inspiration-magazine-mondays-week-113-entries-winner/
Card Mania July 2015: http://cardmaniachallenges.blogspot.com/2015/07/cmc70-winners-and-top3.html
Challenge Up Your Life Masks July 2015: http://challengeupyourlife.blogspot.de/2015/07/challenge-19-winner-top3.html
Through the Craft Room Door July 2015: http://ttcrd.blogspot.com/2015/07/winner-top-3-picks-for-week-of-july-14.html
SSS Monday Summer July 2015: http://www.simonsaysstampblog.com/mondaychallenge/?p=2908
SSS Monday Stamp & Mist July 2015: http://www.simonsaysstampblog.com/mondaychallenge/?p=2829
613 Ave Create Pearl and Rose June 2015: http://avenue613.blogspot.com/2015/06/challenge-130-anything-goes-woptional.html
MarkerPOP June 2015: http://blog.markerpop.com/2015/06/14/challenge-70-winners/
Naughty or Nice May 2015: Pawsome Card http://naughtyornicechallenge.blogspot.com/2015/07/winner-time.html
Oddball Art Stamp Company, Feb 2015: Envelope Cards http://www.oddballstamps.blogspot.com/2015/03/new-challenge-for-cause.html
Challenge Up Your Life, Dec 2014: Christmas without Christmas stamps – December Daily Doggy Treats
Punk You Girl, Oct 2014: Steampunk Scarlett Tag https://www.craftypaws.us/steampunk-scarlett-free-digi-thanks-for-the-steampunk-nomination/
   ********************
The following are a couple videos in which I share a little more about me: