I finished my first diamond painting from NewFrog.com, and it was LOVED by my brother and sister-in-law! The image was of a cute little cream colored pup (here is the LINK to this puppy kit), and the minute I saw it I knew I wanted to create this for them because it looked so much like their Havapoo (combination Havanese and Poodle), Cookie.
This is all brand new to me so I thought I'd share some tips and tricks that made this totally enjoyable and pretty fast (I did the whole picture in 1 evening). First, I used blue painters tape to affix it to a portable wooden easel that I had from my drawing class days. Securing it this way, kept it stable while also allowing me to carry it to different spots around the house easily. Second, I used more painters tape to keep each package of drills (that's what the little "diamond" pieces are called) closed after opening them. Some folks complain that these little plastic baggies are very fragile and can tear making a mess of drills, but I found these from NewFrog fairly strong (some folks transfer them to mini ziplock bags to avoid the possibility of drill spills). I also labeled each using a Sharpie marker on the blue tape to make each baggie easy to distinguish from the next.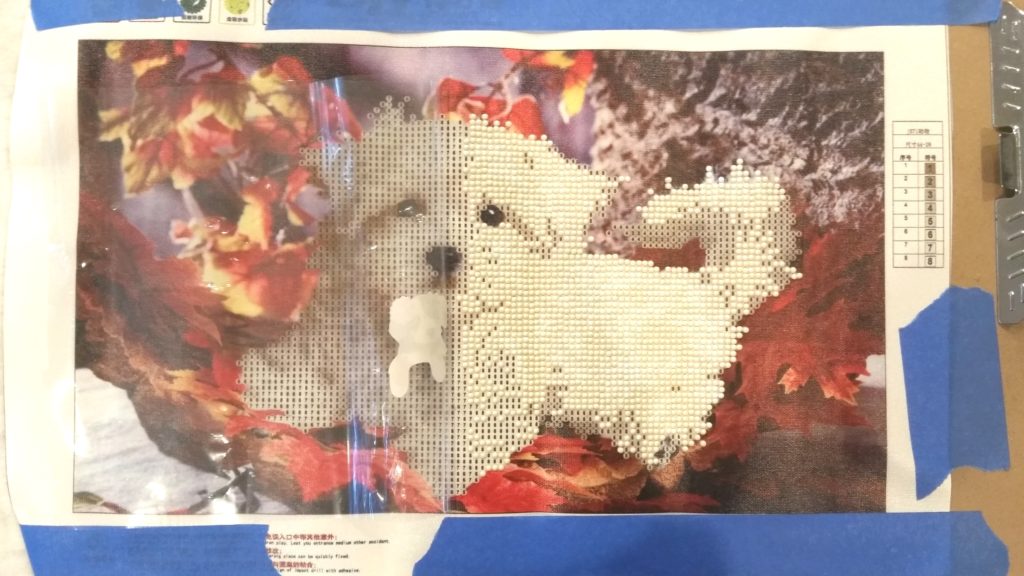 As I also had 2 other diamond painting kits, I used the 2 additional green trays to lay out up to three colors of drills at the same time. Because the color variations on this picture were pretty well segmented to just a few colors in each area, this made working on each area before moving onto the next area easy. Following a tip I learned from Shirley (YT: shirlscraftyworld), I also put a little sticker on top of the release paper so I could tell the front and back of the release paper and keep my canvas free from lint or debris. Lastly, I found that having a little piece of a Swiffer duster sheet or an anti-static bag (used to prep surfaces for heat embossing), was helpful for avoiding drill-to-tray cling.
BTW, because this diamond painting was not an image that was designed to be entirely covered with drills, I found that the flat eyes and nose did not stand up to the drill-covered puppy. To remedy this, I added black glazing with a Sakura Black Glaze Pen and highlights with a Uniball Signo White Gel Pen, and it came out much better. Anyway, I hope you found these diamond painting tips helpful. I had so much fun with this, I can't wait to start my next one!
Disclosure: Many of the supplies I've used for today's project are linked. Some may be affiliate links, which means if you make a purchase I receive a small commission at no extra cost to you. I truly appreciate your support toward the costs of running this blog!
This diamond painting is being entered into the following challenges:
Simon Says Stamp Wednesday Anything Goes Challenge
Word Art Wednesday Anything Goes Challenge
Just Keep on Creating Anything Goes Challenge
Through the Craft Room Door Anything Goes Challenge
Crafts Galore Encore Anything Goes Challenge
Catch the Bug Anything Goes Challenge
Crafter's Castle Anything Goes with Optaional The Holidays Challenge