I wanted to circle back with you all about the winner of my custom jewelry giveaway (it was a simple thank you giveaway for my YouTube subscribers). It turned out that the randomly selected winner, DawnMarie Stephan, wanted a piece featuring her 18 year old dog, Ginger (with whom she thought they would not have much more time), and her daughter who had grown up her whole life with Ginger. I was so honored to be given this project, and I couldn't imagine a better feature for custom jewelry.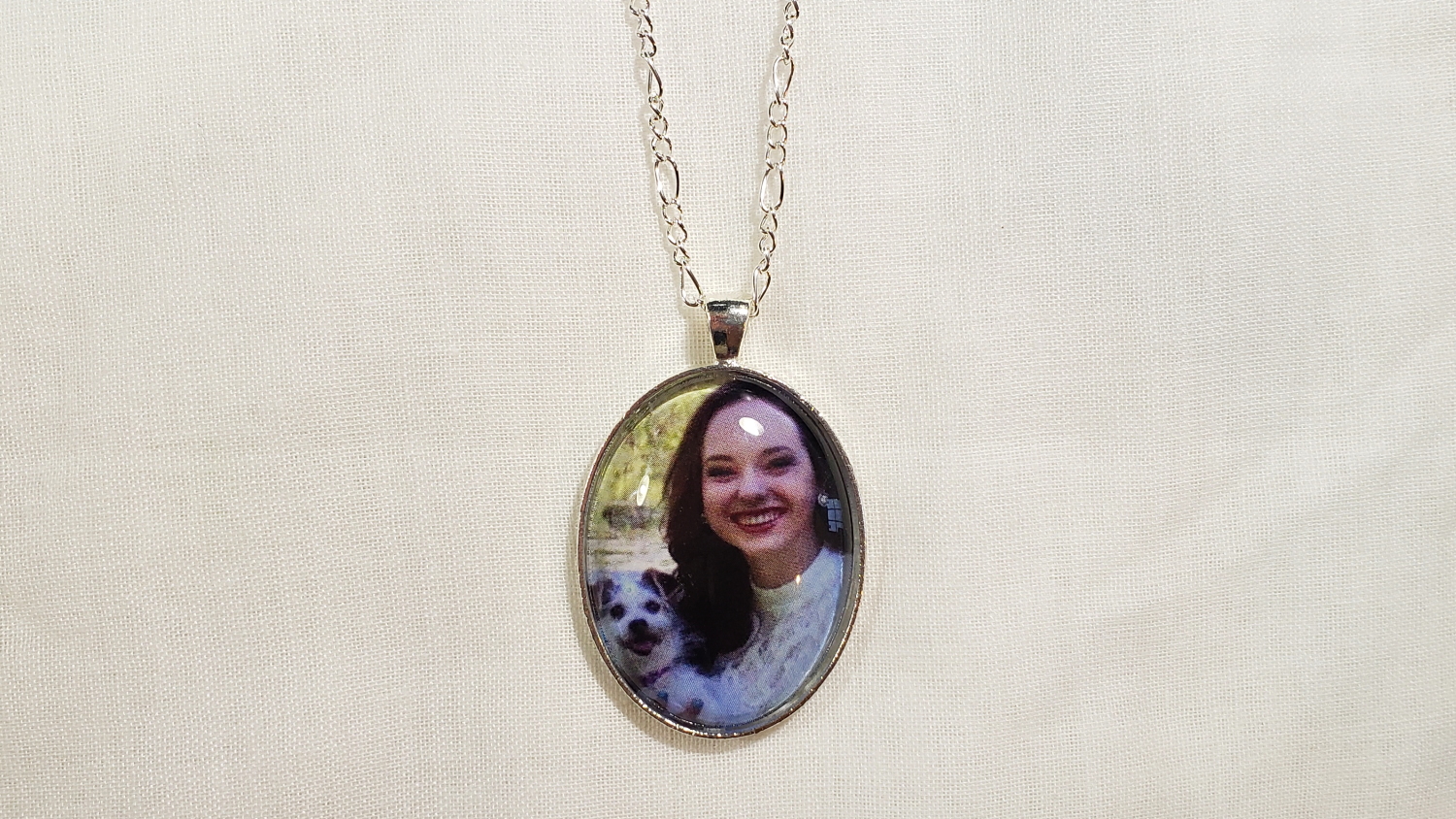 I actually decided to make three pieces for DawnMarie. A bracelet (pictured above) using the Craft Fantastic Faux Leather Bracelet Kit, a Large Oval Pendant Necklace, and a smaller Dew Drop Pendant Neclace. I figured she and her daughter could both enjoy the pieces and remember with fondness their summer with Ginger.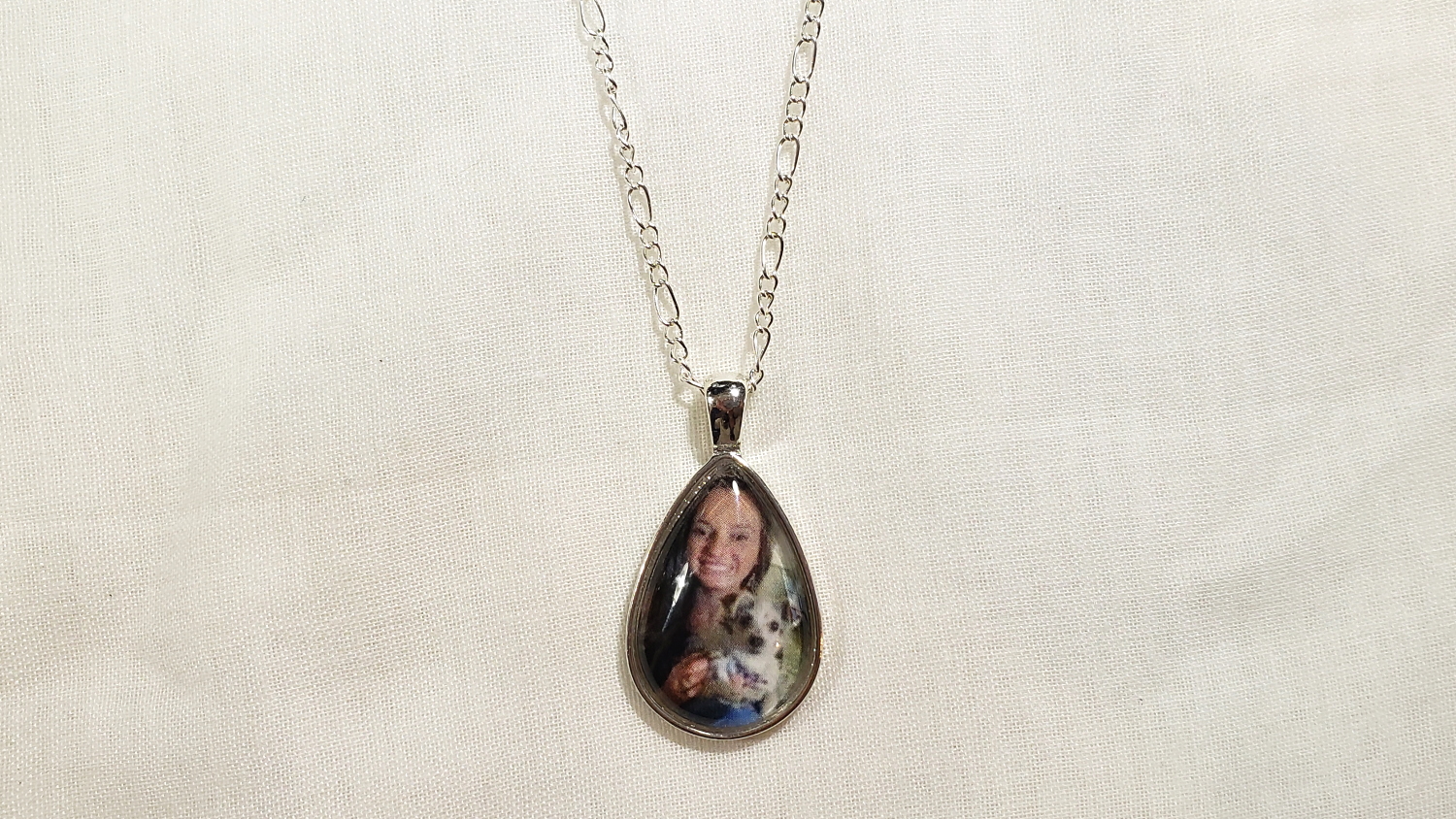 I then got a commission from a friend who loves her Chanel bags. She wanted a bracelet somehow featuring Chanel. I first got a list of her favorite Chanel bags. Then I googled images of them. I cleaned up/simplified the images and then shrunk them down for laser printing at FedEx Kinko's. Luckily with 5 bags in her collection, it was the perfect length to create a completely custom Chanel bracelet (although I don't know what she'll do if she gets another Chanel bag — LOL) using the Craft Fantastic Medium Round Link Silver Trays. I connected them all with jump rings and finished them with a big lobster clasp and large ring for the closure.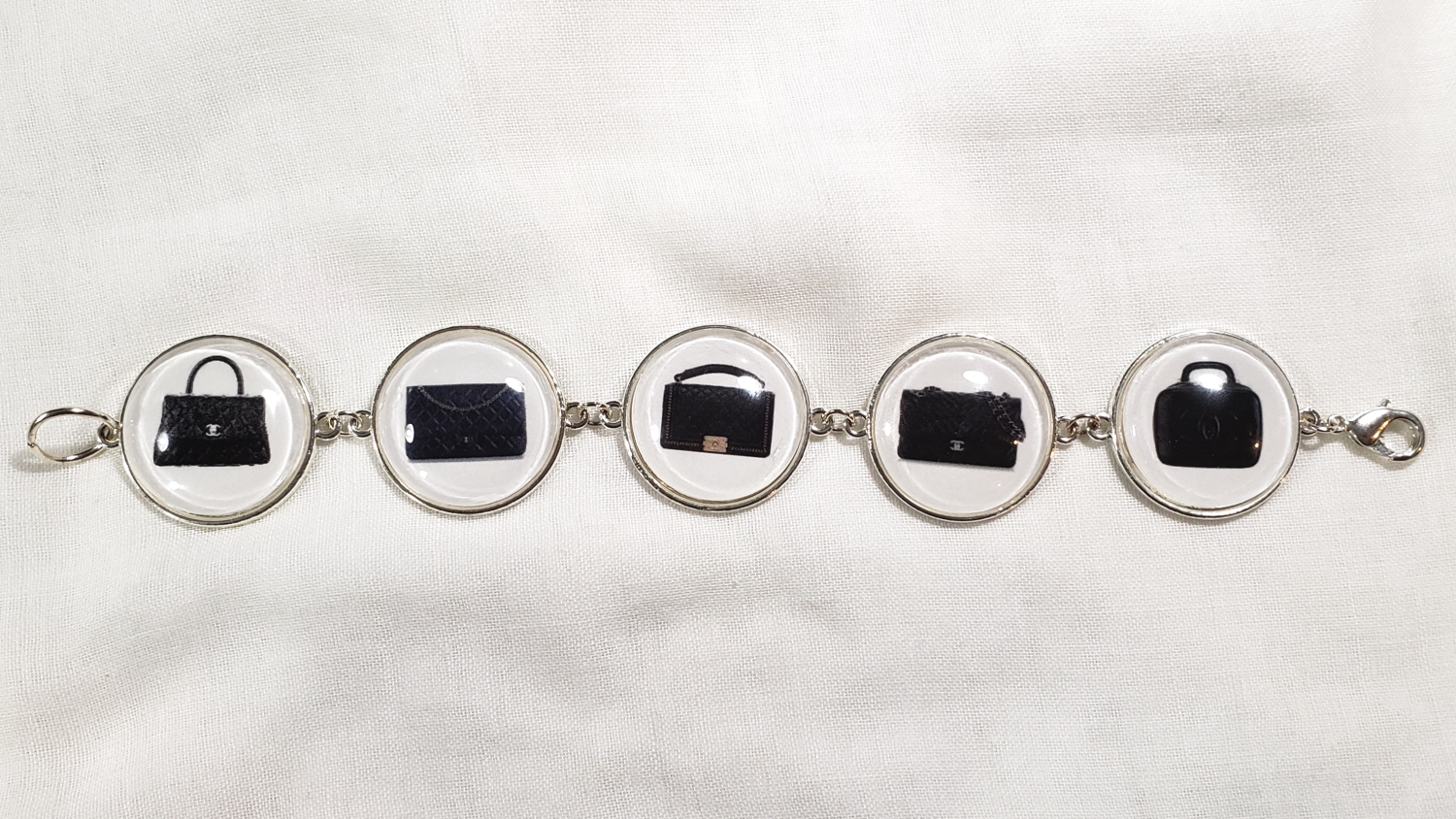 I thought the Chanel bag bracelet came out looking a bit "homemade" with just the bags on a white background. Somehow it reminded me of an old-school clip art project. So I decided to add a second bracelet so that she could stack the two and wear them together.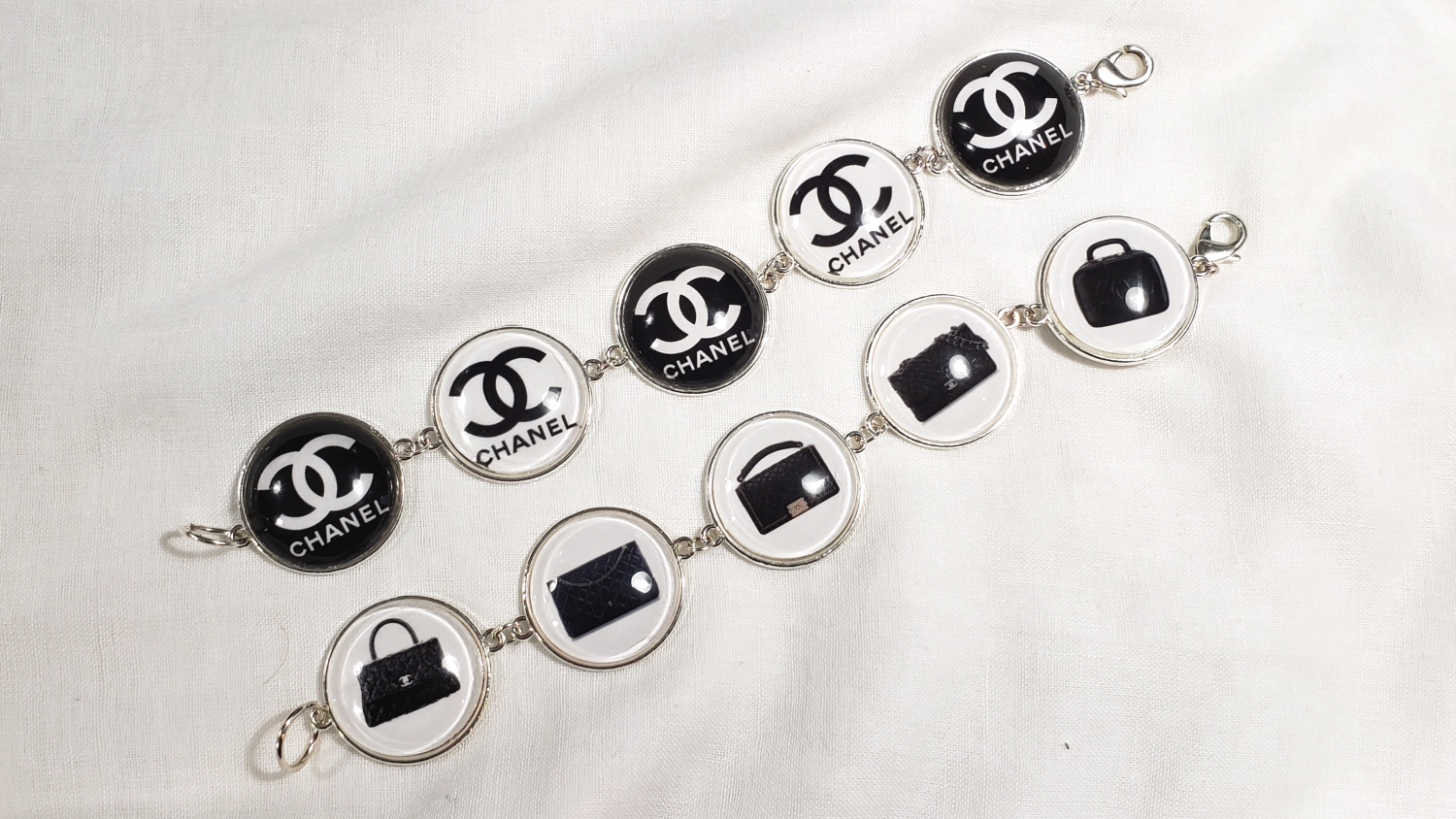 This time I found clean images of the Chanel logo one with a black background with white letters and another one with a white background with black letters. I resized them and printed these out on a FedEx Kinko's laser printer. By alternating the black and white logos in a line, I thought they coordinated well with the bag bracelet as well as added a stronger graphic look.
CLICK on the following image to watch the YouTube share of how I made the prize package jewelry pieces: [to come]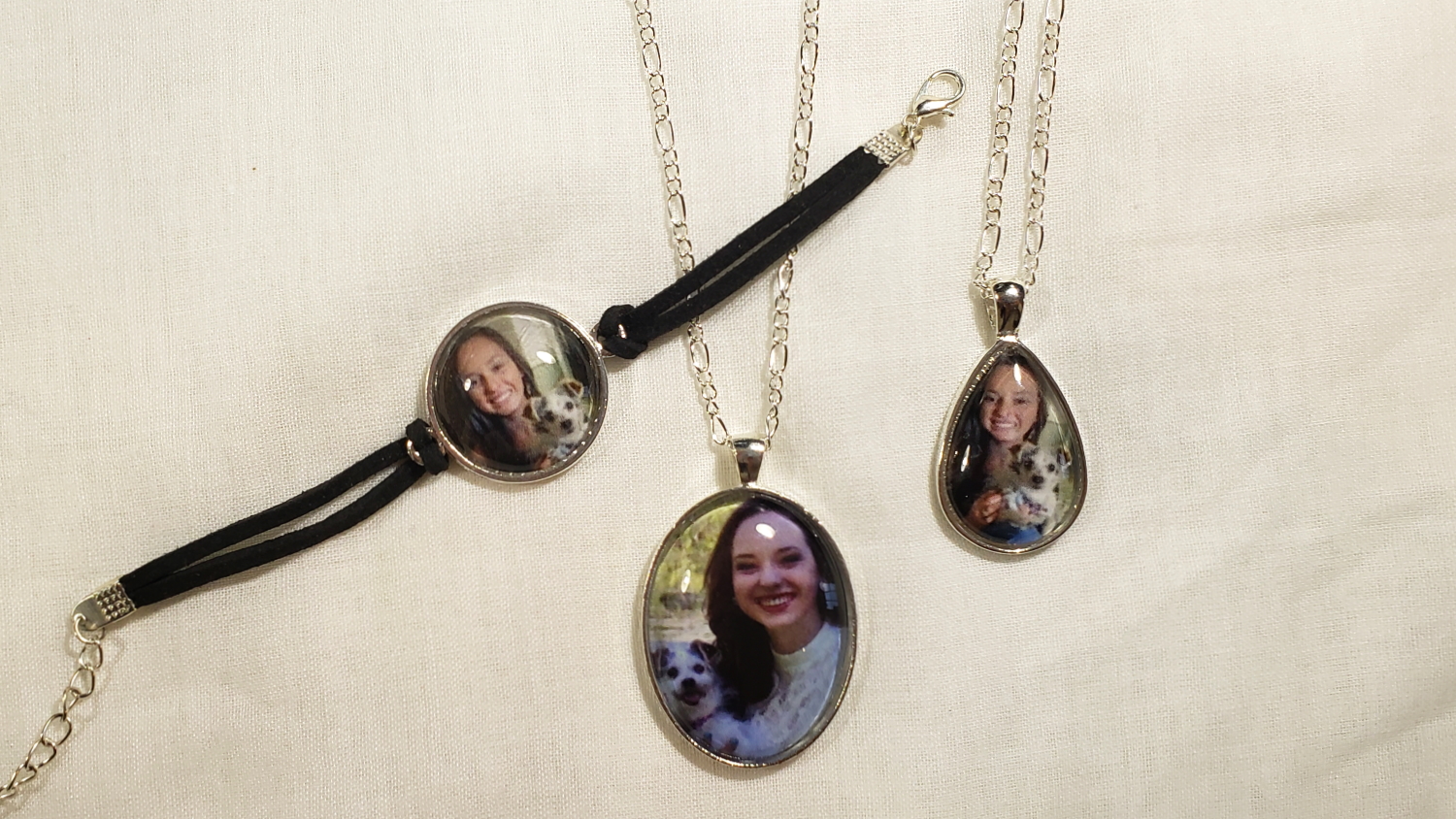 Disclosure: This is not a sponsored post and all of the products used were purchased by me with my own money.
The custom jewelry pieces are being entered into the following challenges:
Simon Says Stamp Monday Summer Memories Challenge
Word Art Wednesday Anything Goes Challenge
Lil Patch of Crafty Friends Anything Goes Challenge
Crafts Galore Encore Anything Goes Challenge