I've been coloring up a lot of The Greeting Farm little fairies and girls (the ones here are Flutter Anya and from the Magical Kit and Bloom Kit) as part of my Copic coloring tutorials series on YouTube. To create something a little special with all of them, I decided to try to create a couple of mixed media spring forest canvases with them. If you want to see the first canvas, it's HERE.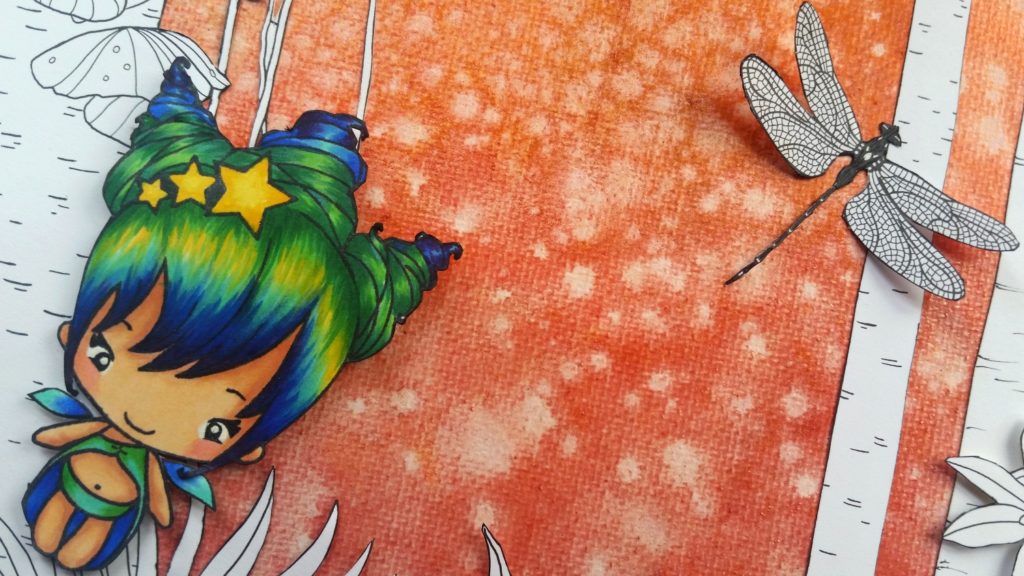 Because I didn't want to detract from the adorable fairies (I drew and added wings to the little ladies who didn't have them), but I did want to create a magical forest scene, I first created a visually very textured but monochromatic orangey-red background with a lot of layers of sprays (letting each layer dry before spraying the next coating to get a deep rich look). I used a Heidi Swapp Color Shine Sprays in Mustard, Primrose and Sheer Transparent, DecoArt Media Shimmer Misters in White, and a Tattered Angels spray in Viva Pink. I love the shimmery white speckling and bokeh effect (it was a happy accident from some of the sprays not mixing and resisting areas on the canvas — I love unexpected effects like this!) that I think looks like fairy dust or tiny fairies deeper in the forest.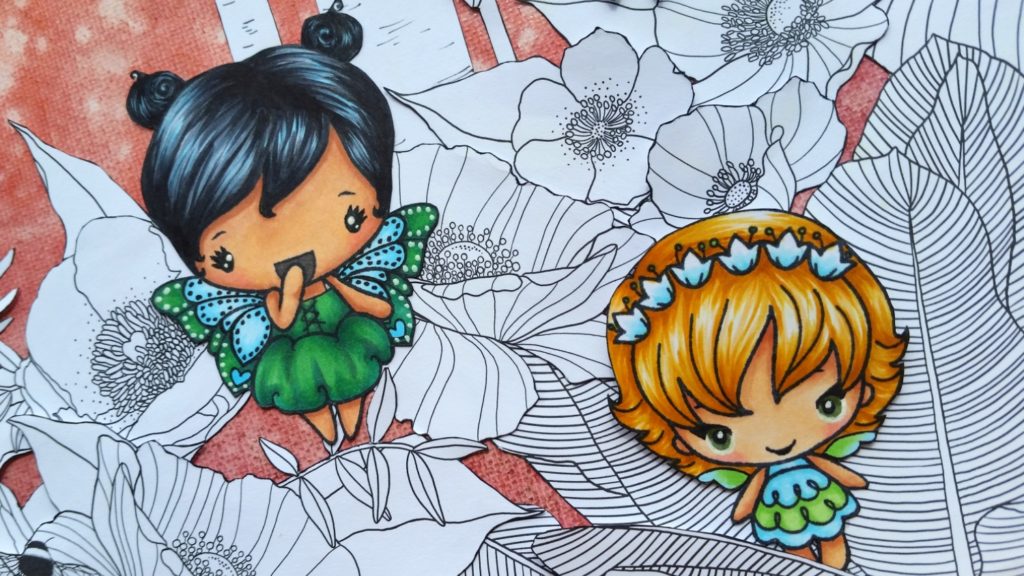 Then I literally spent days fussy cutting, taking several sheets of the Stampin' Up! "Inside the Lines" Designer Series Papers and fussy cut out trees, leaves, ferns, flowers, bees, dragonflies, vines, and mushrooms. I also drew a couple of birch tree trunks with a black Copic multiliner 0.03 pt. pen to add to the background and fussy cut those out too. Then I mapped out where all the pieces would fit onto a 12″ x 12″ canvas (I had a spare to work on while the sprayed one was drying).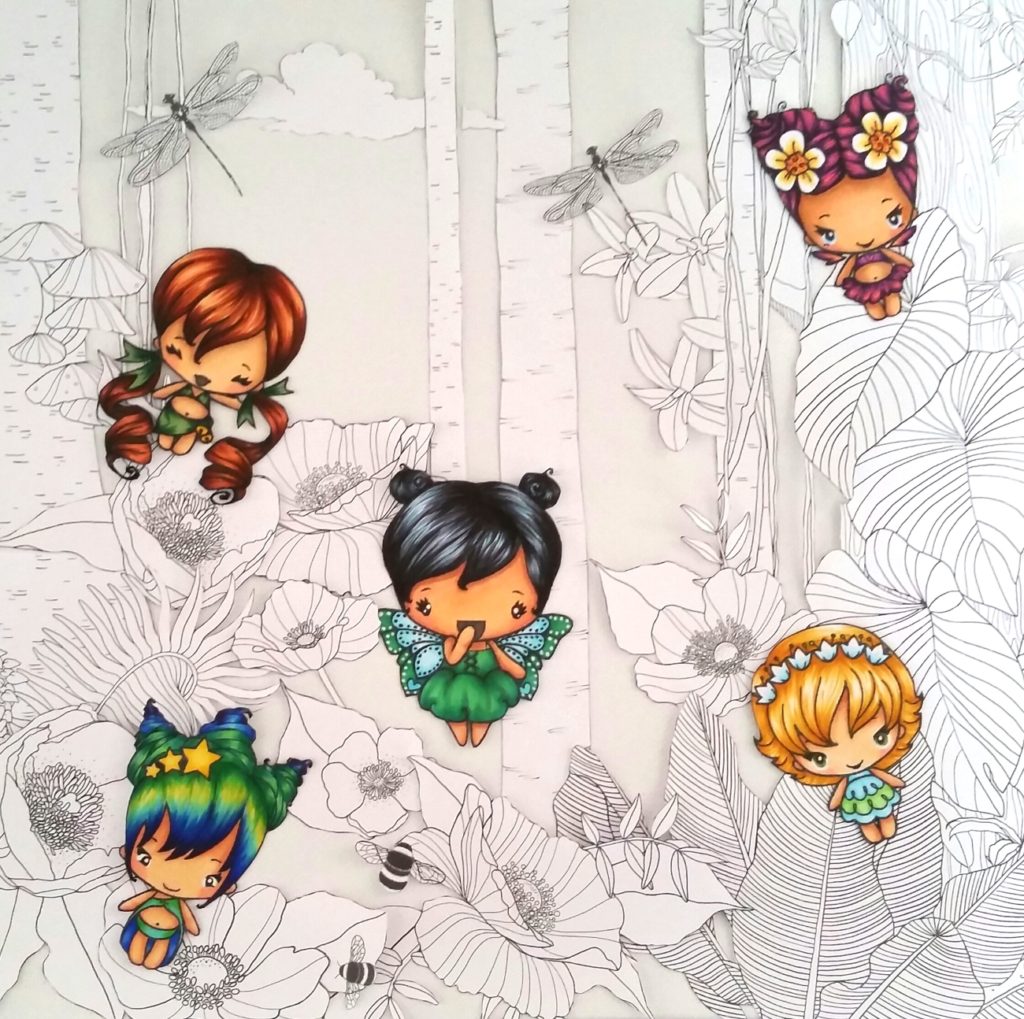 Once I generally liked where everything was positioned (positions changed afterwards as I was assembling but this helped a lot to getting me just moving forward), I used some GLAD Press'n Seal kitchen wrap paper to temporarily fix them in position (this was a tip learned from Jennifer McGuire for setting die cut pieces for layered cards). I decided not to color any of these fussy cut pieces so they could be used to create the forest scene without taking away from the colorful fairies (Mr. CraftyPaws has mentioned that sometimes he wishes that I would let my colored images take center stage more and just create a less busy background or scene around them, and I have to agree that I like how this lets the fairies really shine but still have the whole canvas look like a completed project).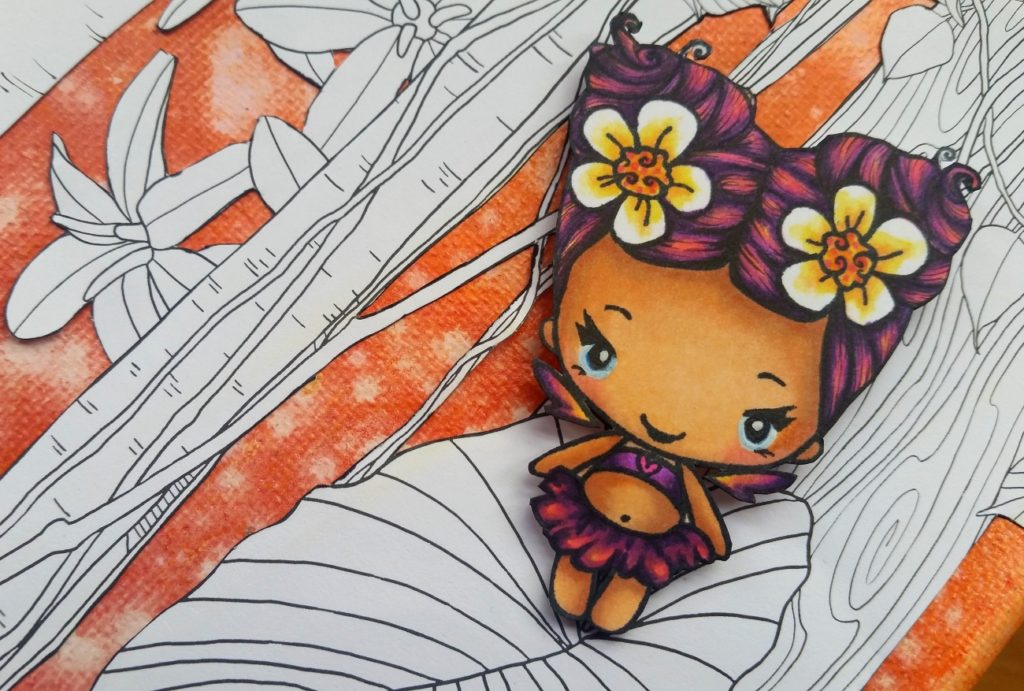 Finally, I glued the initial background pieces down with wet glue, and then popped up parts and/or full floral pieces and fairies on double sided foam adhesive or fun foam.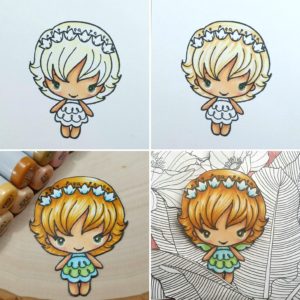 As an added fairy (not part of the coloring series), it was fun to color up and add Emery from the Bloom Kit as a blonde with green eyes using the following Copic colors: Skin: E51, E21, E11 and R20; Eyes: G94 and G99; Dress and Flowers in Hair: YG11, YG06, B000, B01; and Hair: Y00, YR21, YR24 and YR26.
I may add a couple more cuties from the Bloom Kit and have them peeking out from behind trees and leaves before I call these canvases totally done (these cuties are totally addicting to color up), but at this point, I think I have to "paws" and work on some other projects. LOL If you're interested in seeing how I color up more of these cuties, please check out my Instagram (@kristina_craftypaws) where I am posting pictures I color up every day.
Thanks for stopping by!
The following is a video share of both canvases:
This canvas is being entered into the following challenges:
The Greeting Farm Farm Fresh Mixed Media Madness Challenge
Simon Says Stamp Monday Layer It Up Challenge
Fab 'n' Funky Flowers Challenge
Word Art Wednesday Anything Goes Challenge
Crafty Gals Corner Anything But a Card Challenge
Creatalicious Anything Goes Challenge with Optional Gems or Pearls
Through the Craft Room Door Anything Goes Challenge
613 Avenue Create Anything Goes with Optional The Rubber Room-No Digis Challenge
Crafty Purple Frog Lovely Ladies Challenge
CASual Fridays No Dies Allowed Challenge