First of all, I want to thank my friend Sarah Elliott (YT: Sarah Elliott) for asking me to do a collaboration with her and coming up with the challenge of using three different stamps to create one card. I also had so much fun trying a new card crafting style (this is super elaborate for me), picking three stamp sets to use together, and making this easel card for my grandmother-in-law's (GIL) birthday (yes, the same lady from THIS post).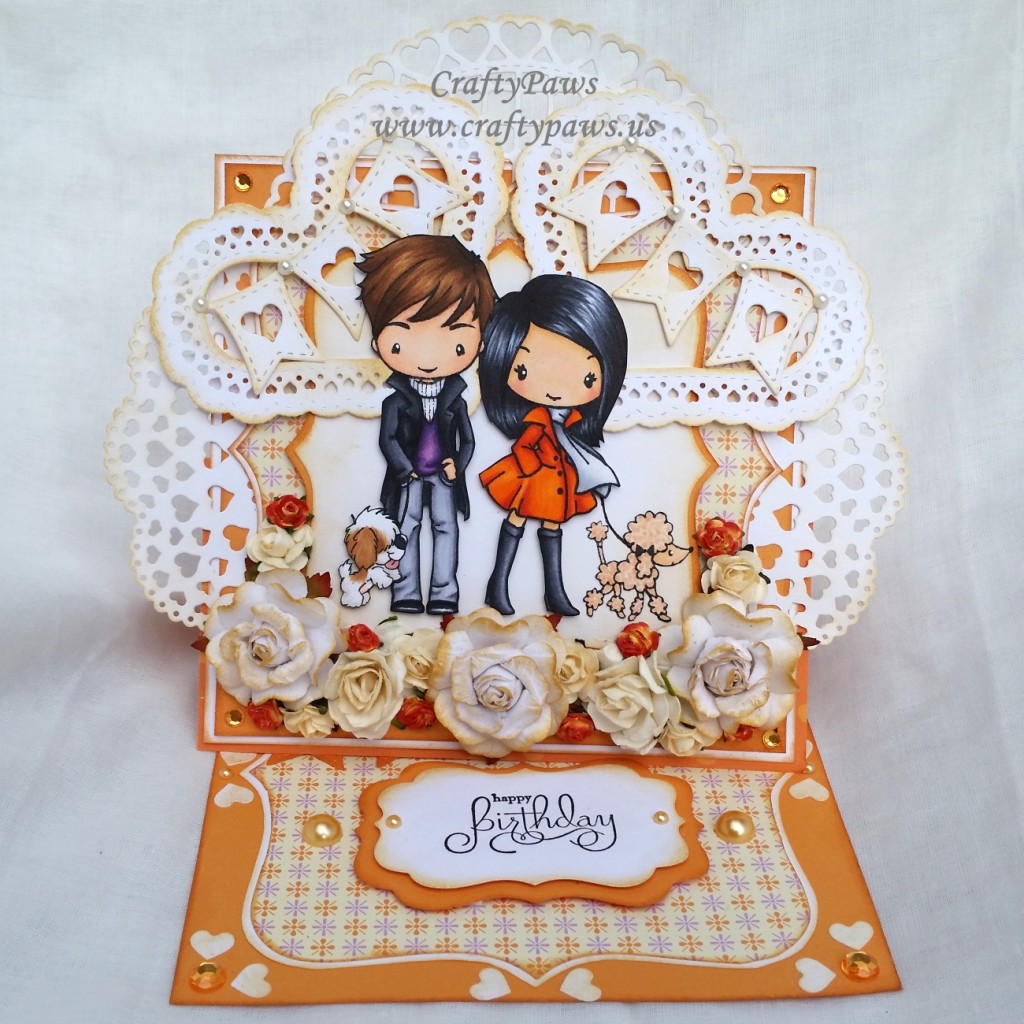 As my GIL loves to display the handmade cards I have sent to her, I decided this time I would make an easel card. To create the structure for that card base, I used the Diemond Dies Labels 2 Top Note Nesting Die Set and the Labels 1 Nesting Die Set for the Prop/Stopper.  For the white card stock layers I inked the edges with Delicata Golden Glitz pigment ink and for the orange and purple patterned paper and orange card stock layers I inked the edges with Tim Holtz Distress Ink in Tea Dye.
Because she also likes very detailed things, I also thought I should try my hand at making my very first very layered and detailed card with lots of intricate dies.  I used the La-La Land Open Hearts Doily, La-La Land Crafts Heart Banner Die
, La-La Land Crafts Heart Doily Border Die
, and La-La Land Crafts Heart Doily Die
(yes, there are a lot of hearts to show how much we love her!).  I inked all the edges of these white card stock die cuts with Delicata Golden Glitz pigment ink to highlight all the details.
Lastly, I poured through my stamp collection and came up with three stamp sets that I could use together to represent my hubby, our two dogs, and me. This would be like an animated family portrait card. LOL  I used the boy and girl from "Together Anywhere" by The Greeting Farm to represent my hubby and me, coloring them up with these autumnal/Halloween (black, orange and purple) Copic colors: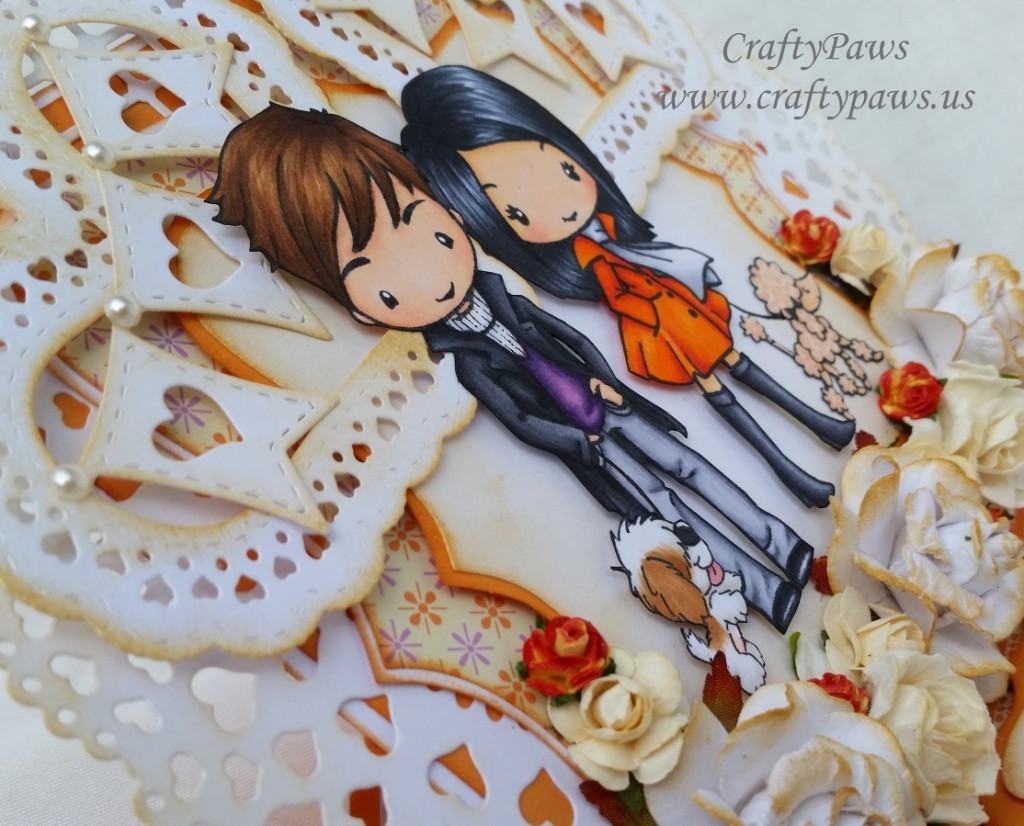 Hubby: Skin: E000, E00, E11, R30; Hair: E35, 37, 57, 59; Pants, C1, 3, 5; Sweater Vest: V12, 15, 17, 09; Jacket: C3, 5, 7, 9; Turtleneck sweater: C1 + Copic multiliner in 0.1 pt
Me: Skin: E000, E50, E51, E53, R20; Hair: C5, C7, C9, C10, B32; Boots: C3, 5, 7, 9 + 100; Coat: YR00, YR04, YR07, R08; Scarf: C1, 3, 5 + Blender
For Biscuit, I used the poodle from the Penny Black "Mimi in Paris" 
stamp set and colored her up with: E51, 21, 11, and 93
For Bandito, I used the little scruffy pup from "Wanderlust" by A Random Fan and colored him up as follows: Belly: E93; Tongue R83; Brown areas: E31, 33, 35; White areas: W1 + Blender; and Nose: C10
I also drew in leashes for the pups with a Copic Multiliner pen.
Then it was just a matter of putting all the layers and pieces together in a pleasing way, which to me is often achieved with symmetry. That's my OCD coming out–LOL.  The following video illustrates the process of assembling all these pieces with mulberry paper flowers, flat back pearls, and bling:
This card is being entered into the following challenges:
One Sweet Challenge Fall Colors
Farm Fresh Challenge: Black, Orange & Purple
Addicted to Stamps and More Make Your Mark Challenge
Crafts Galore Encore Make a Card Challenge
Through the Craft Room Door Anything Goes Challenge
The Daily Marker 30 Day Coloring Challenge
Simon Says Stamp Work It Wednesday STAMPtember Challenge