I've been hesitant to spend ~$60 on an ink pad storage unit (yes, I had all these ink pads lying around on my craft desk for months in piles–ugh).  I mean really, with that kind of money I could buy so many more fun crafty goodies! So I finally took the time to design, measure and cut foam core to make this awesome DIY unit that I LOVE and that cost me less than $4!
Here's what you'll need:
1.  3 large pieces of foam core (I picked up my white at the Dollar Tree and my black at Staples)
2.  Ruler (a T-square ruler might simplify the measuring and a metal ruler is better for cutting along but neither is necessary)
3.  Cutting blade (I used an X-Acto Knife
and a new sharp X-Acto replacement blade
 which made all these cuts a breeze)
For the internal shelving structure, I cut the foam core into the following 15 pieces:
1. Four verticals: 2 3/4″ x 15″ with eleven 3/16″-wide half-way slits that are 1 1/4″ apart (the 1 1/4″ gives the clearance for the 1″ high ink pads)
2. Eleven horizontals: 2 3/4″ x 16″ with four 3/16″-wide half-way slits that are 3 3/16″ apart (the 3 3/16″ gives the clearance for the 3″ wide ink pads)
Adjustment Options: The 2 3/4″ width of the pieces made the compartments shorter than the 3″ wide Distress Ink pads for which I was building this unit.  The shorter depth of the shelves makes the ink pads easy to take in and out of the storage unit.  If you are making a storage unit for longer ink pads, you could adjust this width to be larger (like 3 1/2″ for Ranger Adirondack ink pads).  The height and width of the half-way slits for spacing out the compartments would work fine for other standard ink pads if they are more narrow than 3″ and under 1″ in height.
The following is a video illustrating these cuts as well as how to assemble the horizontals and verticals together:
For the outside frame verticals, I cut two pieces of foam core to 3″ x 15 1/4″. For the outside frame horizontals, I cut two pieces of foam core to 3″ x 16 1/2″. For the back of the unit, I cut a large piece of foam core to 16 1/2″ x 15 1/2″. For the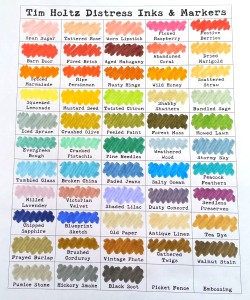 wider base to stabilize the unit, I cut a piece of foam core to 6″ x 16 1/2″. I also cut up an old rubber mouse pad in half and adhered that down underneath the back side of the wider base to weigh down and further stabilize the unit. I filled in the front side of the base with a strip of foam core to fill in the difference where the cut up mouse pad didn't reach. Then it was just a matter of strengthening the joints and adhering all the pieces together with hot glue.
There are ready-made charts for Distress Ink Pads and other Tim Holtz products online HERE, but I wanted one that only listed the colors I have so I created a color chart in Microsoft Word with 5 columns and 11 rows just like my storage unit so that I could use it for easy reference for all the Distress Ink Pads (and matching Distress Markers) that I have in my collection.  If you are interested in the labels that I made for all of my ink pads, please check out my blog post HERE for details–I just love the free distress type font I found for those!
This DIY storage unit, that was the best gift to myself this Christmas (LOL), is being entered into the Lil Patch of Crafty Friends Anything Goes Challenge
If you found this post helpful, please share and leave me a comment. Thanks!