When testing out new techniques, coloring mediums, or papers, I may try a "practice run" before trying to complete a card or project in a "final" version. While things may not come out exactly the way I want or expect, I rarely throw something out (I'm such a slow crafter that I can't bear to discard things I've put love and time into even when they're not perfectly the way I had imagined). This card was made with a sweet image from My Favorite Things' "You Have My Heart" stamp set that was my first trial at no line watercoloring with watercolor pencils for THIS CARD that I created last week.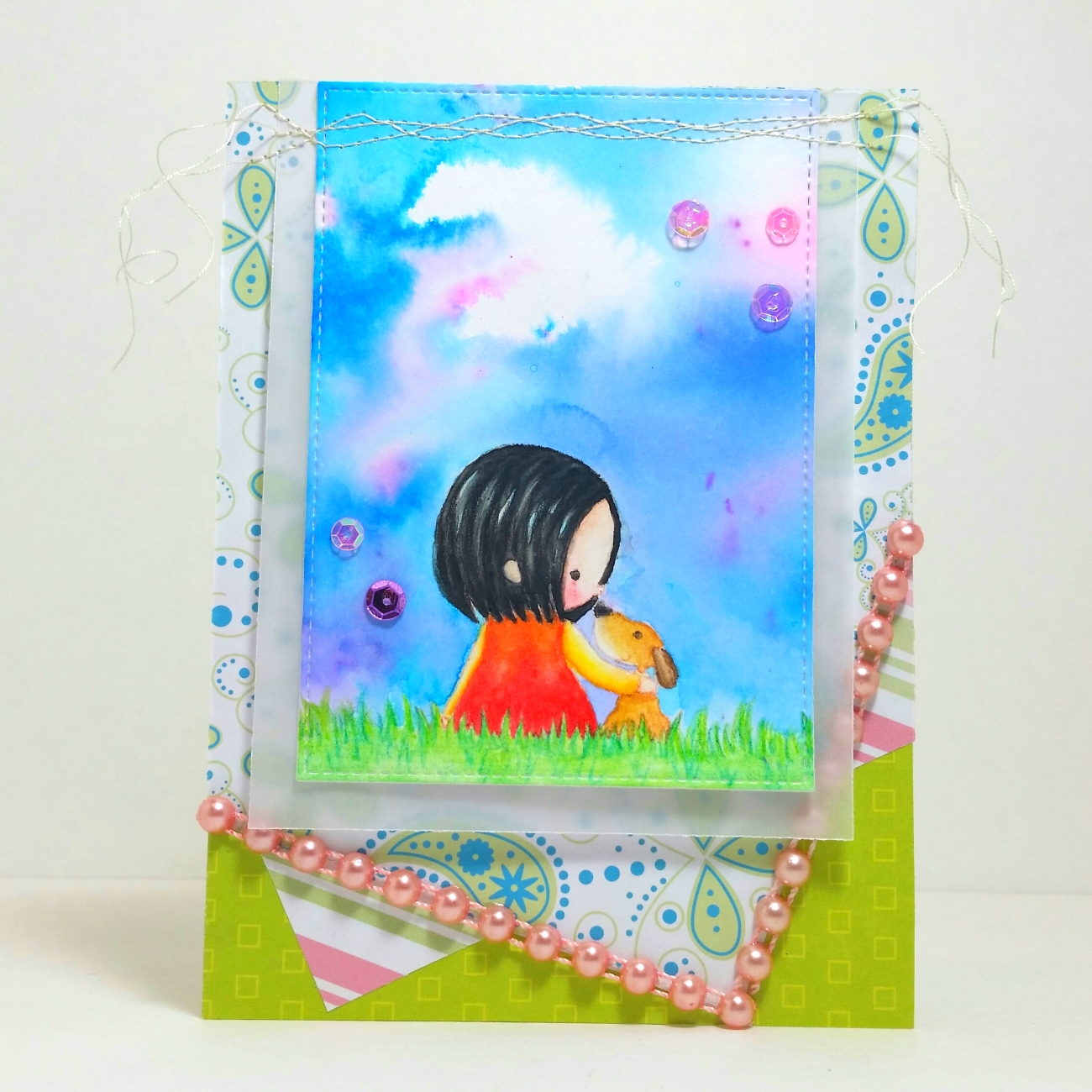 I basically used all the same colors (listed below), but the super dark hair was a result of my not realizing that even a little moisture on the Bristol paper between layers of coloring created a very heavy coating of color (it was as if the moisture melted the color pencil onto the paper). Once the first streak happened, I had to "fix" it with a more intense coloring by touching my water brush directly onto my color pencils before each stroke of hair coloring. This wasn't the soft look I wanted for my Prim card, but I kept going and knew I could "re-use" this image some other time.
Watercolor pencil colors used:
Hair: Prima 120 and 64 (this is a light blue that I thought would add a nice shiny look to the black hair)
Skin: Prima 05 and 09 with 25 for blush
Dress: Derwent Inktense Poppy Red (0400), Tangerine (0300) and Sun Yellow (0200)
Dog: Prima 86, 89, 102 with 120 for eye and nose
Grass: Derwent Inktense Apple Green (1400) and Teal Green (1300)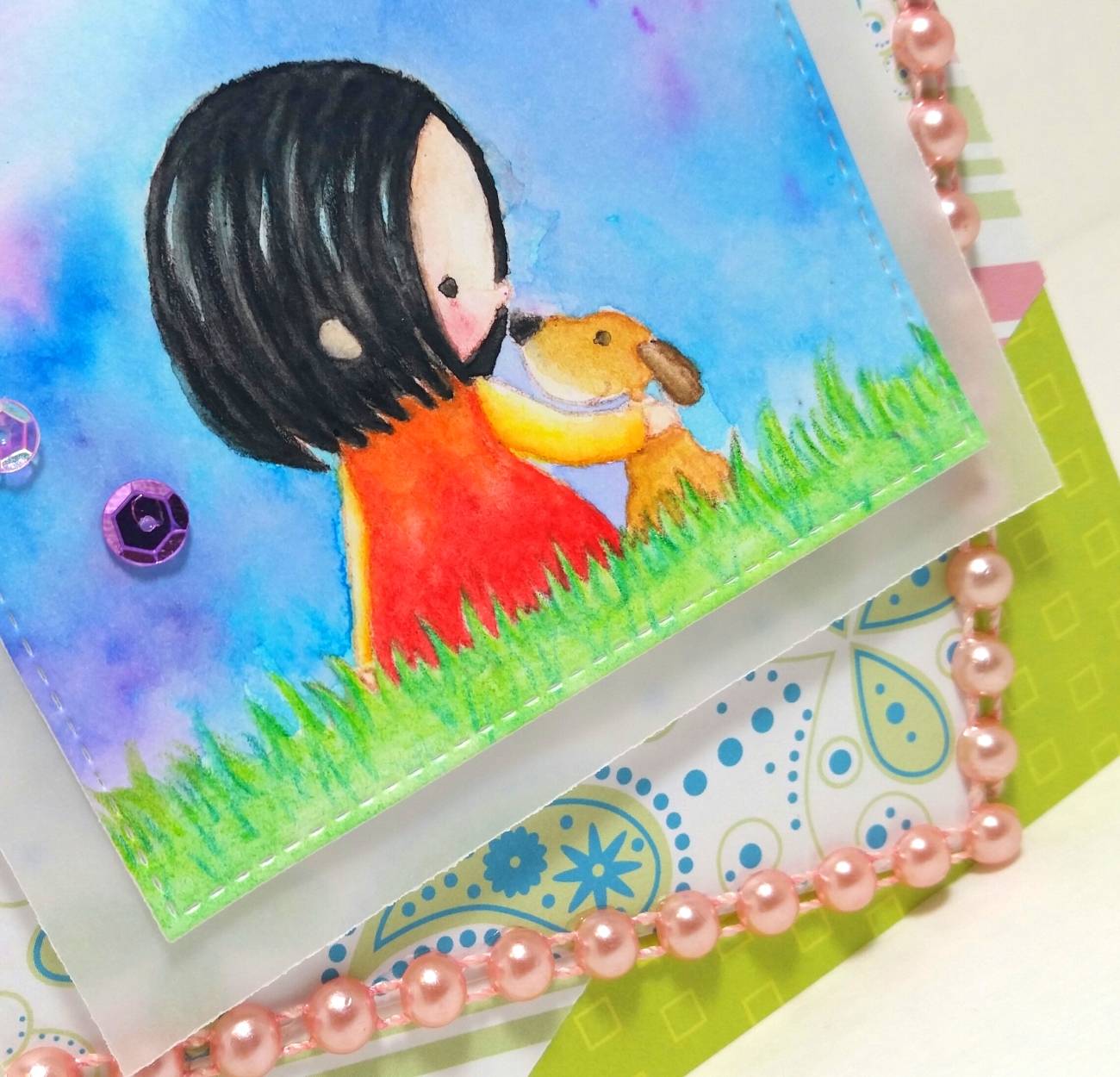 Given that the image came out so intense in color, the soft watercolored sky I had planned was not going to do it justice. So I decided to play with some Ken Oliver Color Burst in Indigo. I carefully wet down with a water brush the background areas where I wanted to catch the pigment particles and then sprinkled pigment powder lightly as needed (these indigo pigment particles are super intense so a little bit goes a long way). Then I masked off the little girl and pup by just holding a post it note generally over them and sprayed water to release the pigment particles and let them do their magic. To get into the nooks and crannies (like between the girl and dog) and soften certain areas, I did lead some of the pigment around with a wet paintbrush, but basically I tried to keep the tie dyed look for the sky, keeping a couple areas mostly white to give the impression of clouds. I love the unexpected movement and colors that develop from this technique with Color Burst powders, and I think the color intensity matched the little girl and pup image nicely.
Then I cased this card design from the super talented Heather Hoffman's card HERE (I fell in love with it instantly). I got to use lots of scraps from my scrap box, added a little visual softness with a vellum layer, and machine stitched the assembly at the top with some wonky lines to add some interest. I also used a couple of snippets of pink flat back pearl trim, taking care to space out the trim so that the pearls ended at the corners or edges of the paper without overhanging bits of thread and being careful to turn the bottom right corner at a sharp right angle by using a second string of pearls and spacing it to meet the first evenly spaced out. As a finishing touch, I added a handful of pink and purple sequins.
This card is being entered into the following challenges:
Simon Says Stamp Monday Powder Power Challenge
Simon Says Stamp Wednesday Anything Goes Challenge
Word Art Wednesday Anything Goes Challenge
613 Avenue Create Anything Goes Challenge
Not Just Cards Anything Goes Challenge
Just Keep Crafting Anything Goes Challenge
Crafty Gals Corner Anything Goes Challenge
Craft Your Passion Anything Goes Challenge