I wanted to make a special card for a crafty friend who showed me a special kindness recently (surprising me with doggy crafty yummies out of the blue for no reason!), and she loves the Prim style so I decided to try my hand at watercoloring the sweet girl with her arm around her pup from the My Favorite Things "You Have My Heart" stamp set. This card will be accompanying a crafty love gift package back to this sweet friend.
This is my first attempt at watercoloring a girl image (not just critters which I think are more forgiving and have fewer details), so I was nervous, but I knew that (1) I wanted to push myself craft-wise, (2) the soft watercolor look is perfect for Prim style projects, and (3) the friend this was going to would appreciate the love that I was going to put into this card. So I took a deep breath and cut down some Strathmore Bristol paper (this is great for watercoloring and has a smoother finish than most watercolor paper) and pulled out my Prima watercolor pencils and Derwent Inktense watercolor pencils.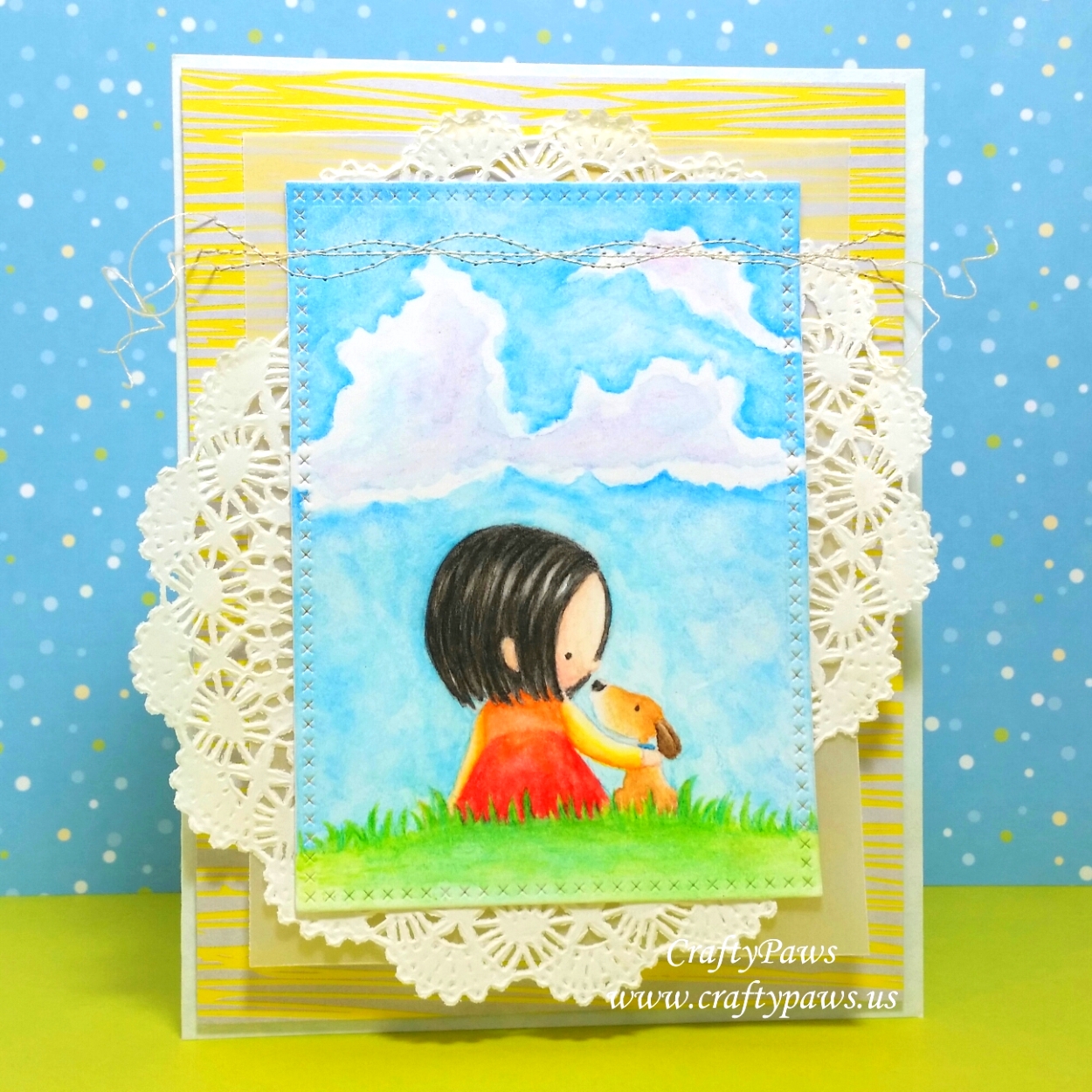 To get the softest look possible, I decided to try no line watercoloring (if you're going to go for it, you may as go all the way, right?!). I did a second generation stamping onto the paper using Ranger Archival Ink in Sepia and it gave me a pale but clear image. Then I took my time and started layering in the following colors (it took about 3 applications to build up the color intensity I wanted), making sure to let each prior layer dry before adding the next so that I didn't get too dark, which can happen if you touch watercolor pencils to wet surfaces:
Hair: Prima 120 and 64 (this is a light blue that I thought would add a nice shiny look to the black hair)
Skin: Prima 05 and 09 with 25 for blush
Dress: Derwent Inktense Poppy Red (0400), Tangerine (0300) and Sun Yellow (0200)
Dog: Prima 86, 89, 102 with 120 for eye and nose
Sky: Prima 64 and 71 with Derwent Inktense Fuschia (0700) for interest in clouds
Grass: Prima 44 and 47 with Derwent Inktense Apple Green (1400) and Teal Green (1300) for deeper, richer colors to give enough visual weight to support the little girl and dog
Then I used the largest die from the My Favorite Things Die-Namics Cross-Stitched Rectangle STAX to cut down the little painted scene. I think the cross-stitched look adds a nice homespun feel. To add texture and softness, I backed this with a paper doily that I cut in half and attached askew to the lower left and upper right sides of the scene. Then I backed that with a piece of vellum to add another layer without adding too much visual clutter. I matted the whole assembly with a yellow scribbly patterned paper from the Amy Tangerine Sketchbook paper collection that I thought grounded the whole thing and echoed the yellow from the little girl's sleeves. Finally, I took everything to my sewing machine and sewed three wonky lines close to the top of the scene. I love the look of real stitching on cards (but it takes a really special project to motivate me to get down and unpack my sewing machine), and this addition I think adds a great Prim finishing touch and echoes the yellow scribbly patterned paper too.  I added double sided foam adhesive to the back of everything all assembled and put it on a pale blue handmade paper card base.
The following is a video share of this card:
This card is being entered into the following challenges:
MFT Superstar Card Design Challenge – 3rd entry (prior entires are #145 and #371)
MarkerPOP For the Girls Challenge
Word Art Wednesday Anything Goes Challenge
Simon Says Stamp Wednesday Gift It Challenge
Lil Patch of Crafty Friends Anything Goes Challenge
Through the Craft Room Door Anything Goes Challenge
Addicted to Stamps Make Your Mark Challenge
Creatalicious Anything Goes Challenge
Just Keep on Creating Anything Goes Challenge
Craft Your Passion Anything Goes Challenge