I have been away on vacation with my parents, Mr. CraftyPaws and my nephew, and when I returned, I had so much to catch up on, that I really couldn't get my crafty mojo going. Well, if you know me, then you might have guessed that nothing gets my crafty juices flowing like my favorite crafty inspiration — puppies, especially when they're as cute as the Art Impressions Watercolor "Dogs Set" of stamps!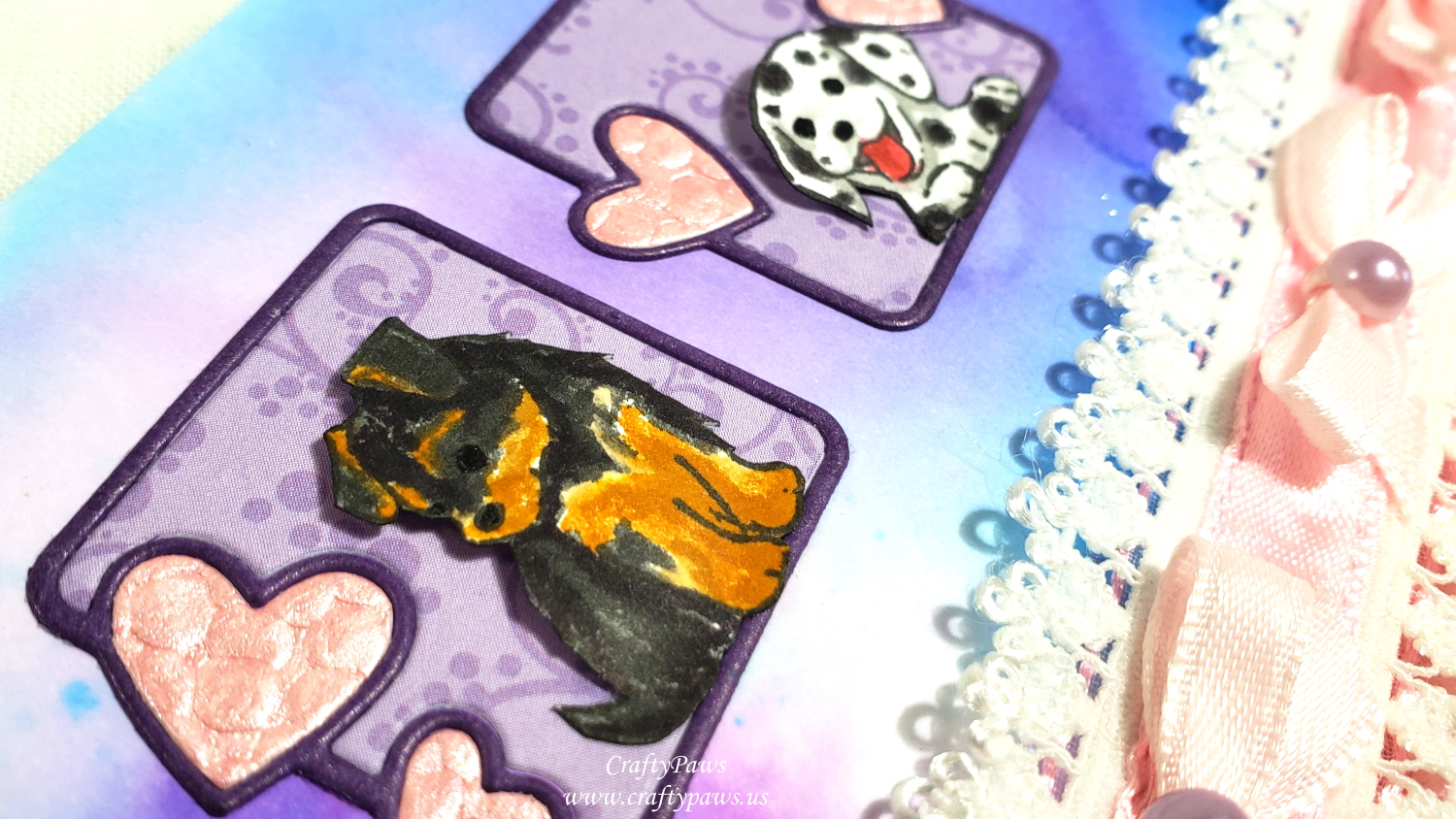 I gave each puppy distinct breed markings and did some quick animal print coloring with my Zig Clean Color Real Brush Markers:
Yorkie Puppy: Black (010); Dark Gray (095); Beige (072); Light Brown (061); and Flesh (071)
Dalmatian Puppy: Black (010); Dark Gray (095); and Light Gray (091) with Geranium Red (029) for the tongue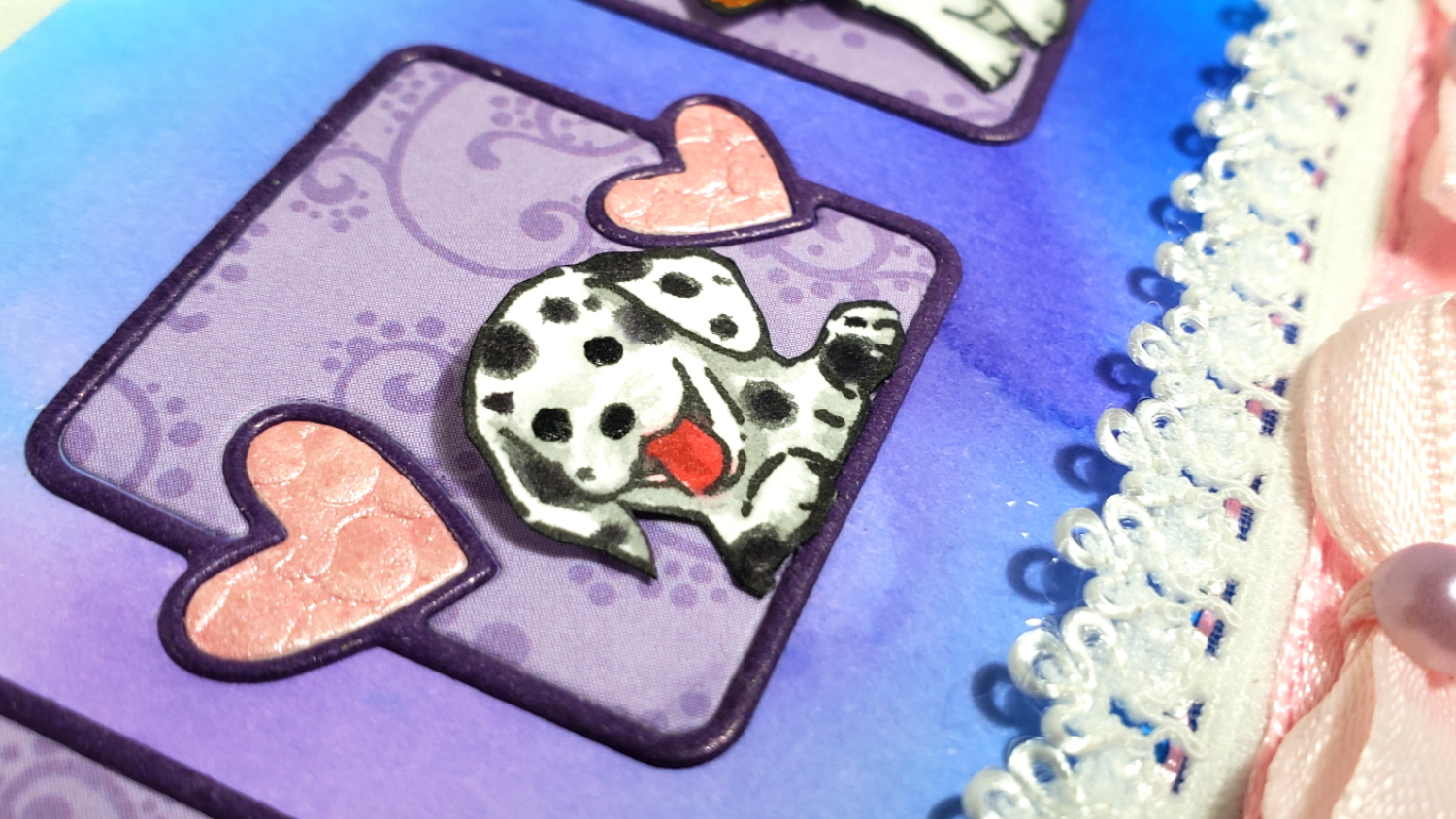 Havanese (Bandito look-a-like): Brown (060); Beige (072); Light Brown (061); and Light Gray (091)
I also re-emphasized the eyes and noses with a Sakura Black Glaze Pen, fussy cut them all out with my Fiskars Spring Loaded Scissors, inked the edges with a Memento Tuxedo Black Marker, and glued down their bases and popped them up with double sided foam adhesive.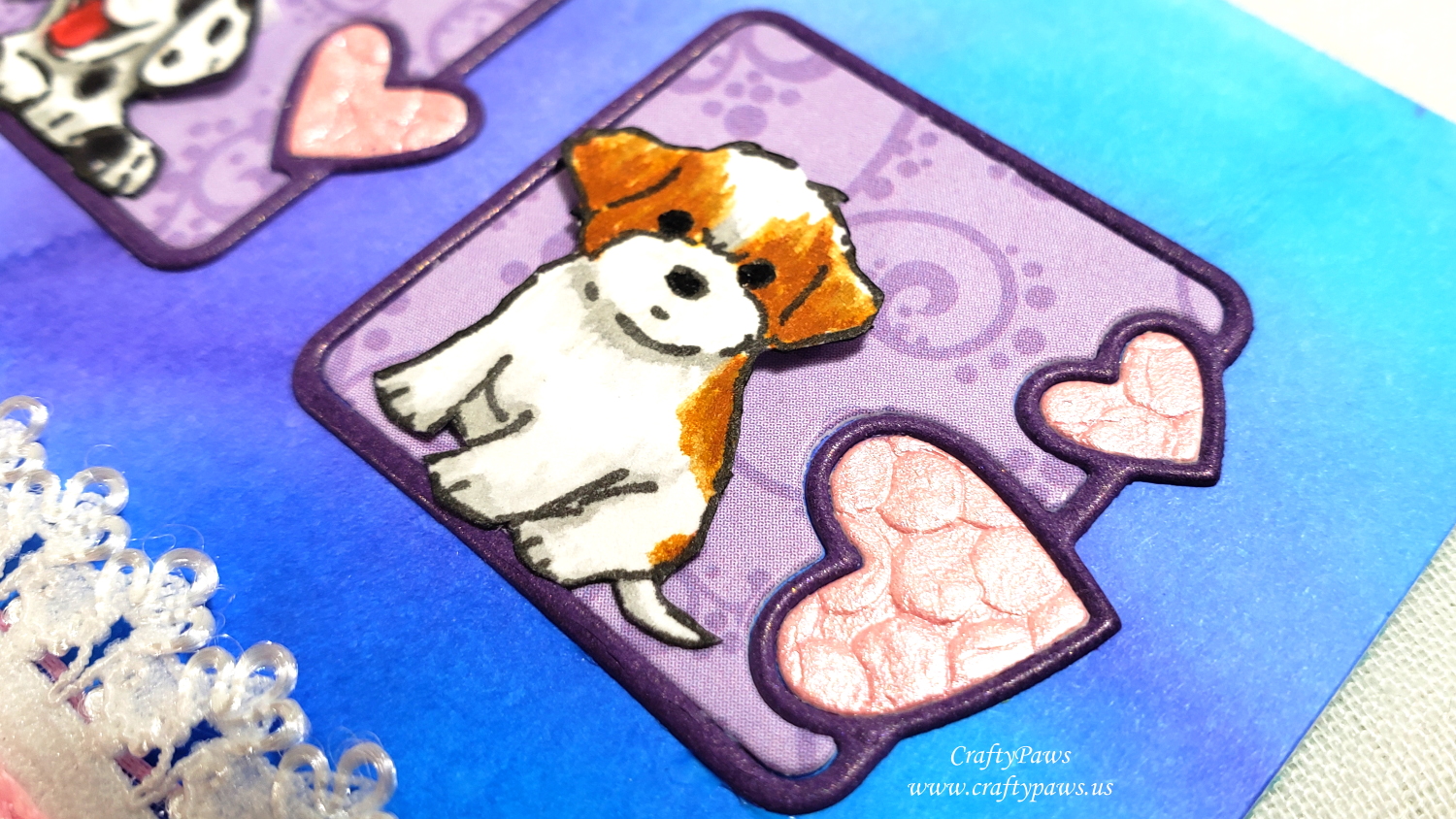 To spotlight each pup, I used the Poppy Stamps "Heart Trio Showcase" Die Set. I used it with a scrap of dark purple card stock, then with a scrap of lavendar scroll patterned paper, and lastly with a shimmery pink puffy textured paper. I inset the scroll patterned paper into the dark frames for a soft background, and popped in the pink hearts.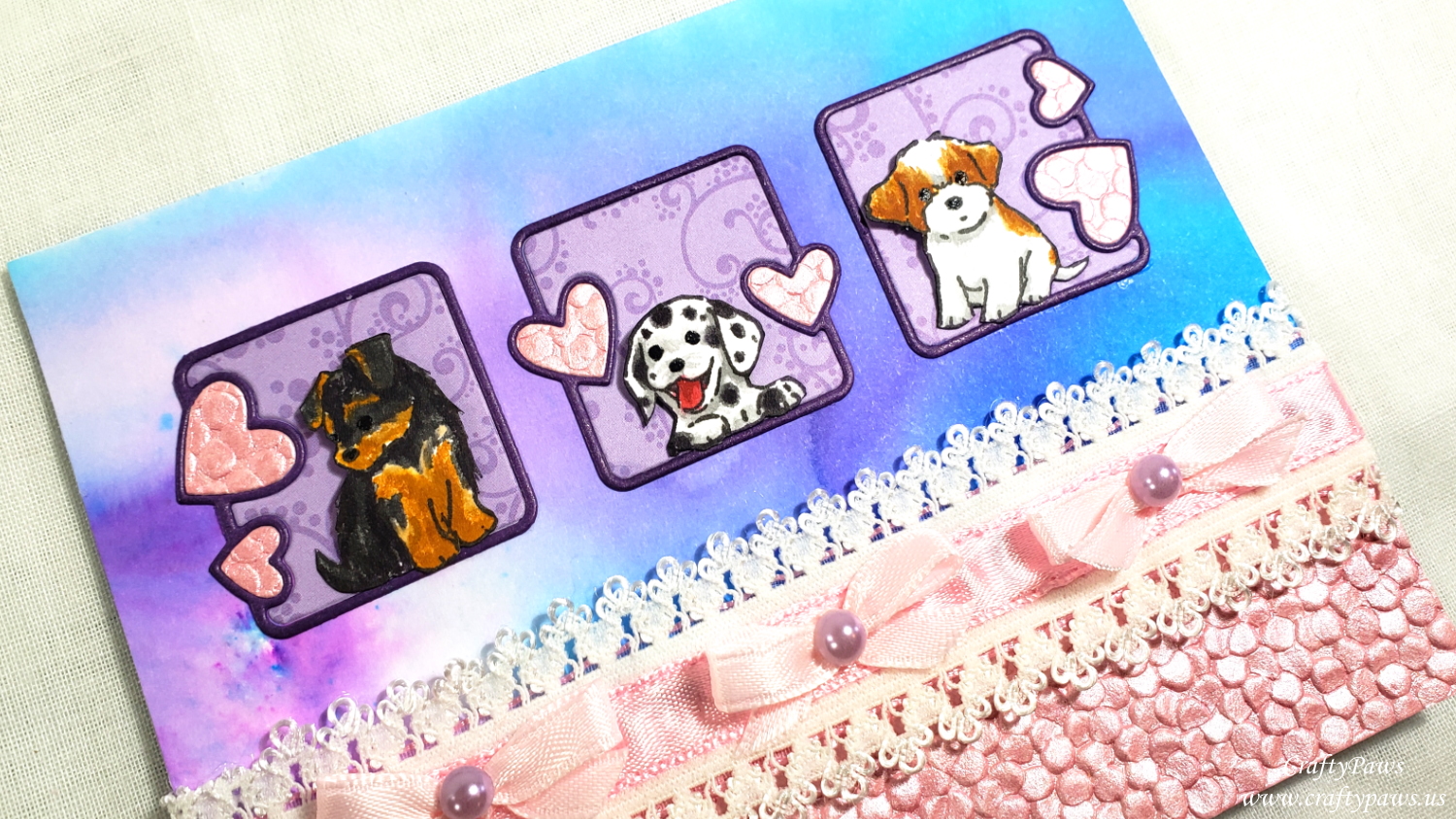 For the card front background, I dug around in my scrap box and found some beautiful loosely watercolored paper that I had created using Ken Oliver Color Bursts in Indigo and Ultramarine Blue. Then, applying the "Rule of Thirds", I covered the bottom third of the card front with more of the shimmery pink textured paper. This had the benefit of brightening the card as well as repeating the paper used in the hearts for a cohesive look. For where the pink textured paper met the smooth watercolored background, I rummaged through my ribbons scraps and found a pink satin ribbon trimmed with delicate white lace that could be glued down with Beacon Fabri-Tac Adhesive. Then I decided that the pink satin ribbon area could use something more and tied 3 small pale pink satin ribbon bows using my Craft-Dee Bowz tool. I topped each of the bow centers with a lavender flat backed pearl to add even more shine and interest.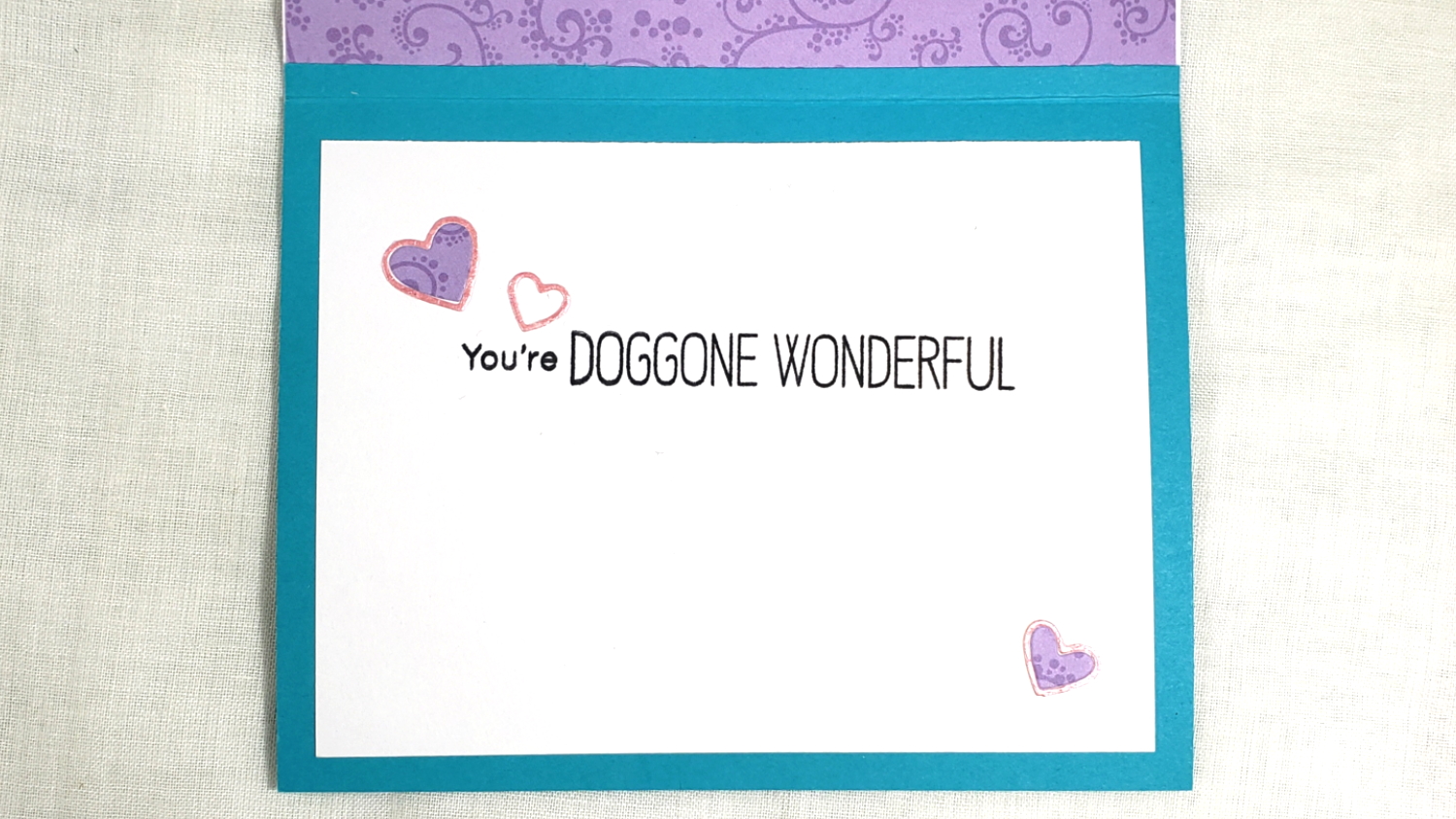 Because the back side of the card front looked a bit rough (the ribbon and lace trim was tucked around the back for clean side edges on the card front), I lined the back side of the card front with more of the lavender scroll patterned paper. The card base was made with another scrap of cardstock, this time in a rich aqua marine, and lined with a white card stock. The sentiment, You're DOGGONE WONDERFUL" is from the MFT "Best in Show" stamp set. and I decorated the liner with scrap heart outline and heart inset left-overs from the textured pink and lavender scroll papers.
CLICK on the following picture to watch the crafting process video: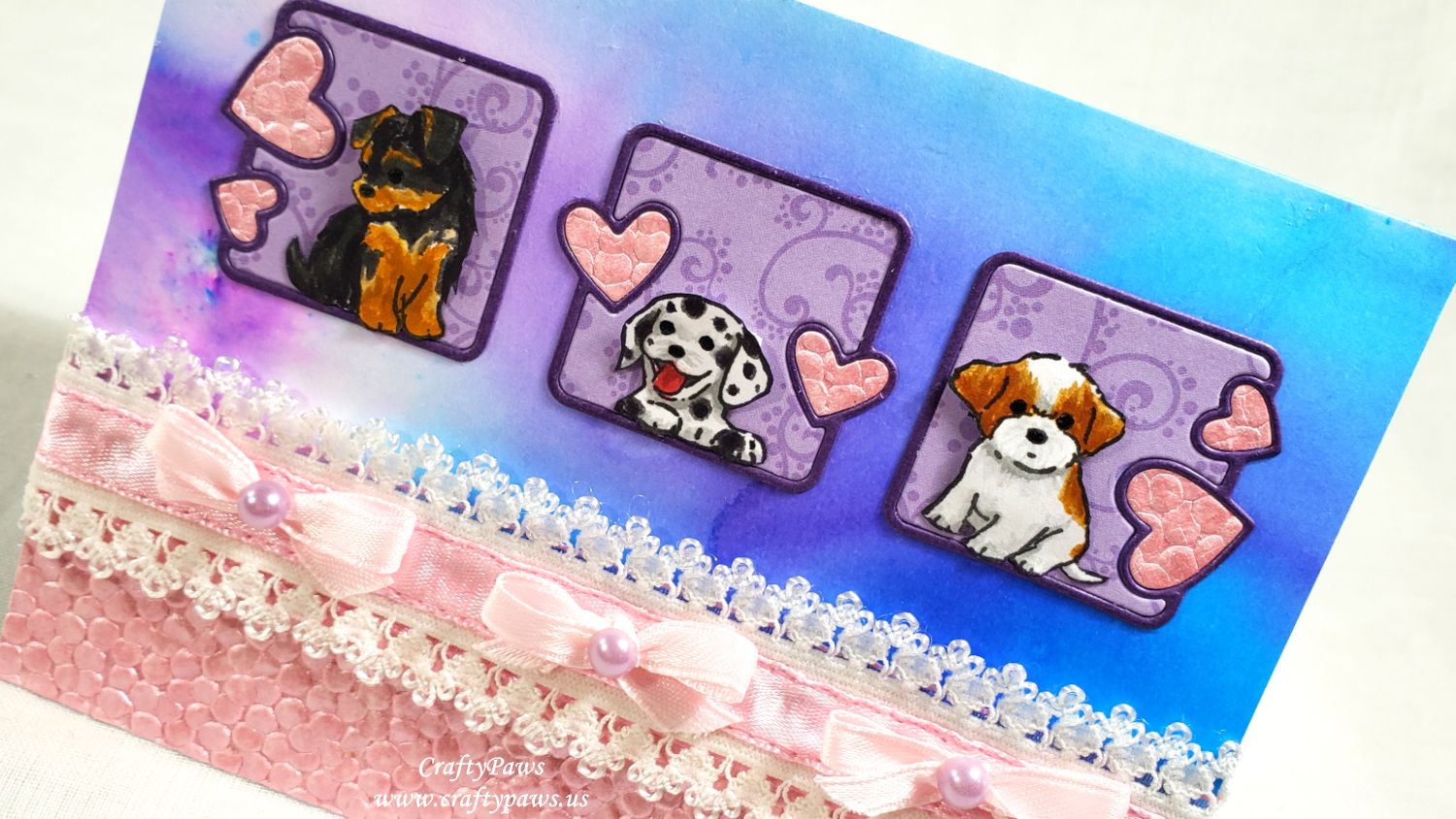 Disclosure: Many of the supplies I've used for today's project are linked. Some may be affiliate links, which means if you make a purchase I receive a small commission at no extra cost to you. I truly appreciate your support toward the costs of running this blog!
This card is being entered into the following challenges:
Lil Patch of Crafty Friends Anything Goes Challenge
Craft-Dee Bowz Anything Goes with Optional Handmade Bow Challenge
Crafts Galore Encore Anything Goes Challenge
Through the Craft Room Door Anything Goes Challenge
Penny Black and More Summer Colors Challenge
Fab 'n' Funky Add Pearls or Gems Challenge
Art Impressions Animal Print Challenge
Crafter's Castle Anything Goes with Optional Share Your Favorite Craft Challenge
Simon Says Stamp Wednesday Make Your Own Background Challenge
Simon Says Stamp Monday Animal Magic Challenge