My mind was all over the place as I started creating this ATC (Artist Trading Card) for my friend Shann (YT: Art Junkie), who loves Oddball Art images and Halloween. I knew I wanted to use the super cute "Kawaii Big Eye Girl Adelina Sour-Heart with Heart N Crossbones," but not much else.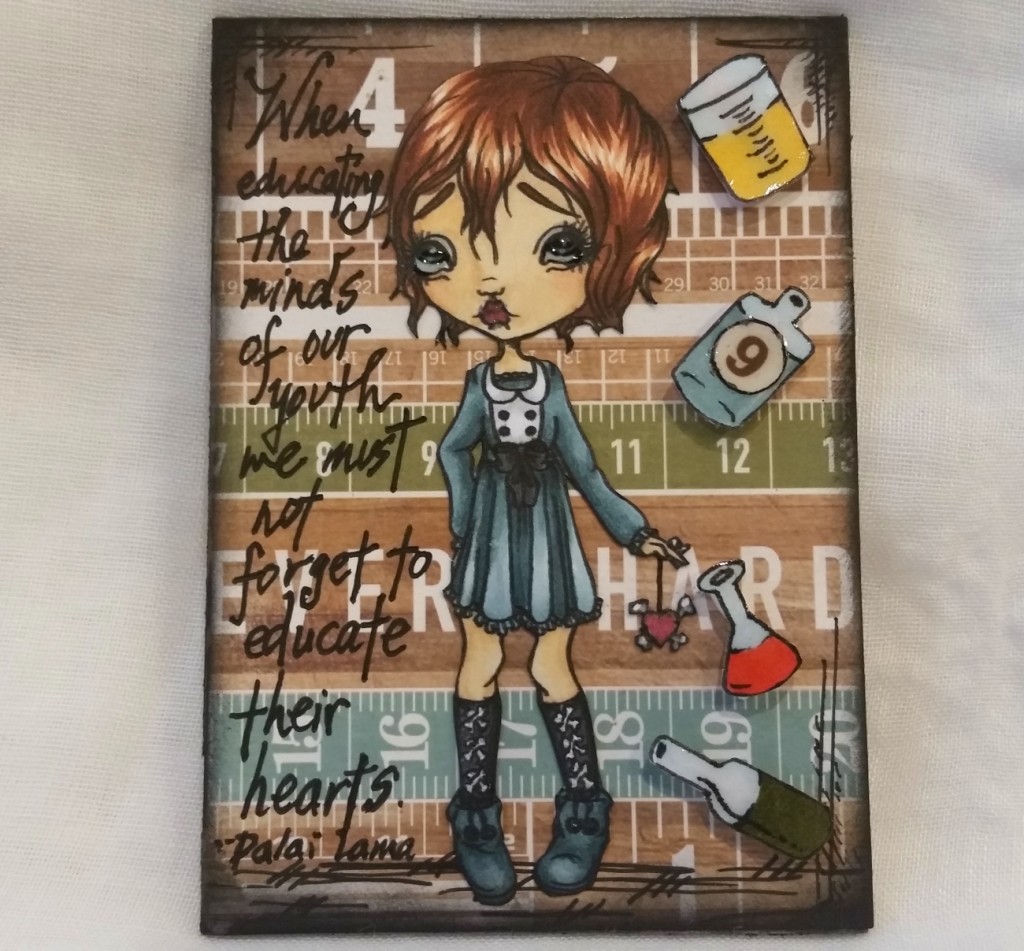 Then I came across a wonderful quote by the Dalai Lama, that says, "When educating the minds of our youth we must not forget to educate their hearts." Oh I thought this was perfect to tie in Adelina who I now imagined as a young witch-in-training learning how to concoct love potion number 9.  The little heart with crossbones dangling from a string in her hand could be part of the formula. 🙂  I don't really like my handwriting, but I took my time and wrote this quote out using a black Uniball pen in a style that I hoped look like a kid's graffiti-style handwriting.
I drew some small laboratory bottles with a Copic multiliner pen, fussy cut them out, and colored them with with the following Copic markers: Y35, BG72, R24, YG99 and Booo (for the empty parts). I floated these up with foam adhesive and coated them with Glossy Accents to give them a glassy look.  I liked the extra interest and pops of color these little bottles added to the ATC (which is tricky to squeeze everything onto at 2.5″ x 3.5″).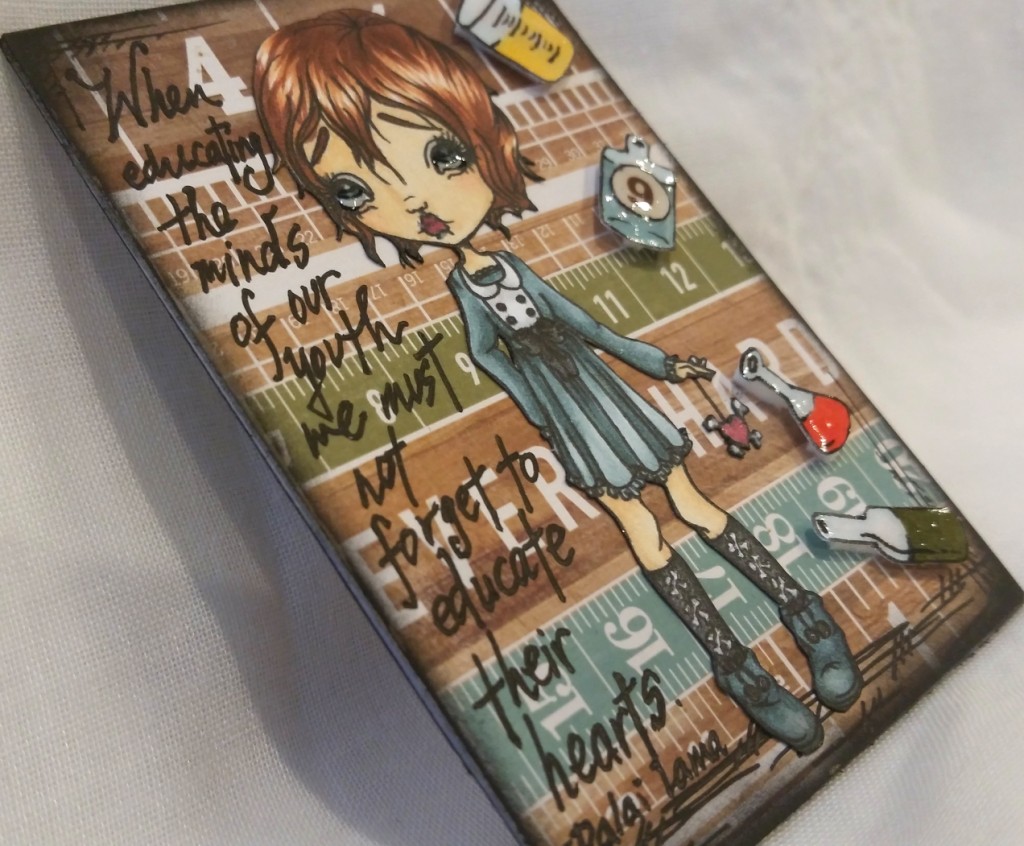 For Adelina, I used the following Copic colors that I think of as being dusty fall colors:
Skin: E50, 51, 53 and R30
Hair: E97, 99 and 29
Dress bib and collar: No and 1
Dress, shoes and eyes: BG72, 75 and 78
Socks and bow: N7 and 10
Heart and lips: R39
I fussy cut her out (no small task with all those wisps in her hair!), eliminating her braid since Shann has short pixie hair like this, and then edged the image with a black Faber Castell marker to cover the white edge of the paper.
For the ATC base, I used a medium weight chip board and covered it with a patterned paper scrap in autumn colors that seemed to reference school (it even says "EVERS HARD," although I covered the "S" so it worked even better in my mind as an allusion to education).  I inked the edges with Tim Holtz Distress Ink in Black Soot, and drew in some hash lines for the ground and in the corners to kind of frame out and finish the piece.
This ATC is being entered into the following challenges:
Oddball Art Stamp Back To School Challenge WINNER
Simon Says Stamp Work It Wednesday Autumn/Fall Challenge
Simon Says Stamp Wednesday Anything Goes Challenge
MarkerPOP Anything Goes Challenge WINNER
613 Avenue Create Anything Goes Challenge
Thanks f0r stopping by, and I hope you are having a great day! WOOF