The Arteza Company contacted me to see if I would be interested in trying out some of their products and reviewing them for my blog and YouTube followers. I was so excited. I had recently seen a number of big time crafters using these products, and I really was interested in trying them out. They sent me (1) a Hobby Knife Set that included 13 blades and 3 holders for cutting various thicknesses and types of materials; (2) a Premium Water Brush Set that included 6 water brushes (3 finer and 3 wider); and (3) a 48 Piece Premium Real Brush Pens Set (similar to Kuretake Zig Clean Color Real Brush Markers). Oh I really wanted to like all the products I was sent. After all, I could even make a commission if any of my followers purchased any of their products with my coupon code. However, I have to be honest about my feelings about these products.
The knife set came with the blades "attached" to a magnet strip that had shifted in shipping, and while I was trying to put it back into position so that the blades would line up with their plastic slots, I cut myself. The set included a cutting mat that looked thick enough to handle even the heaviest duty blade, was so small (~7″ x 3.5″) it was virtually useless. I tried to use two of the blades and while they did cut through the light weight chip board easily, the heavy weight chip board took a dozen passes with the heaviest duty knife.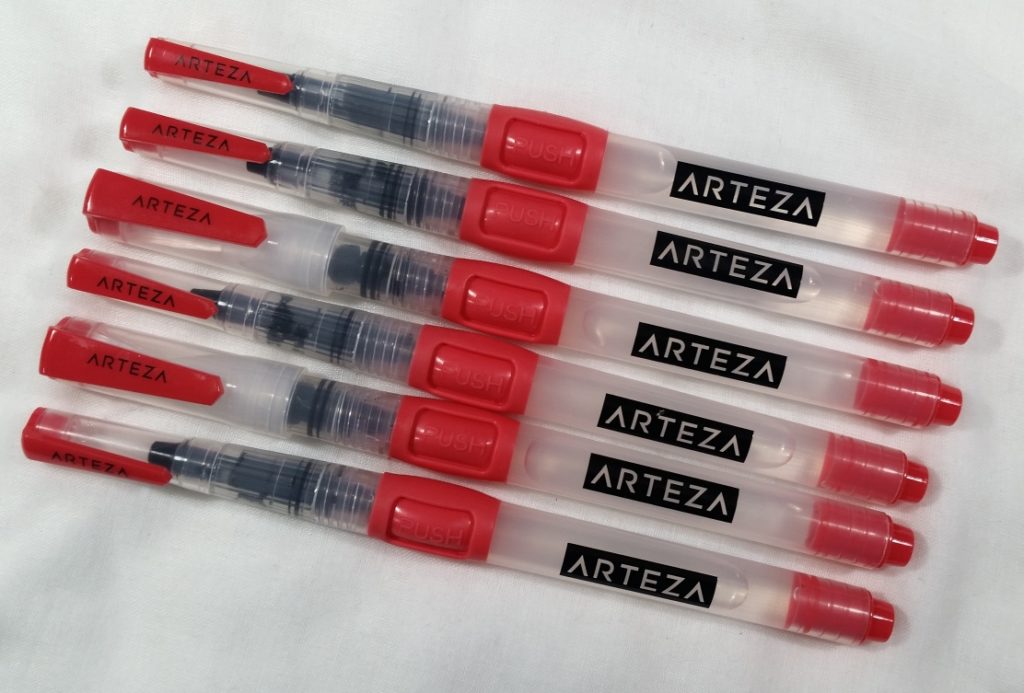 I've tried three of the water brushes so far and they all seem to work as expected, but the little button on the side of each barrel to help control the water flow seems unnecessary (except when first starting off loading each brush with water). As the price for these currently is competitive as compared to Pentel water brushes (which is what I have used previously), these could be ok to buy.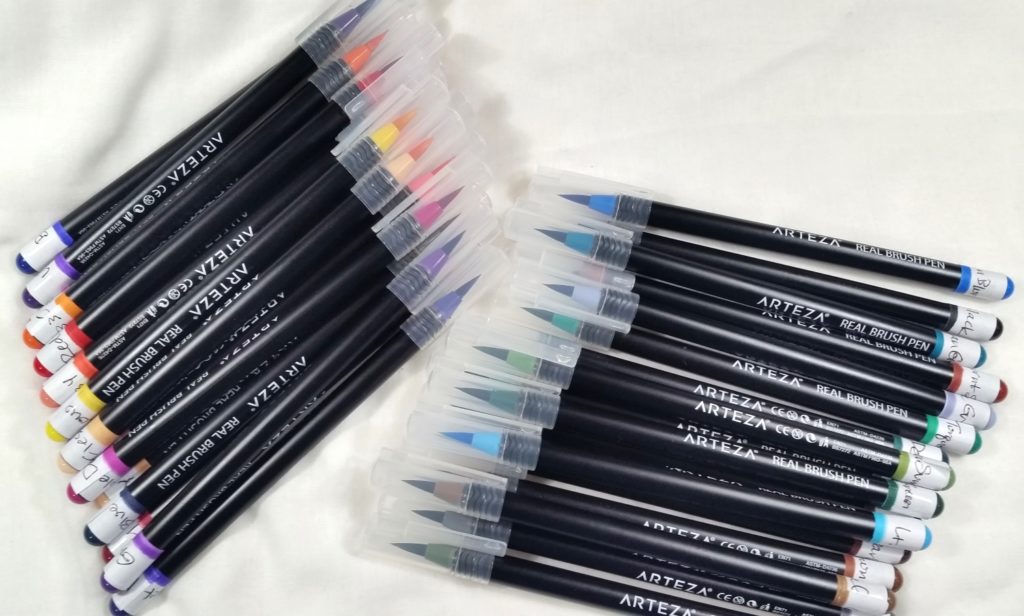 Lastly, the 48 Piece Premium Real Brush Pens Set was a real disappointment. The set that was shipped to me had 4 trays of markers (12 markers in each tray), but 2 of the trays were the same, meaning there were only 36 different colors. When I contacted the company and told them of their error and offered to wait to do my review if they wanted to send me a replacement, they declined. They said to just review what I had received. Ugh – Strike 1. That was not the response I was hoping for. If this is how they treated me, how would they treat customers whose opinions might not be heard? But I wanted to give them the benefit of the doubt and proceeded to swatch the markers to see how they looked both at full strength and blended out with a water brush. This is when I noticed none of the markers had any names or numbers – Strike 2. There was no way I could share coloring tutorials and process videos sharing the colors I used that would make any sense to my followers with these pens. I decided to keep going anyway and made up color names to label each marker to match my color swatch sheet. Then as I was making my swatch sheet I noticed that some of the colors when blended out changed shades dramatically – Strike 3. This is a significant problem unless you are careful and really think about how a color could shift when watercoloring. At this point I was thinking, well, I could use this if I needed to when my Zig marker set was lacking a color that might be in this set or if one of my Zig markers dried out so I decided to finish my swatch sheet anyway. The last critique is that bristles of 3 of the 36 markers that I swatched out came loose and fell out – Strike 4! I'm done with these.
In general, I think the blades could be ok if you see a need for that many different cutting blades for your crafting, but take care when handling the blades even in the storage case. The water brushes are fine and are currently priced competitively and hold a lot of water (which could be nice if you're doing big water coloring projects on the go). Lastly, if you want real brush markers at the lowest price, these might be ok but I cannot recommend them. I'd save up and spend a little more on the Zig Clean Color Real Brush Markers.
The following is my video review of these products: