When I saw these Carabelle Studio Alice's Adventures in Wonderland and Follow Your Heart stamp sets in my design team package from Topflight Stamps, I knew I wanted to create an ATC series with them. They are so artsy and cool, right?!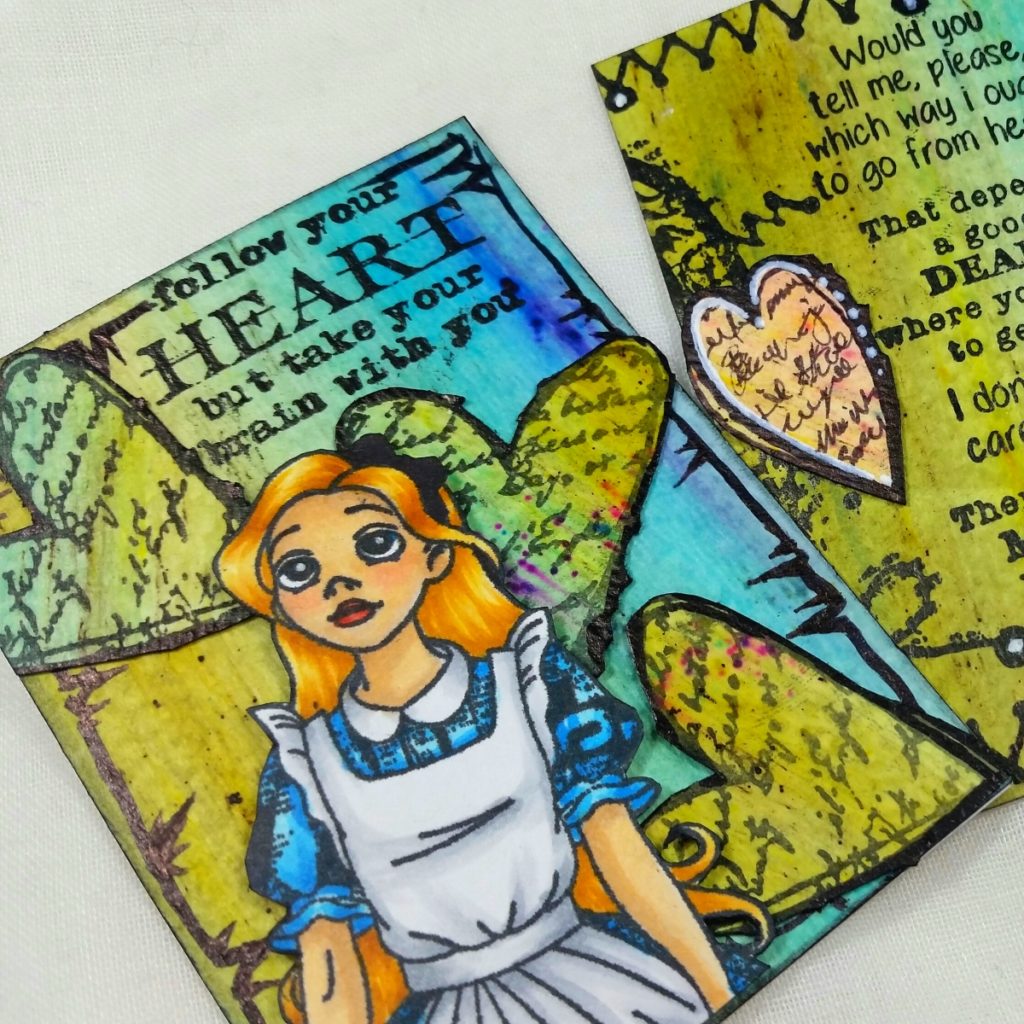 I stamped out the top part of the Alice and the White Rabbit and used the following Copic colors on them:
Skin: E50, E51, E21, R20, BV000
Lips: R14 and R17
Hair: Y11, YR24 ???
Blue dress: B01, B04 and B06
White apron: C1 and C3
White Rabbit: W1, W3, R20, Y11, YR24
I fussy cut them out and inked the edges with a Tuxedo Momento Black Marker to give them a finished look, all ready for them to be popped up on some ATCs.
But then I wondered what type of background would compliment them, while not competing with or distracting from them? I thought about spritzing some watercolor paper with pigment powders but then I researched how to use the PaperArtsy Infusions (which were also in my design team package) and found an interesting NEW-to-me use for them with glaze medium that created a variegated wood grain look. Since I didn't have glaze medium but had some Liquitex Matte Medium, I thought I would experiment just brushing these powders on with the matte medium onto Strathmore Cold Press Watercolor Paper. Oooh the effect was so neat! The walnut stain granules in the Infusions released more slowly than the pigment powders, but with a little patience brushing, they activated beautifully. I wanted a bluish – greenish – yellow background, but since I only had the Lemoncello and The Sage Infusions, I also added some Ken Oliver Color Burst powder in Ultramarine Blue. The Color Bursts are brighter and the Infusions have a more vintage and distressed look, but working them together, muted the Color Bursts enough to create a well-blended, colorful wood grain background.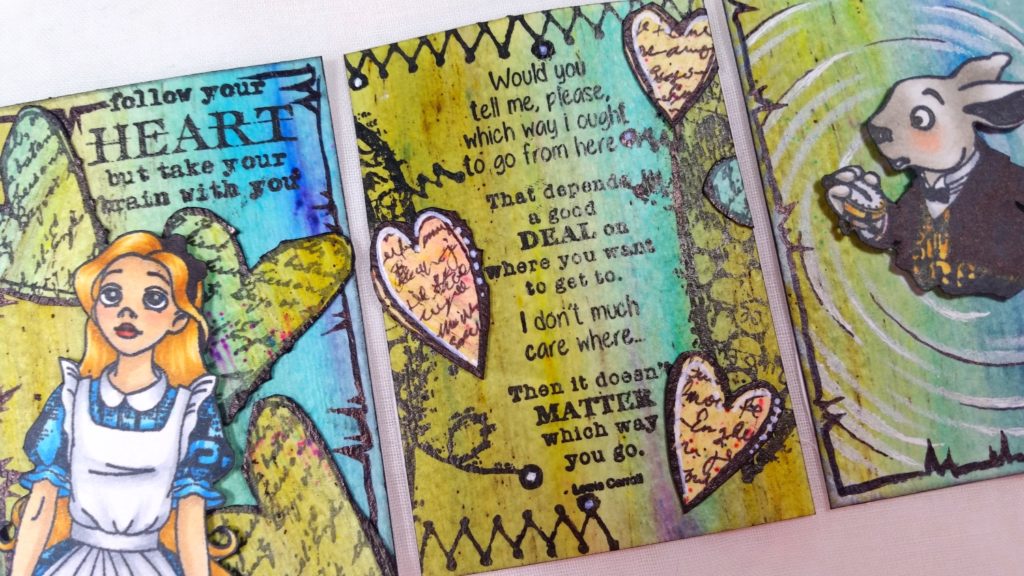 When this background paper was all dry, I cut them it down to size for 3 ATCs, plus some left over. For the ATCs with Alice and the White Rabbit, I inked the edges of the ATCs with Tim Holtz Distress Ink in Black Soot and also took Fine Point and Ultrafine Point black Sharpie Markers to doodle on some spikey lines to frame them.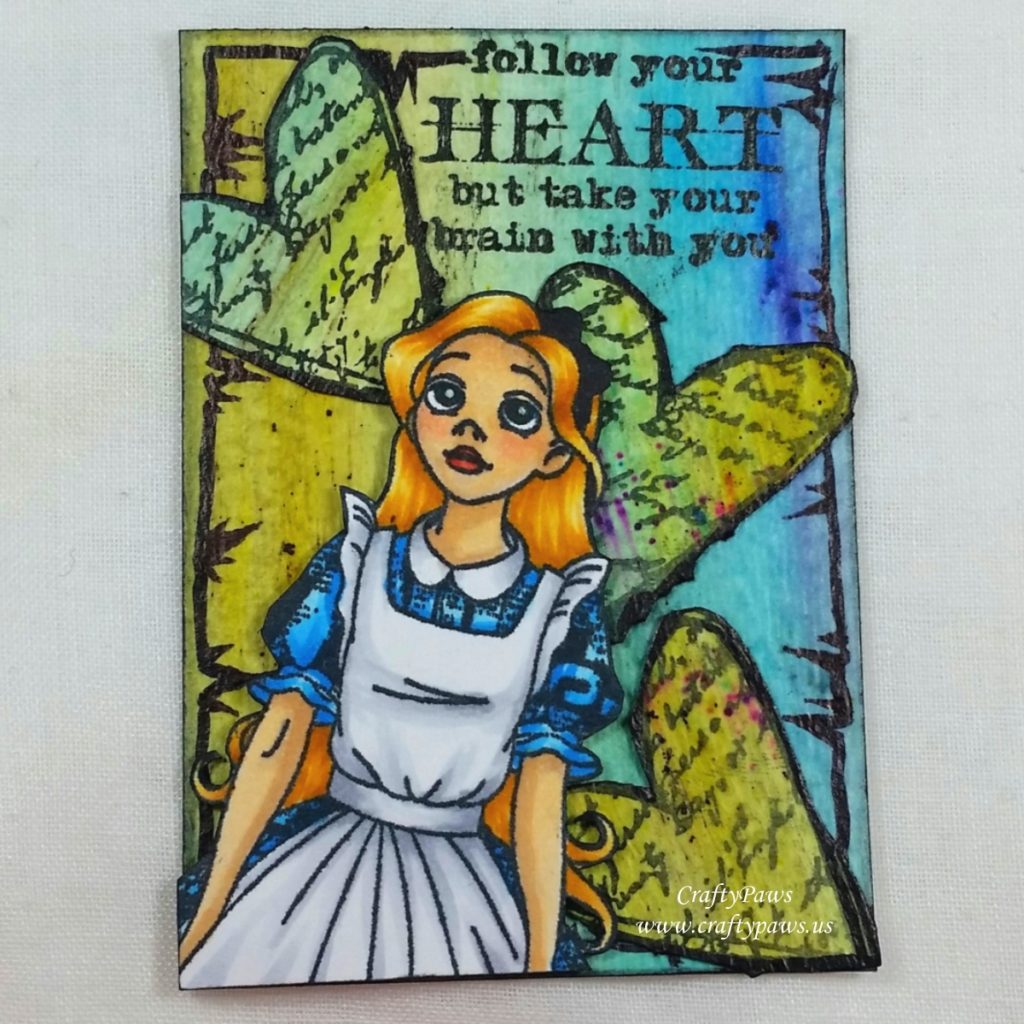 For the Alice ATC, I stamped out the sentiment from the Follow Your Heart stamp set in the upper right corner. I also stamped out three of the smaller hearts from the set onto the left over background paper and fussy cut those out to add some interest and slight dimension behind Alice.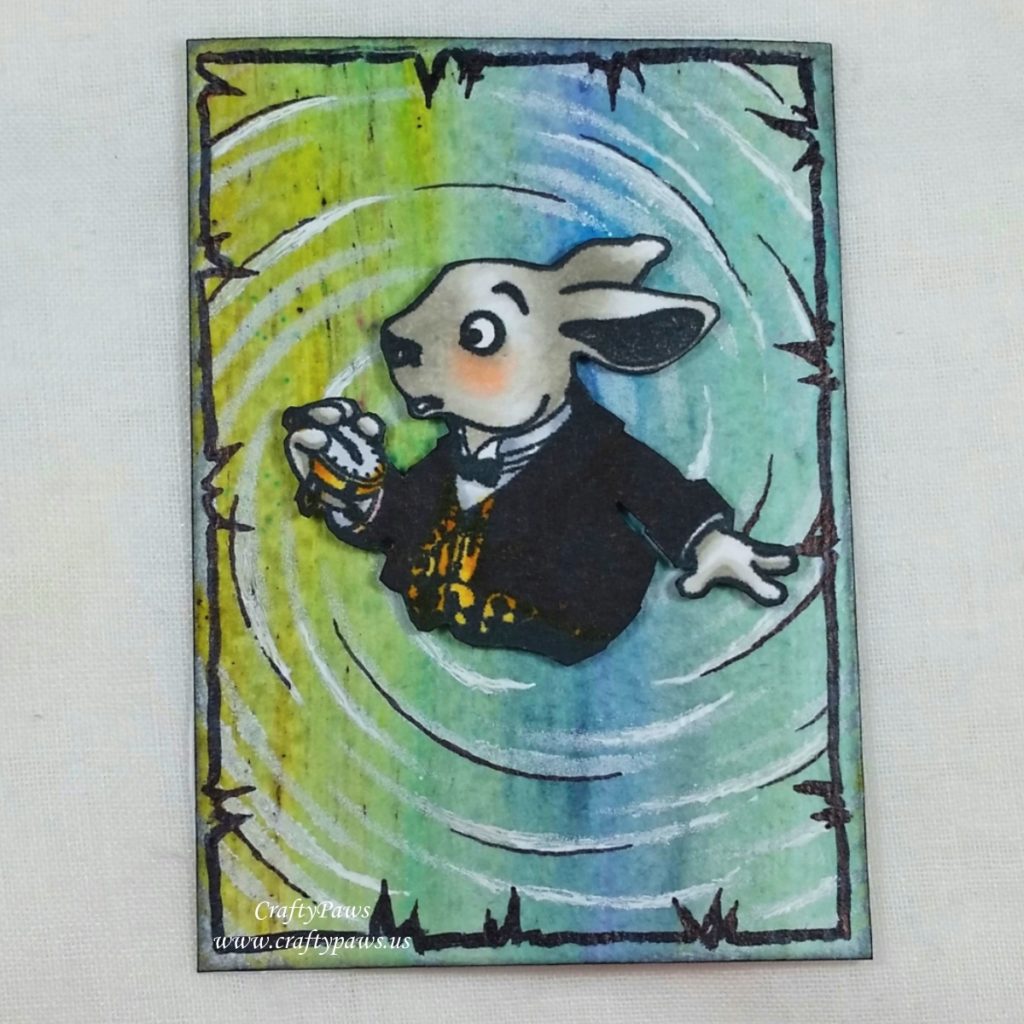 For the White Rabbit ATC, I used a DecoArt stencil by Andy Skinner called, Tornado with some Brilliance Moonlight White pigment ink to create a swirly whirly look. I highlighted some of the white swirls with my trusty Uniball Signo white gel pen and I also lined some of the swirls with an extra fine point black Sharpie.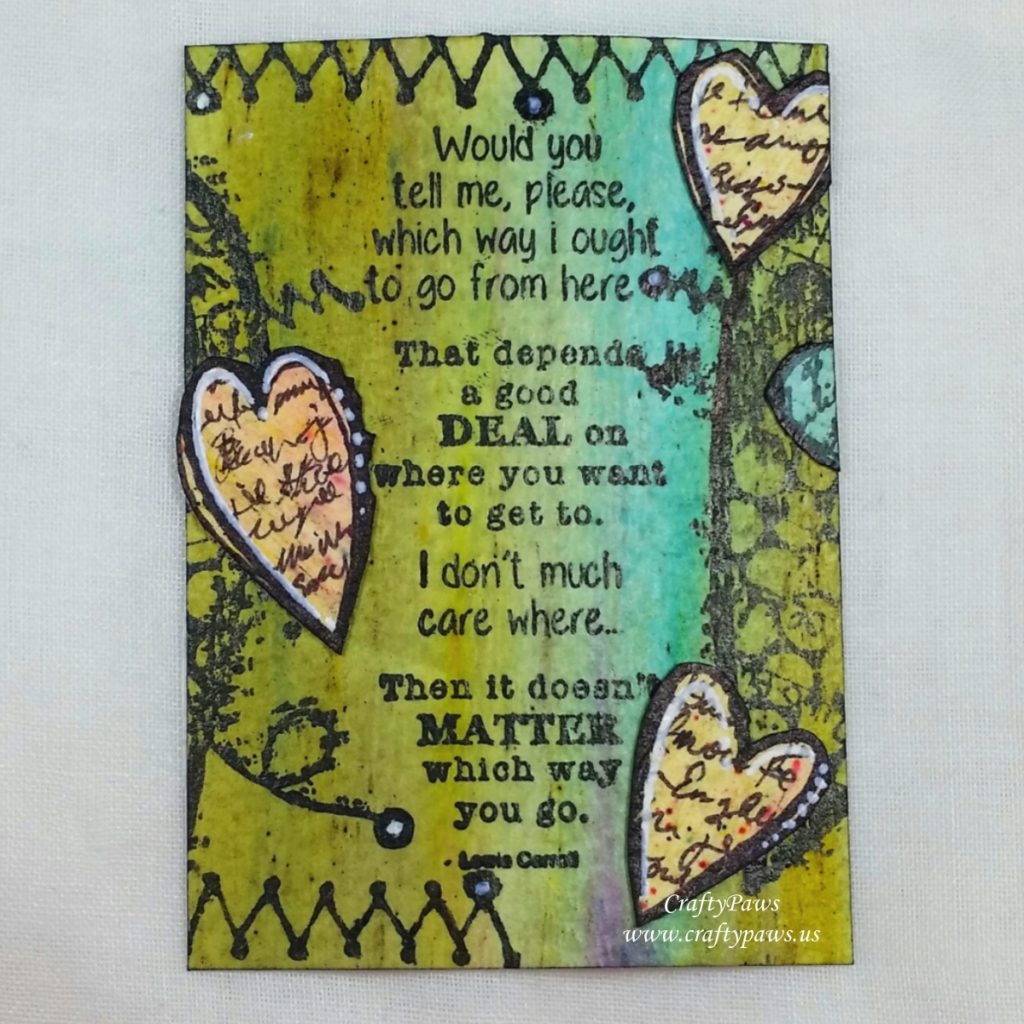 For the middle ATC with the main sentiment from the Alice's Adventures stamp set, I used sections of the large heart stamp from the Follow Your Heart stamp set and the zigzag line stamp to kind of frame the sentiment. I also doodled some hearts with faux scripty writing in them on some more of the left over background paper and fussy cut those out to add some color contrast and dimension onto this ATC.
The following is a process video sharing a lot of what I did to create these ATCs:
Disclosure: Many of the supplies I've used for today's project are linked. Some may be affiliate links, which means if you make a purchase I receive a small commission at no extra cost to you. I truly appreciate your support toward the costs of running this blog!
These ATCs are being entered into the following challenges:
Oddball Art Feature a Creature Challenge
Creatalicious Anything Goes with Optional Cute Challenge
Crafty Gals Corner Anything Goes Challenge
Word Art Wednesday Anything Goes Challenge
Simon Says Stamp Wednesday Layer it Up Challenge
Lil Patch of Crafty Friends Anything Goes Challenge
Through the Craft Room Door Anything Goes Challenge
613 Avenue Anything Goes with Twist Create Something New Challenge