Artist trading cards (ATCs) have been a bit of a mystery for me. We're supposed to create a little piece of art on a 2.5″ x 3.5″ "canvas," but when does a mini card stop being a mini card and become an ATC? Well, my take on this may not be right, but I always try to put a little extra sumthin' sumthin' into my ATCs.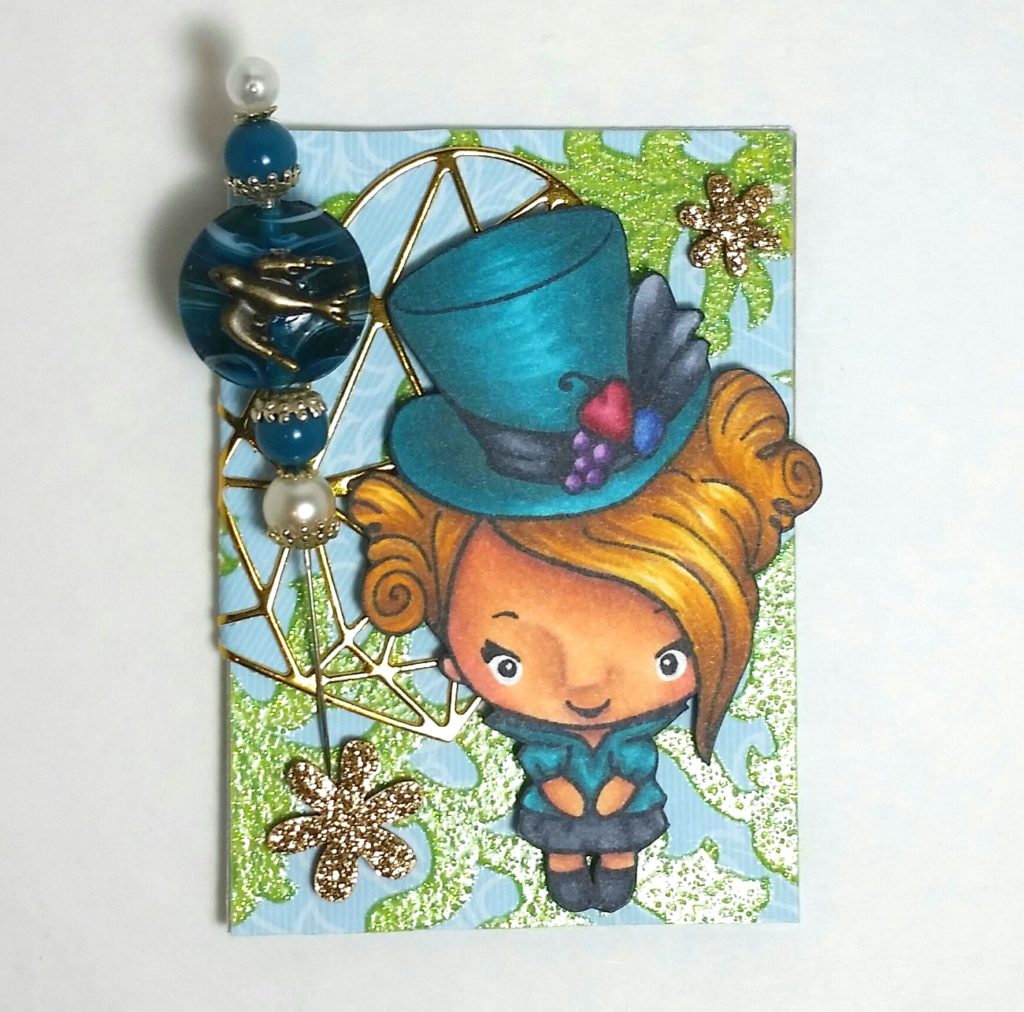 This time, I started with a chipboard base that I covered with a scrap of glittery blue and green patterned paper that I have been hoarding for years. I then added one of the Hatters from The Greeting Farm that I colored up with the following Copic colors: Skin: E000, 00, 21, 11, 04 with R20 blush; Grapes: V12, 09; Blue plum: B34 and 39; Strawberry: R83, 85 and 89; Blue-green part of outfit: BG45, 49 and 78; Hair: Y21, Y26, YR24 and E25  I fussy cut her out, inked the edges of the paper so the white edges wouldn't show, and popped her up on double sided foam adhesive to add a little dimension.
For the background, to add more shine and shimmer, I used a gold foil paper die cut using the Winnie and Walter True Multifaceted Heart Cutaway Die and backed it with more of the glittery blue and green patterned paper but positioned so that less of the heart background would be glittery (less busy) and more of the attention could go to the beautiful heart die cut itself and to the Hatter girl. Then to add a little twist, I scored the die cut from the back so that I could wrap it around to the left side and onto the back of the ATC.
Then to add even more sparkle, I glued on a couple of flower wood veneers that I coated twice with Champagne Gold Stickles. One coat left some of the wood showing (which I didn't like), but after letting the first coat fully dry, adding the second coating really made the flowers look like thick pieces of glittery metal.
Lastly, to take this from a card to a more elaborate ATC, I added an altered hat pin that I made with teal and pearl glass beads. To set off each bead, I added small and medium sized silver metal spacers, and to take the pin over the top, I added an antique brass bird charm (I clipped off the eye of the charm) to the face of the largest bead with E6000.
This ATC is being entered into the following challenges:
Winnie & Walter Precious Metals Challenge
Simon Says Stamp Wednesday Anything Goes Challenge
Word Art Wednesday Anything Goes Challenge
613 Avenue Create Anything Goes with Optional Twist of Green and Gold Challenge
Not Just Cards Anything Goes Challenge
Crafty Gals Corner Anything Goes Challenge – WINNER
Just Keep Creating Anything Goes Challenge
Crafts Galore Encore Anything Goes Challenge
Card Mania Let It Shine Challenge