I just couldn't put away the digi images from Vera Lane Studios before making one more quick project — they are just so quirky and whimsical! The little girl and the pup on the right on this Index Card (IC) are from the Curly Girl digi stamp set, and the poodle (yes, I drew another one to represent my sweet Biscuit), I doodled, mimicking Vera Lane's style.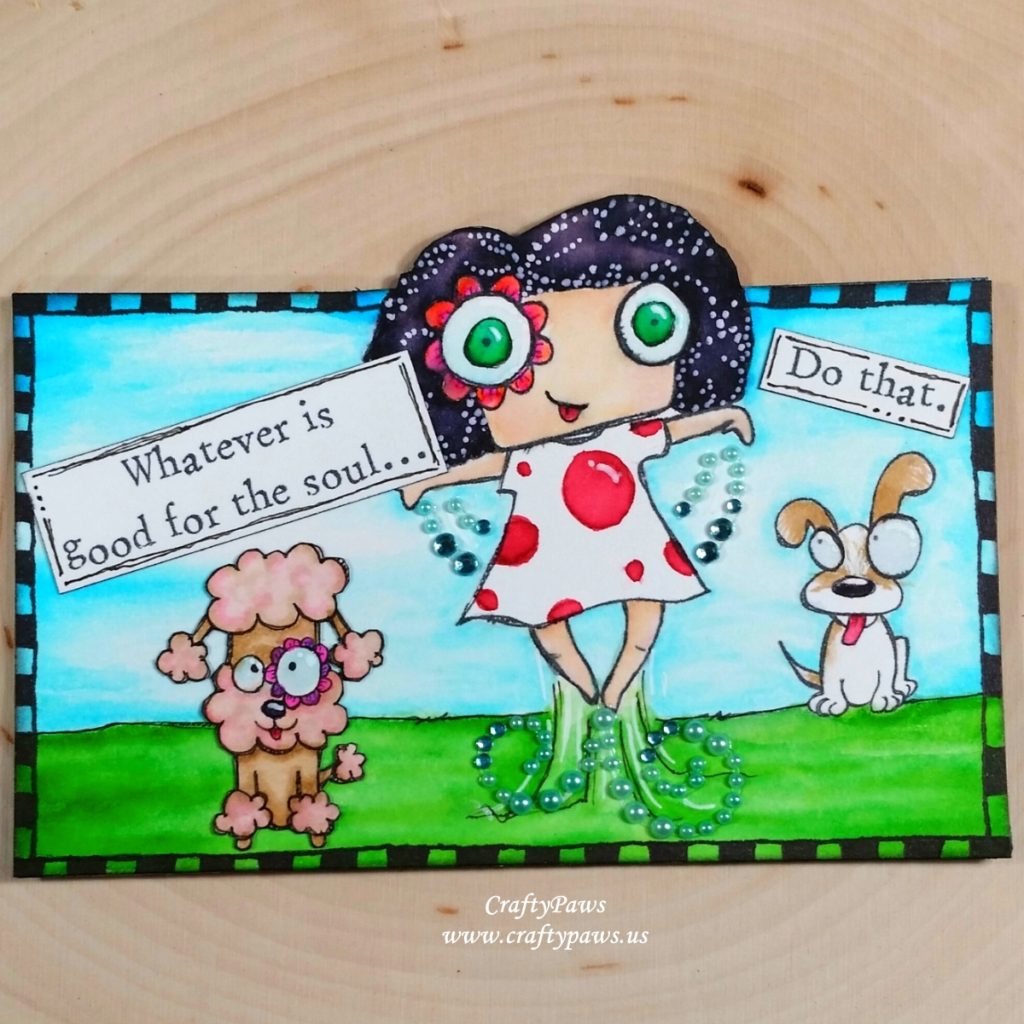 The background of the IC (measuring 5″ x 3″), the digital images, and the doodled poodle were all printed on Strathmore Bristol Paper. Then the background was watercolored with Zig Clean Color Real Brush Markers and a Pentel waterbrush. I used Light Blue and Cobalt Blue for the sky and Light Green and May Green for the grass. The edges are checkered for a funky frame with a Fine Point Sharpie Black Marker.
The Poodle was water colored with Pale Pink, Light Pink and Oatmeal for the body; Pink and Light Violet for the flower around the eye; and Light Blue for the eye balls. The goofy pup on the right I colored up to represent my Bandito with brown markings using Oatmeal. The girl jumping/dancing up into the air (representing me) is colored with: Skin: Flesh, Pale Pink; Hair: Black with dot detail added with a White Uniball Signo Gel Pen; Eyes: Green and Light Blue; Dress Bubble Polka Dots: Geranium Red; and Flower around Eye: Orange and Pink.
I girl and the pup on the right were printed directly onto the background and drew some jumping up lines beneath her feet and arms with a black Uniball Pen and the White Uniball Signo Gel Pen to give a sense of action. I also added some fun Prima "Say it in Crystals" bling from the "Lady Bird Collection" in the same areas to emphasize the feeling of lift with some sparkle.
The IC is a cartoon-ized portrait of me and my fur babies. The sentiment, which is also from the digi stamp set says, "Whatever is good for the soul… Do that." I printed that out and added some doodled lines around the phrases to help them stand out from the background. With the past month being so rough health-wise for my sweet Biscuit and for my dad (who was finally discharged from the hospital with a new pace maker today — YAY!), crafting (and supportive and encouraging crafty friends) has been good for my soul, so this IC speaks to my frame of mind and emotions right now in many ways. I feel like flying/jumping for joy with so much gratitude bursting from my heart for my Biscuit and my father coming through all these illnesses.
The following is a share of this IC and the prior post's ATC:
This ATC is being entered into the following challenges:
613 Avenue Create Anything Goes with Optional Create a Container
Simon Says Stamp Wednesday A Bit of Sparkle Challenge
Crafty Purple Frog Fabulously Floral Challenge
Creatalicious Anything Goes Challenge with Optional Use Stencils
Word Art Wednesday Anything Goes Challenge
Card Mania Life is Colorful Challenge
Lil Patch of Crafty Friends Anything Goes Challenge
Fab 'n' Funky Use a Background Stamp or Create a Background Challenge
MarkerPOP Rainbow Color Challenge