What is art journaling? Until a couple of months ago, I didn't even know such a thing existed. Basically, it is journaling but in the form of art. Usually folks try to do it on a regular basis and try to capture something that they are working on, thinking about, or trying out (like techniques or new products). I tend to be in the second camp. I like to art journal about things in my life (whether current, past or future) that is on my mind. While I also like to test new techniques, with certain pages, it is not a necessity and is not what drives an art journal page for me.
My first art journal page (top photo) is one that I did when I was suffering from one of my migraines. Normally I just curl up into a ball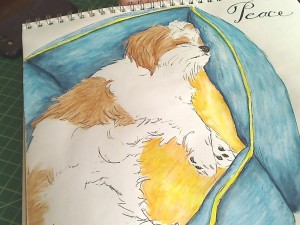 when I get one, but I had committed to starting an art journal this year so I really wanted to capture the essence of something that has so affected my life. I really like how it turned out, as I think it visually shows the feelings and hopes I have about my migraines.
I won't share all of my art journal pages, but here is a sampling. A drawing of Bandito asleep in his dog bed next to my crafting desk. I used a plain Uniball pen and my Derwent Inktense water color pencils. Nothing says peace to me like a sleeping pup.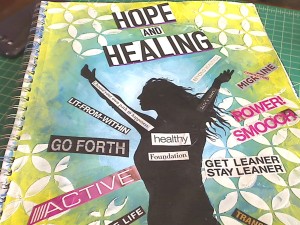 The next was a page that I hoped would keep me inspired and motivated this year to tackle my unhealthy demons. This was a bit of a collage and mixed media. I started my background with some plain acrylic paints, stenciled in some latex caulk and then drew in a silhouette of an uplifted woman. I then chose some phrases and words from a magazines and used my matte medium to clue them in. It has a bit of a retro 70s vibe, but I like how it turned out, and part of me thinks that the free-thinking 70s is a period from which I could learn a thing or two about letting go.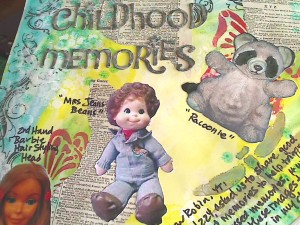 The next one I did for my friend, Robin (YT: tngirl224), who suffers from PTSD and asked folks to share good childhood memories. Now I had moved around a LOT as a child so I had nothing tangible with me from that part of my life, but thanks to the Internet I was able to find images of things that meant a great deal to me as a child that I shared in this art journal page. The memories came flooding back, and that can be a wonderful result of art journaling.
The following are the YT video posts of the last couple of these art journal pages along with one bonus one I did for another YT friend, Sharon (YT: Hope4ACure):
Thanks for stopping by! Subscribe if you wish, and have a great day! WOOF