A new crafty friend, Tanya (YT: Tanya Hubbard) is hosting a challenge asking folks to try something new on a layout. I decided to jump into the deep end and try 3 new-to-me techniques.
I used gorgeous (but busy) papers from the Basic Grey Fresh Cuts collection. As much as the fun poppy colors of the flowers made me happy, I decided to paint over some of it with white gesso and blue acrylic paint and gesso. I wanted to fade out the bright blossoms on the background paper a bit. This was my first time painting on a scrapbook layout.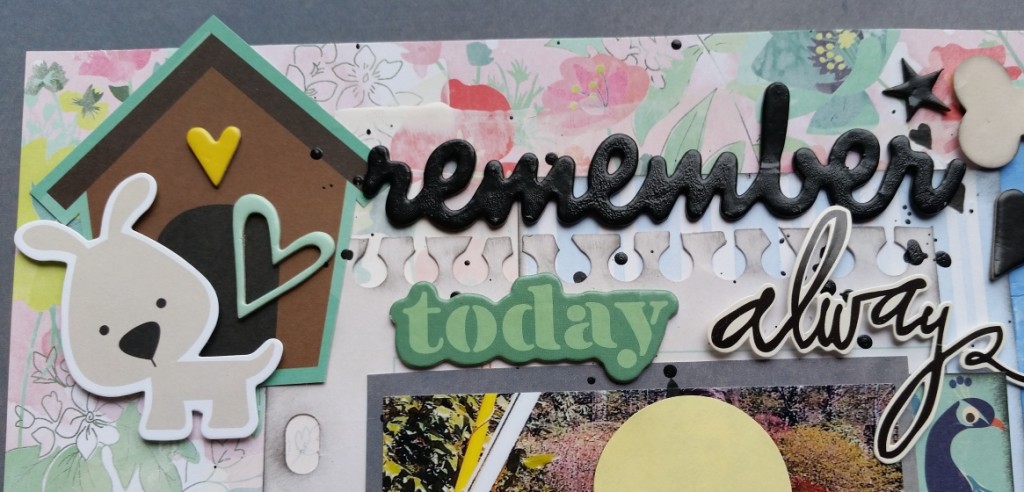 Then I dug into my scrap paper box and pulled out any patterned paper scraps that I thought might coordinate well with the main floral background paper. I inked all the edges with Tim Holtz Distress Ink in black soot. Then I started to play with lots and lots of layering. While I have layered, or more accurately, framed pictures with papers before, I have never done it to this extent. This was wild to me.
Finally I thought that this fun page, documenting the first real spring day of the year when my hubby and I decided to go for a walk with our pups, deserved a whimsical title. I dug around more in my Thickers and chip board word pieces and came up with "remember" and "today" in two different fonts from an Amy Tangerine Thickers Cut Out Accents collection. I had to paint the grey colored "remember" with two coats of black acrylic paint to work with the layout, but it was worth it in the end. The script "always" came from a Heidi Swapp dimensional banner sticker embellishment (which I used in pieces along the mid-line of the layout).
Then I picked out some fun puppy die cuts from a @snap PL and cut out collection, some stickers and chip board pieces from the Fresh Cuts collection to have fun with embellishing, and the Heidi Swapp banner. While this layout turned out a bit busy for my taste, I can't deny that it was refreshing and fun to just let loose and play with some new-to-me techniques. I highly recommend doing this whenever you feel in a crafty funk.
The following is a video share of this layout:
This LO is being entered into the following challenges:
Simon Says Stamp B is for (Blossoms) Challenge
Time Out Photo Inspiration Challenge
Thanks for stopping by! WOOF