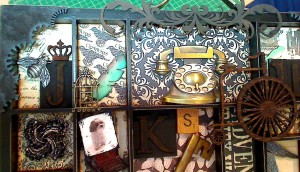 Configuration boxes or printers trays are a bit intimidating, at least for me. There are so many facets to them, and oftentimes, the sections are so small that one wonders what one can do to make each compartment interesting. I had been holding onto this 7 Gypsies printers tray for months now, garnering up my nerve to tackle this.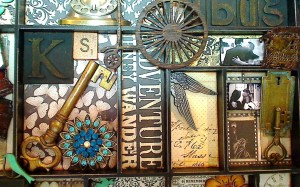 With my older dog, Biscuit, being very ill, I thought I would try to work on this bit by bit in the little gaps between caring for her, taking her to the vet, and, of course, also doing my consulting work. It turns out that this kind of project is ideal for working on over time because once a theme or color scheme is decided on, there is no one thing that has to be done in any particular sequence.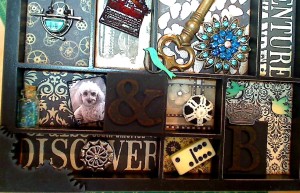 I took my time, collected all the papers I wanted to use (these came from no less than 6 different paper collections (including Graphic 45, My Mind's Eye, and Kathy Davis), cut each piece to fit, and "aged" the edges with Tim Holtz Distress Ink in Antique Photo, and glued each piece in (after a dry fitting of course) using my Tombow Mono Multi glue.
Then it was a matter of picking out metal, wooden, and interesting little doodads to fill each section. I usesd broaches, bling centers, buttons, wood veneers, spools, bakers twine, charms, game pieces, and keys. I moved pieces around until I liked the configuration (ahh–see! this is where the name probably comes from!). Then using E6000 I glued each piece into place.
I won't go through each piece, but some of my favorites are the Industrial Chic charm that happens to have my hubby and my age in the perfect shade of blue, all the little pictures I edited using Pixlr Express on my Samsung phone and printed out, and the Tim Holtz Grunge blocks which I used to make faux letter press type (LOVE that look!).
I would highly recommend you give this type of project a try. Don't be intimidated (like I was). It can be a really enjoyable creative process, and the results are amazing. What a great Fathers Day gift or special keepsake piece this would make!
Thanks for stopping by! Please subscribe if you wish, and have a great day! WOOF