I have intentionally decided not to limit my crafting to any one particular style. Maybe it's because I can't make up my mind, but I think it is actually because I find all styles appealing in one way or another. So depending on my mood, the inspiration, the recipient, or the materials I have to work with, my projects vary a great deal.
When working on projects for the same person, however, my crafty style doesn't change–until now. When working on my ATCs for Myra (YT: craftyrats), I went from very vintage (inspired by a wonderful die cut image of a lady in a stylish hat that was gifted to me by Julie (YT: Thriftypapergarden)) to completely clean and simple (inspired by a children's playing card fawn image I had picked up somewhere).  The two styles couldn't be further apart on the crafty style spectrum, but I like them both.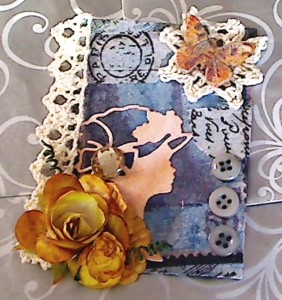 Myra's theme was Easter or spring, so my first ATC, using the woman die cut, was called "Springtime in Paris".  I started with a paper napkin with a silhouette of the Eiffel Tower. I layered on a bit of Tim Holtz washi, added the woman die cut, and started embellishing with flowers (stained with vintage photo distress ink to better match the vintage look), crochet trim, and a wood veneer butterfly (also covered with a piece of the napkin). I thought the result was very vintage-springy.
The next ATC started with some grass patterned paper as a base. I popped the fussy cut fawn image up on foam adhesive, and then hand glued each and every flower sequin to make a bed of flowers. To add a little more interest, I added a couple of acrylic mushrooms and a beautifully hand-dyed bow of seam binding. "Fawn in Flowers" is fresh, cheerful, and definitely springy. 🙂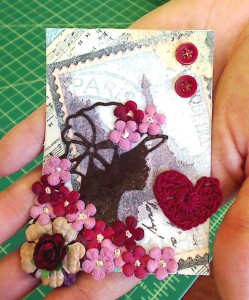 The last vintage ATC I made for another friend, started with the same die cut and napkin base. Using a different color palette, however, made this more romantic. I used small mulberry paper flowers, dotting the centers with Liquid Pearls, and layered in darker burgandy accents with buttons and a crocheted heart.
HINT: When laying down paper napkins (after de-plying them), try using gel medium (gloss or matte) to glue down the thin napkin paper. Gel medium is great for such delicate applications when you don't want bubbling or wrinkling.
The following video is a share of the first 2 ATCs; the last one is part of a surprise "Happy Mail" package I'm working on so there is no video for that one.
Thanks for stopping by! Please subscribe if you wish and have a great day! WOOF