My parents recently took a trip out west and had a chance to visit with family, see some amazing natural sights, and even the fabulous Cirque Du Soleil O Show. When they returned, my mom asked me to put together an album for her so that she could share her vacation with her church friends the following week! So this is what kept me totally busy this week in my craft room. I'm delivering it tomorrow, so I hope she likes it.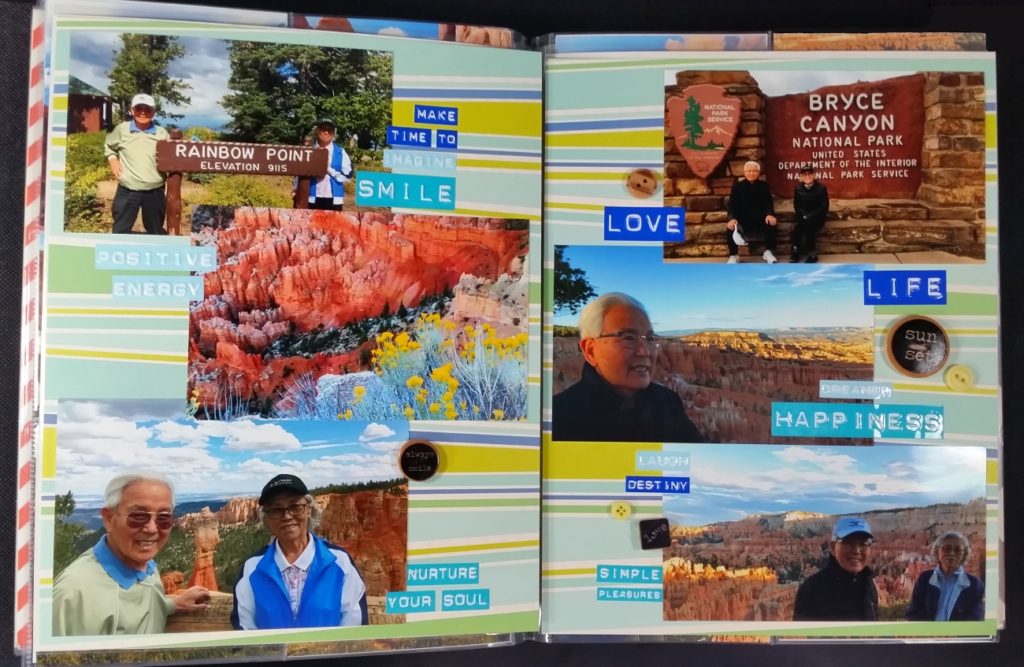 First I sorted through hundreds of pictures, and narrowed it down to about 130 to have printed out. I had to digitally edit about half of them to brighten the pictures and crop them to fit the standard 4″ x 6″ size for quantity printing. I was able to use a digital coupon at Walgreens and got them printed for about 10 cents a piece. That was day 1. 😀 LOL
Next I dug through my stash of stickers, embellishments, Thickers, and papers to come up with a collection of goodies that I thought coordinated nicely together. I used Me & My Big Ideas (MAMBI) Soft Spoken stickers, Heidi Swapp Memory Planner Puffy Stickers, Prima wood buttons from the Sunrise Sunset collection, My Mind's Eye layered felt and paper stickers from the Cut & Paste Charm Sweet Bits & Pieces collection, Dollar Tree layered 3D sunflower stickers, American Crafts fabric stickers from the Everyday collection, My Mind's Eye layered stickers from the Collectable Notable Memo collection, Recollections metal travel ticket, Heidi Swapp clear Word Stickers, various other stickers from old scrapbook kits and unbranded sticker sheets, and old buttons from my button hoard. All the papers were from the Travel the World Craft Smith 12″ x 12″ paper pad I had picked up on clearance at Michaels for $5. For added softness I also added some rough twine and metallic gold thread on some of the banners, buttons and tags.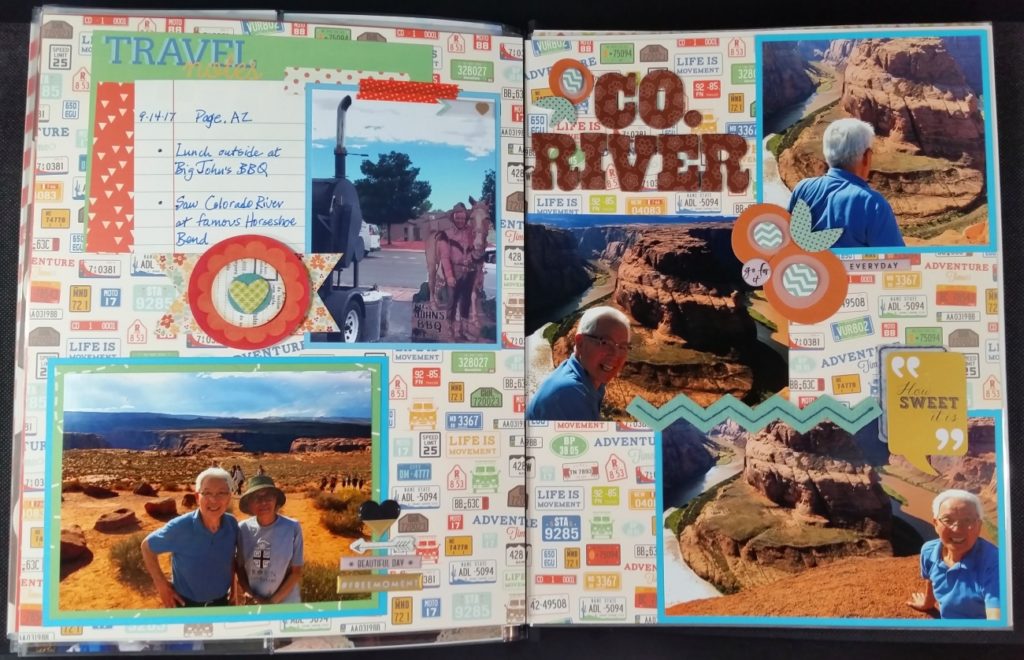 Then it was a matter of putting together each page and double page spread layout for each part of their trip. I did a lot of cropping, more editing, matting, and color coordinating. As I worked through each part of their vacation pics, I also tried to note little things about their trip in some hand written or typed journaling. The cut-aparts from the paper pad were great to add little bits of info to a lot of the layouts.
The following is a video flip through share of the album:
Unless noted otherwise, the first pictured layout is being entered into the following challenges:
Simon Says Stamp Pop It Up Challenge – lots of layered 3D stickers and popped up embellishments using foam adhesive and fun foam
Card Mania Shabby Chic or Rustic Challenge – rustic western Colorado River layout (3rd picture)
Lil Patch of Crafty Friends Anything Goes Challenge
Word Art Wednesday Anything Goes Challenge
Through the Craft Room Door Anything Goes Challenge
Creatalicious Anything Goes with Optional Leaves – Colorado River layout with abstract flowers and leaves (3rd picture)
Crafts Galore Encore Anything Goes Challenge
613 Avenue Create Anything Goes with Optional Distress It Challenge