I wanted to do a CAS card using one of the super cute Mama Elephant kids from the "In My Heart" stamp set an to use these beautiful vellum butterflies from Jennie Bowlin. For
the imaginatively impaired, she could be flying 3 butterfly kites, but for those who like a little fantasy I thought it could look like this little girl was being lifted up and carried away by them. 🙂
I created the background after making a home-made stencil from some left over card stock. I drew out some arches and just cut it out with scissors. Then I laid it down and inked around the stencil with some pale blue ink an a finger dauber. I like the cartoony effect (which I thought was a good match for the little cartoony kids from the stamp set).  Then I basically repeated the creation of the cloud stencil creation steps to create little green hills from some scrap paper from my scrap box. I inked the top edges of the hills so that they would be clearer to see against one another.
There seemed to be something missing in the background until I added a little house die cut (well, actually it is a dog house, but who's to know–shhh, it'll be our secret!).  For some reason this reminded me of the movie, "Fly Away Home," a dramatization of the story of Bill Lishman who trained geese to follow his ultralight plane so he could lead them through migration to safety. I think there is something about "home" that connotes safety, warmth, and freedom that I wanted to include in this (hopefully) uplifting card. 🙂
I used the little boy from the stamp set but turned him into a little girl by using the grass tuft stamp to add little pony tails to the boy. What a fun way to get a little more versatility from your stamps, right?  I colored her up with the following Copic markers: Skin: E00 and E11; Blush: E20; Overalls: B93 and 97; Shirt: RV21 and 13; Hair: E23 and 25; Shoes E25.  I love how super easy it is to color up this simple kid image. There is very little shading and the areas are so small that blending is easy too.  I fussy cut her out and popped her up on foam adhesive so that she could have the strings tucked under her hand.
For the butterflies, I simply attached some pink embroidery thread to their backs with more foam adhesive and then secured all three threads to just under the little girl's hand with some Glossy Accents (which I also used on her shoes to add a little bit of shine–I couldn't help myself!).
The following is a video share with the cloudy sky making process included:
The cloudy sky technique in this card is being entered into the Simon Says Stamp Monday Techniques Challenge and
the Kraftin' Kimmie Stamps Anything Goes September Challenge and
the Catherine Pooler Housewarming Party Challenge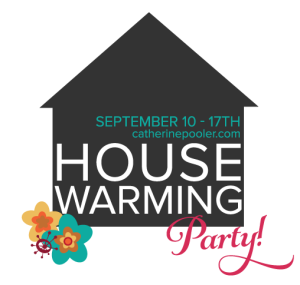 Thanks for stopping by and have a great day! WOOF