When someone from the Youtube crafty community is going through trials and tribulations, I am amazed at how the others in the community rally around. If there is a major illness, a passing, or some other difficulty, well wishes, virtual hugs, and prayers surround and bind.
The card I made in the picture above is for a friend who has recently faced, and is facing, major changes to her life. I wanted to create a cheerful card that "embodied" a sunny outlook. I topped the golden yellow of the cardstock and the textured handmade paper base with sparkly applique lace trim, dimensional stylized leaves with gold foil details, and butterflies that represent a new life after metamorphosis. I hope it brings a smile to her face and reminds her that she has friends out there that are thinking of her and are wishing her the best.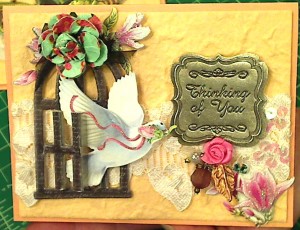 The next card is one I made for a friend, Jackie's (YT: J Kolbe) mother. Jackie called on her YT friends to make her mother (who is going through chemotherapy treatments) a card, a tag or an ATC. She mentioned some things that her mother liked, such as birds, birdcages, flowers and the color turquoise, so I tried to include them all in this card. I think the result is warm and, hopefully, uplifting.
How fortunate I feel to be able to craft some things that may bring some cheer during hard times.  It's not much, but sometimes the little things can make a big difference, especially if they are repeated and aggregated, the way calls to action often are in the YT crafty community.
The following is a video in which I share the second card:
Thanks for stopping by! Please subscribe if you wish, and have a great day! WOOF