I was so excited when Mel (YT: MelsCraftDesign) asked me to be a guest designer for her Zibbet shop, MelsCraftBoutique.  Her trims, appliques,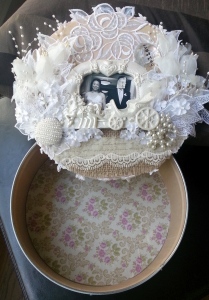 laces, doilies, etc. are so beautiful and her prices are amazing!  MelsCraftBoutique Coupon Code: At check out, use the code: CraftyPaws10, for 10% off your entire order and free U.S. shipping on orders of $40 or more!
I wanted to make a special project for my first guest design team (GDT) project so I decided to upcycle a tin and alter it for an anniversary gift for my hubby (we recently celebrated our 6th wedding anniversary in the ER because I was ill with a kidney infection–sigh). I used a few things that were gifted to me by sweet crafty friends (DCWV fabric paper from Elaine (YT: todaylibrary); a bit of script fabric and burlap from Milissa (YT: Milissa d); and the carriage frame from Becca (YT: Stamping with Beccajb)), but everything else was from Mel's shop.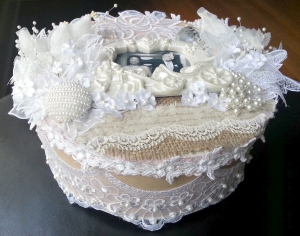 The side of the tin is really decorated with only one stunning embroidered bridal lace with pearls. I thought this lace was so beautiful that I wanted it to stand alone in all its glory.  The side of the tin lid I lined with a soft pink embroidered flower trim that just overhung the edge of the lid and over top of that I added this very rich Venice rose trim.
Mel's flower sprays are so luxe! I hardly had to do anything to them other than tuck in a few extra small millinery flowers  and a couple of her shimmery vintage leaves here and there. Above the carriage frame, I used a beautiful organza applique of roses with iridescent sequins to create a kind of "sky" with the roses representing puffy clouds.  For the "road" beneath the carriage, I used a bit of burlap, a snippet of fabric with pretty script and a dainty scalloped lace.  For a touch of whimsy, I added a gorgeous round beaded applique behind the back wheel of the carriage; with the movement from the beads, it is reminiscent of a carriage racing forward kicking up some "dust."  To balance off that fabulous beading (and to give me a place to tuck under the base of the floral spray) I added a beautiful vintage button to the front of the carriage.
The following is a video share of this altered tin:
Thanks for stopping by! Please subscribe if you wish, and have a great day! WOOF