I had some remnant pieces of "Burberry" print plaid fabric in my fabric hoard vault that I have been "saving" for a special project. And one of my new year's resolutions for 2017 was to stop hoarding and start using, soooo….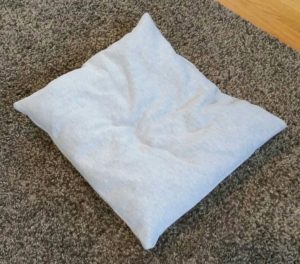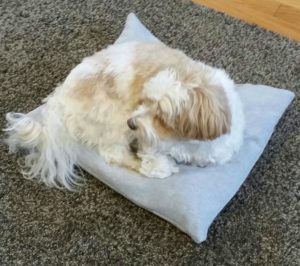 I got out my little-used sewing machine and decided to make a few doggy pillows and a dog bed for my sweet Bandito (not that we don't have enough dog beds; an exterminator once came to our house and after looking around for a bit, asked us if we had a several dogs; at the time I had 1 — LOL).  There is a nook in the built-in side board of our dining room where Bandito often lays while Mr. CraftyPaws and I dine. This would be perfect for the new "luxe" bed and pillows installation. 🙂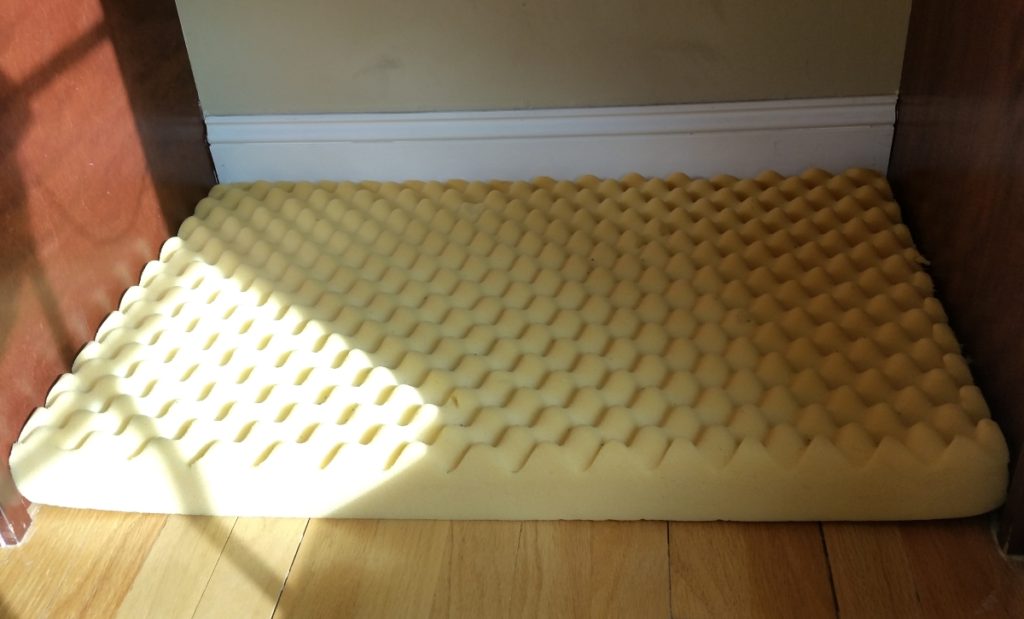 I rummaged in our basement and found: (1) a piece of egg carton foam (who knows from where this came); (2) a few very grungy stuffed animals that were not suitable for donation but whose stuffing I could re-purpose; and (3) an old sweatshirt of Mr. CraftyPaws that had a hole in the elbow and was frayed at the cuffs, but whose middle area was very thick and plush. With all these "treasures" and the previously hoarded fabric, I did some measuring (allowing for 1/4″ seam allowance on all sides and an extra 2 inches on each side for some breathing room to get around the sides of the egg crate foam) and sewed simple straight sides to make a lap pillow, two little head pillows, a wrap-around bolster for the dog bed, and a doggy bed cover. I didn't use any patterns (which is very difficult for me and my naturally OCD tendencies); I just winged it!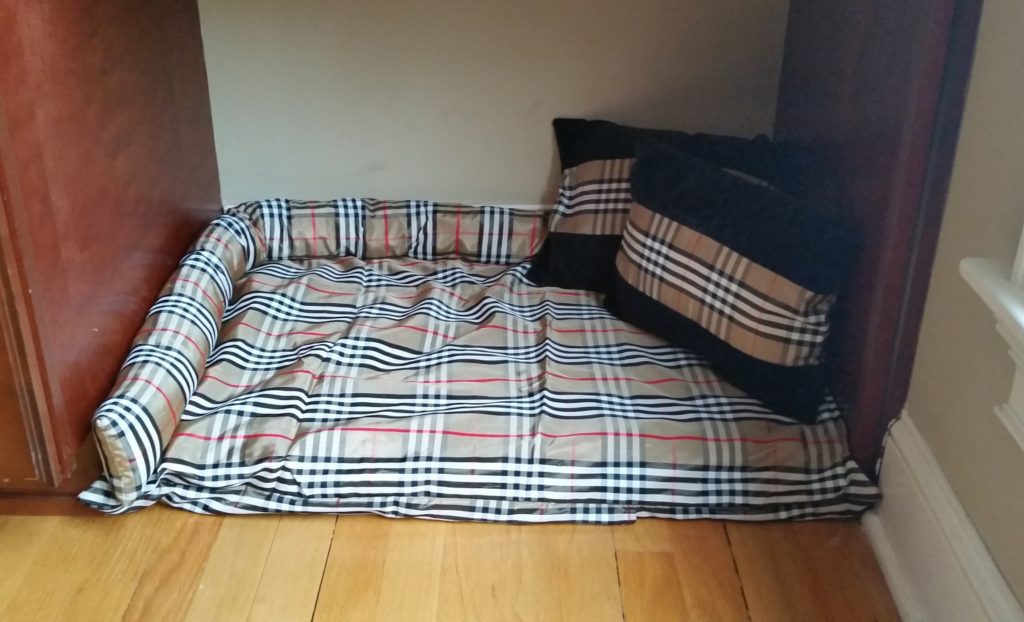 It all took about 3 hours, and I was so pleased with the results. The only thing I regret was that I hadn't done this sooner.  I got to upcycle some old stuff and make them into something new, got a jump start on using my hoard, and make some special pieces for my pup. Little Bandito gave it his "woof of approval" by immediately getting on top of each new piece as soon as I put them down. This was a good fresh start to a crafty new year!
This dog bed, bolster and doggy pillow ensemble is being entered into the following challenges:
Simon Says Stamp Monday Start Afresh Challenge
Simon Says Stamp Wednesday New Something Challenge
Lil Patch of Crafty Friends Anything Goes Challenge
Through the Craft Room Door Anything Goes Challenge
Crafts Galore Encore Anything Goes Challenge
613 Avenue Create Anything Goes with Optional Totally Technical Challenge
Not Just Cards Anything Goes Challenge
Word Art Wednesday Anything Goes Challenge
Creatalicious Anything Goes with Optional New Years/Wishes Challenge