An friend of mine and her family are dealing with some incredibly scary and worrisome events. Two of her children were in a terrible car accident, and they are both in critical condition. Just to let her know that I am thinking of them and praying for them, I wanted to send her what I hope is an uplifting card.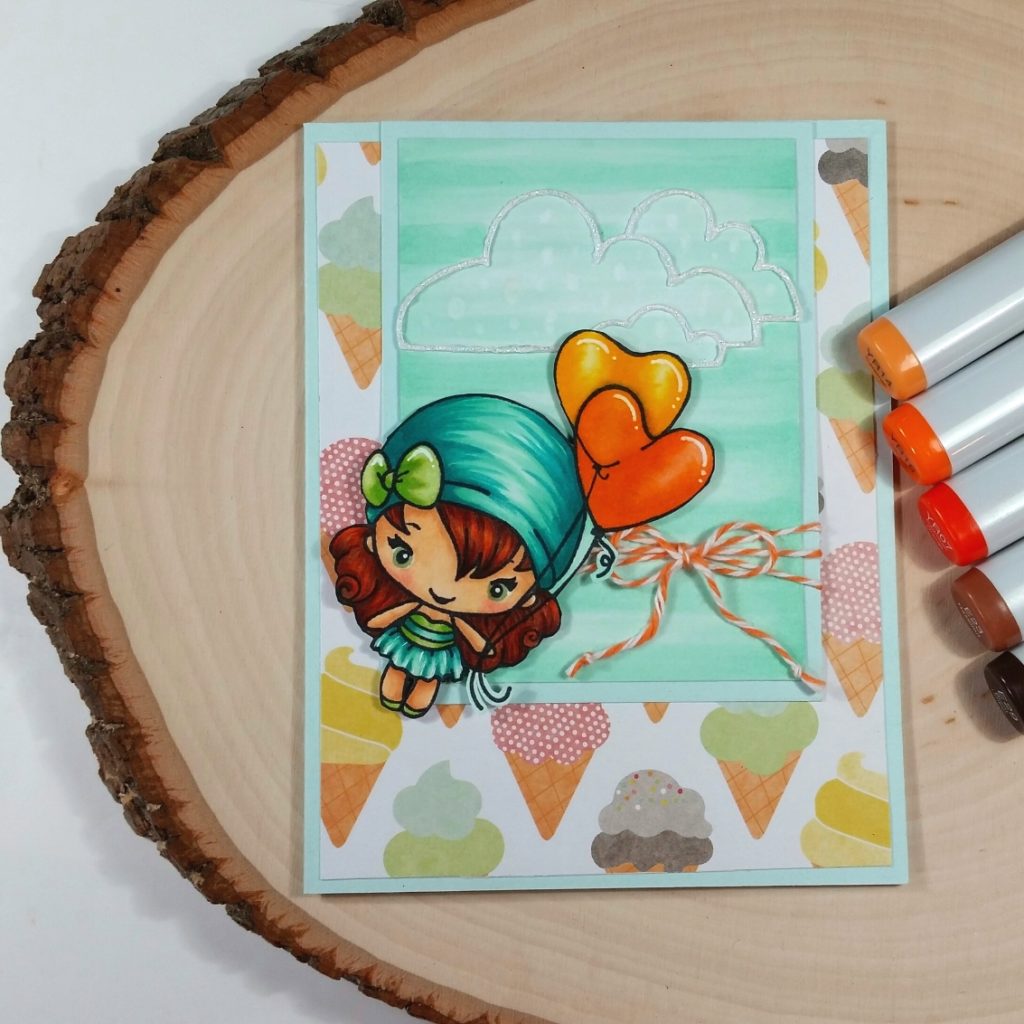 I followed a sketch from The Greeting Farm, Farm Fresh Challenge and used the sweet, Up Up Bean stamp (retired) from their Bean Collection. To color up various parts of this card, I used the following Copic markers:
Striped background layer made from plain white cardstock: BG10 and BG11
Hat and skirt: BG10, BG23 and BG49
Hat bow and top: G40, G43 and YG 07
Eyes: G94
Hair: YR14, E23, E25 and E29
Skin: E50, E51, E21, E53 and R20
Yellow balloon: Y00, Y13 and Y19
Orange balloon: YR000, YR14, YR16 and YR07
I also added some highlight lines on Bean's skirt, hat bow, and balloons with a Uniball Signo White Gel Pen. I fussy cut her out and popped her up at an angle (like she's floating on by with the balloons) with double sided foam adhesive to add a little bit of dimension.
For the base background, I used a scrap from my scrap box. It's retired but I believe it's from the American Crafts Dear Lizzy Neopolitan paper stack. For the half circle shape in the sketch, I used part of the Simon Says Stamp Cloud Bank Die (also retired). To create a soft textured look, I also used a 0 colorless blender to push away some of the background striped background color just inside the clouds. To add sparkle, I used Nuvo Glitter Drops in White Blizzard over top of the thin die cut clouds.
Lastly, for a little more texture and dimension, I wrapped the top background layer 3 times with orange and white baker's twine, finishing it off with a hand-tied bow. I futzed with that bow for so long that I ultimately glued down bits of it so that it would retain it's perfect shape. 🙂
The following is a video share of this card:
This card is being entered into the following challenges:
Simon Says Stamp Work It Wednesday Stamptember Challenge
Simon Says Stamp Wednesday Anything Goes Challenge
Word Art Wednesday Anything Goes Challenge
Crafty Gals Corner Anything Goes Challenge
Through the Craft Room Door Anything Goes Challenge
Creatalicious Anything Goes with Optional Make Your Own Background Challenge
Fab 'n' Funky Fall Colors Challenge – yellow, orange, green, rust (hair color)
The Greeting Farm's Farm Fresh Sketch Challenge