Ohhh I am so excited that this worked! I tried creating a swing card with normal dies for the first time not too long ago, and today I just made a couple of triple swing cards!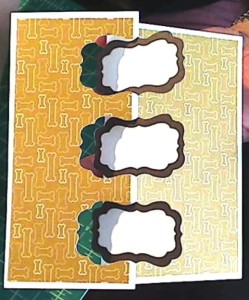 I used the smallest and second to the smallest of the Diemond Dies Labels 1 Nesting Dies set to make the swinging portions.   As a guest design team member, I am pleased to be able to offer a Diemond Dies coupon code: thankskristina for 10% off your entire purchase and free worldwide shipping on orders over $35!
The following are the dimensions to make this card:
Cardstock base: 6″ x 7 1/2″
Score vertically with 7 1/2″ along horizontal at: 2 7/8″ and 3 7/8″
Patterned papers for base: 5 3/4″ x 2 5/8″ and 5 3/4″ x 3 3/8″
Centering small dies along the 6″ vertical at: 1 1/4″, 3″, and 4 3/4″
Be careful to line up the cutting plates of your die cutting machine so that the area between the score lines is not cut.
The following is a detailed video tutorial of this triple swing card:
Decorate to your heart's content, and enjoy the process!  This makes a fun, interactive card.
Please subscribe if you wish, and have a great day. WOOF