After a vacation (which was really needed), I got really sick with a doozy of a flu followed by complications so I have been out of my craft room for weeks! As I started to feel better, I eased back into my craft room the last couple of days and decided to work on a project that has been weighing on me for a ridiculously long time.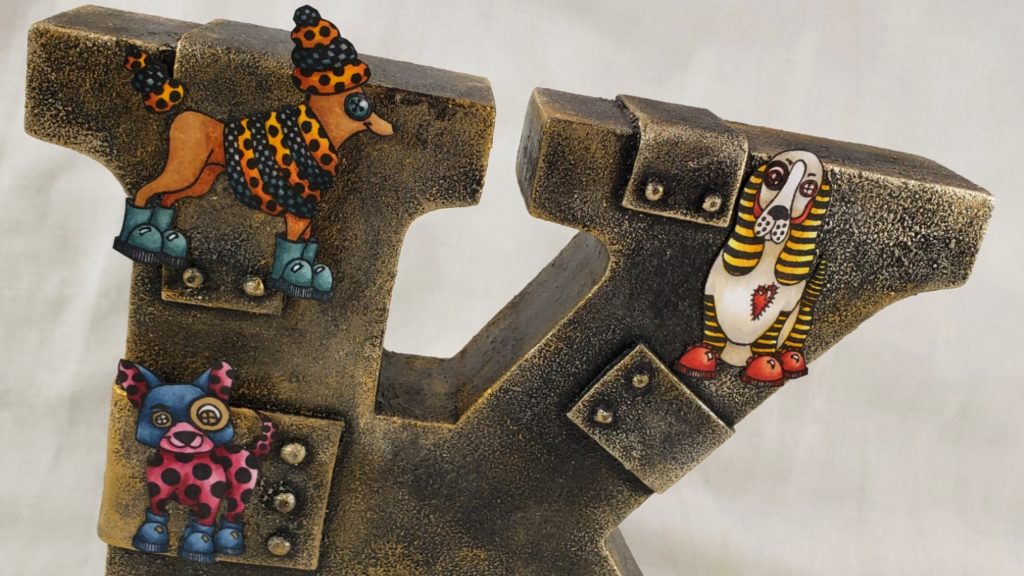 I had purchased a white wooden K in the clearance section of TJ Maxx about 4 years ago for $2. It was pretty beaten up, but I felt confident that I could revitalize it and make it my own. Then as other projects rose up on my crafting to-do/try list, the K got buried in my craft closet. So with small bursts of energy that seemed to work perfectly with needed drying times, I tackled this project — finally!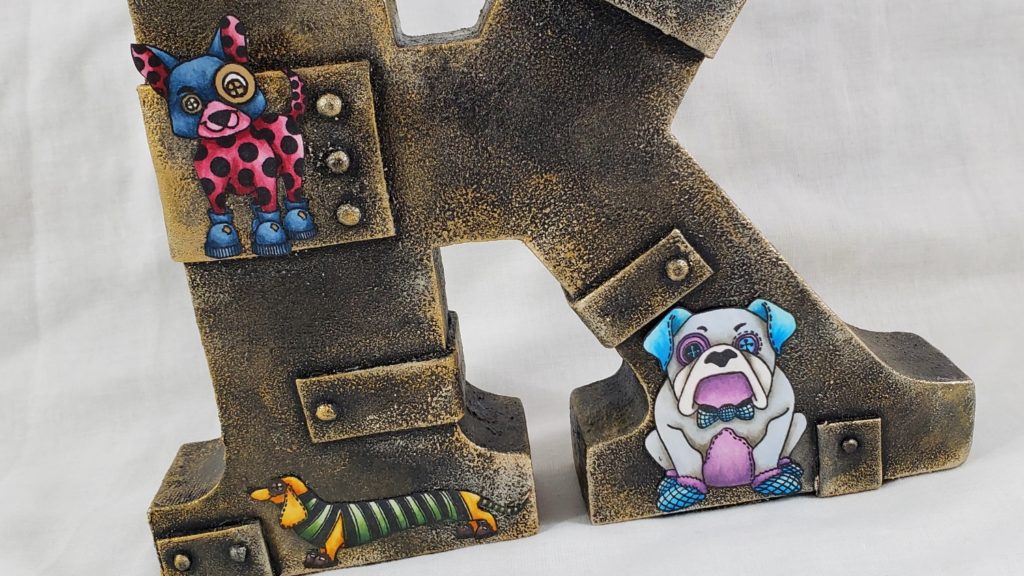 1. I cut strips of fun foam and hot glued them using my new Bojecher Glue Gun onto the K to form what I hoped would look like metal welded sheets.
2. I next used the hot glue gun to form little dots on the ends of the strips to form what I hoped would end up looking like rivets — to do both sides of the K I had to wait for the first side to dry to a full hardened cure.
3. I used a stiff stencil brush and DecoArt Media Modeling Paste in Black to not only seal the foam and wood, but also add some rough texture — again there was dry time of a couple of hours, especially where I had added thicker texture.
4. Because modeling paste did not fully cover the white of the wood, I next painted the whole thing with Artist's Loft Metallic Black Acrylic Paint — more drying time, but pretty quick.
5. Lastly I had fun getting my fingers dirty with DecoArt Metallic Lustre in the colors Gold Rush and Champagne Ice. I first applied the Gold Rush to all the edges of the K, the rivets, and the strips, and it was like magic the way that shimmer made these odd materials look like metal. Then I did a light coating of the silvery Champagne Ice, over top of the gold and over more of the flat surfaces of the K, and this aged the K beautifully.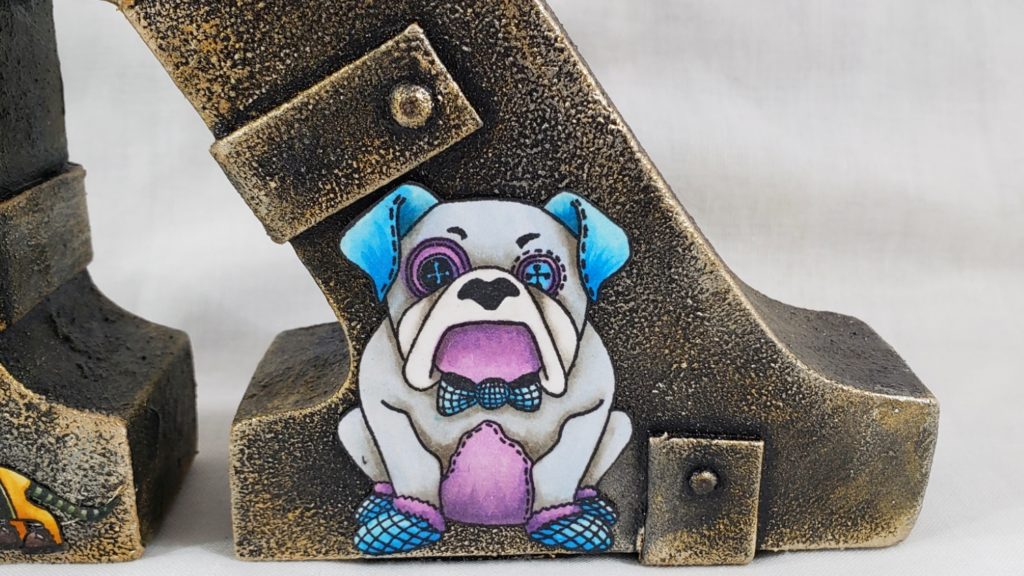 I could have stopped here, but I like Cutsie mixed with my Steampunk, so I pulled out those adorable TINY Dylusions Puppy Dog Tails images that I had Copic colored last month. I first coated them with a coat of Liquitex Matte Medium to protect the images and strengthen the paper. Then I futzed with them on the K until I found what I thought were the perfect placement of each pup. I really like this new addition to my craft room decor and I am sooooo happy to have that K finally transformed from trash to treasure!
The following is a video of the various steps to create this Cutsie Steampunk project: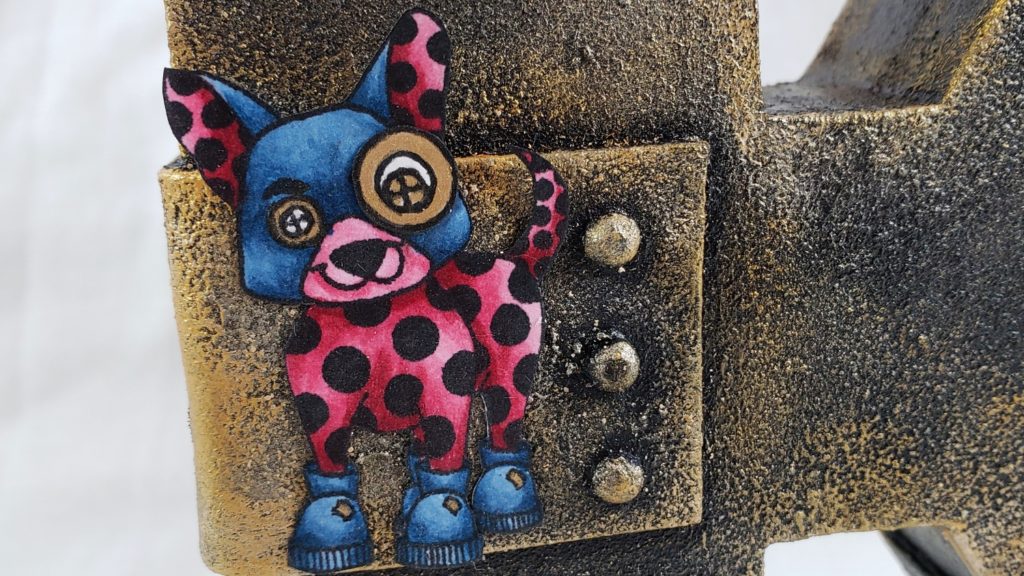 Disclosure: Many of the supplies I've used for today's project are linked. Some may be affiliate links, which means if you make a purchase I receive a small commission at no extra cost to you. I truly appreciate your support toward the costs of running this blog!
This altered letter is being entered into the following challenges:
SanDee and Amelia's Anything Goes Steampunk/Industrial Challenge
Lil Patch of Crafty Friends Anything Goes Challenge
Through the Craft Room Door Anything Goes Challenge
Crafts Galore Encore Anything Goes Challenge
Word Art Wednesday Anything Goes Challenge
Simon Says Stamp Monday Tiny Things Challenge
Simon Says Stamp Wednesday Cute Challenge
Crafter's Castle Anything Goes with Optional Add Glitter Challenge