UPDATE: The winner of the Topflight Stamps 1st Birthday Blog Hop for my hop stop is Christine Alexander. I have contacted her via her email. Thank you all for hopping along!
*****************************
I'm so excited to be part of the Topflight Stamps 1st Birthday Blog Hop! The designers had free reign to use any of the products from the shop, and I am in LOVE with these whimsical Katzelkraft Jungle Animals Stamps so I knew I wanted to create a set of fun, anytime cards with them.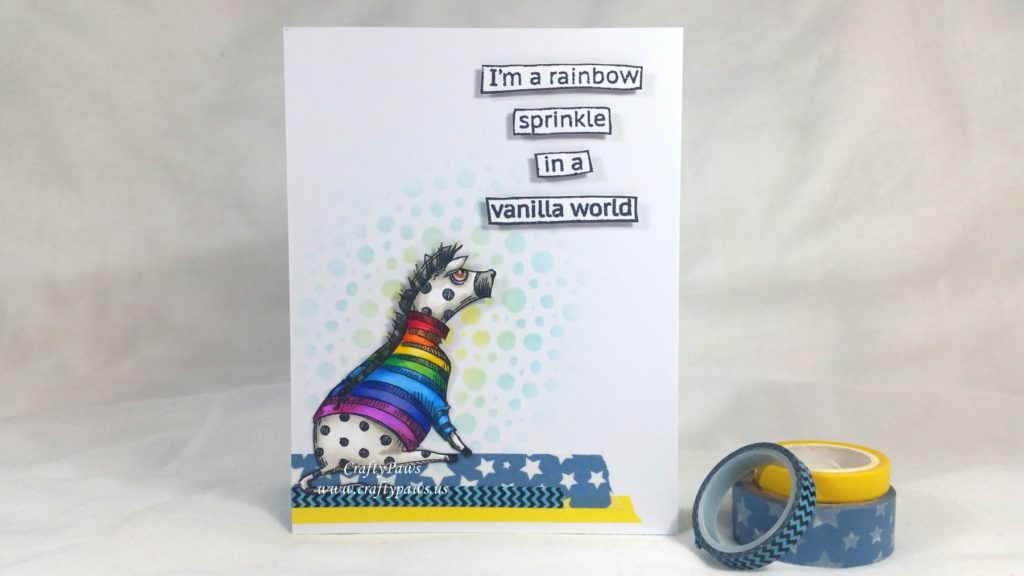 These are the Copic colors I used for each animal:
Polka Dot Horse: Body and Main: 0, W0, W1, W3 and W7; Rainbow Sweater: R35, R37, YR02, YR07, Y11, Y15, YG07, G09, B12, B16, B69, BV13, V04 and RV09; Eye: E25 with Uniball Signo white gel pen highlights
Exhausted Elephant: Body: N0, N2, N4, C0, R30; Eyes: B34 with Uniball Signo white gel pen highlights
Lion with Bird: Bird: YR07, E97 and E07; Lion Body: E50, Y212, E53, YR24 and W3; Lion Main: W3, W5, W7, YR24 and E15; Teeth: C0; Eyes: YR24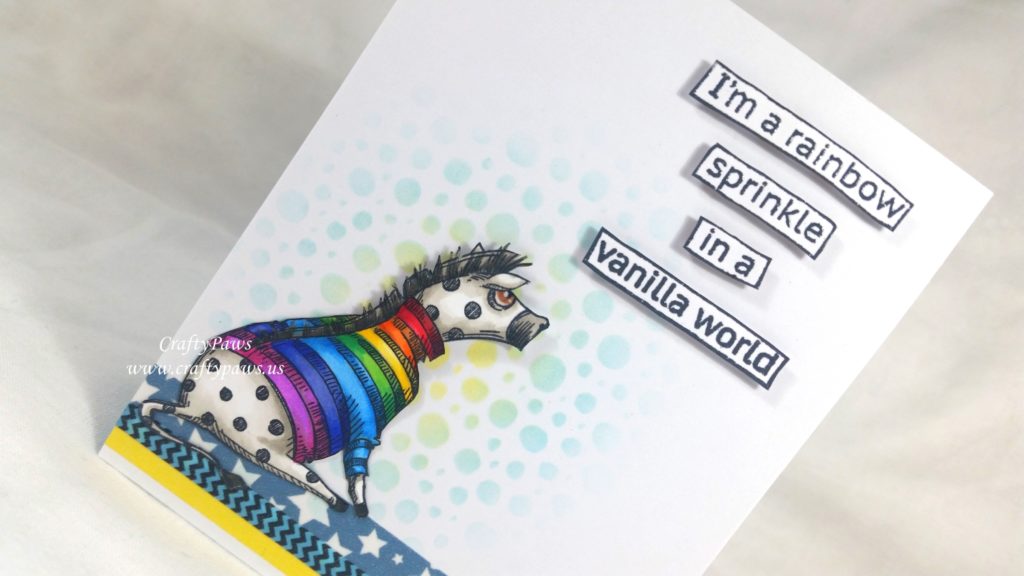 After coloring them, I fussy cut out each of the animals and inked all the edges with a Momento Tuxedo Black Marker for a finished look. I also coated all the teeth, tusks, and eyes with Ranger Glossy Accents for shine. I'll admit that after struggling to fussy cut out those super fine detailed curly whiskers of the lion and the legs of the bird, I ended up cutting them off; they just looked too scraggly. Instead, I re-stamped the image onto the card front and glued the colored and fussy cut lion and the bird over top to regain those delicate details in a much cleaner looking form for the finished card.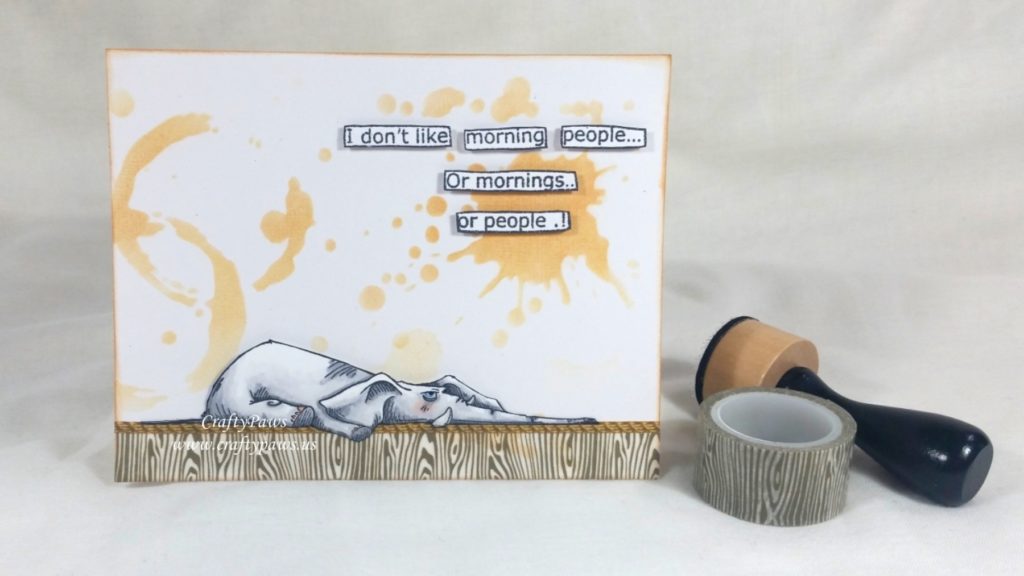 Because I also wanted to play with the AWESOME Clarity Stencil Brushes (also available at Topflight Stamps), I decided to stencil backgrounds for each animal. For the polka dot horse, I used a Dylusions Bubbles Stencil and blended on Tim Holtz Distress Ink in Squeezed Lemonade and Tumbled Glass. Where the two colors blended together, it created a beautiful citrus green. For the elephant, I used the Tim Holtz Splatters Stencil to create a coffee or tea stained look with Tim Holtz Distress Ink in Scattered Straw and Tea Dye. Lastly, for the grumpy lion, I wanted the focus to be on his wonderful facial expression so I used a DecoArt Andy Skinner Tornado Stencil with the center of the spiral being where I positioned the lion's head. To add some energetic color, I used Tim Holtz Distress Ink in Squeezed Lemonade and Festive Berries, and where the two colors blended together a glorious tangerine orange color appeared.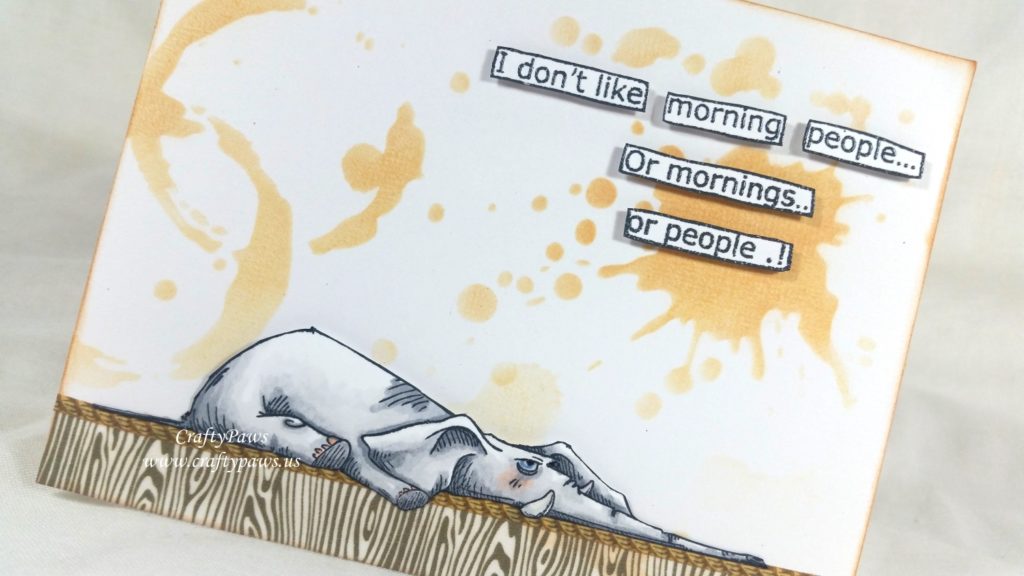 Next, I wanted all of the animals to look like they were sitting or laying on a floor of some sort, so I dug through my collection of washi tapes and picked out some fun patterns and colors that I thought would coordinate with the animals and their backgrounds. The polka dot horse got a plain yellow, a white and cornflower blue stars, and a thin teal and black chevron. The elephant was grounded with wide wood grain and super thin rope patterned washi tapes. The lion got his footing on an ombre black, thin yellow and a bold red, white and black plaid.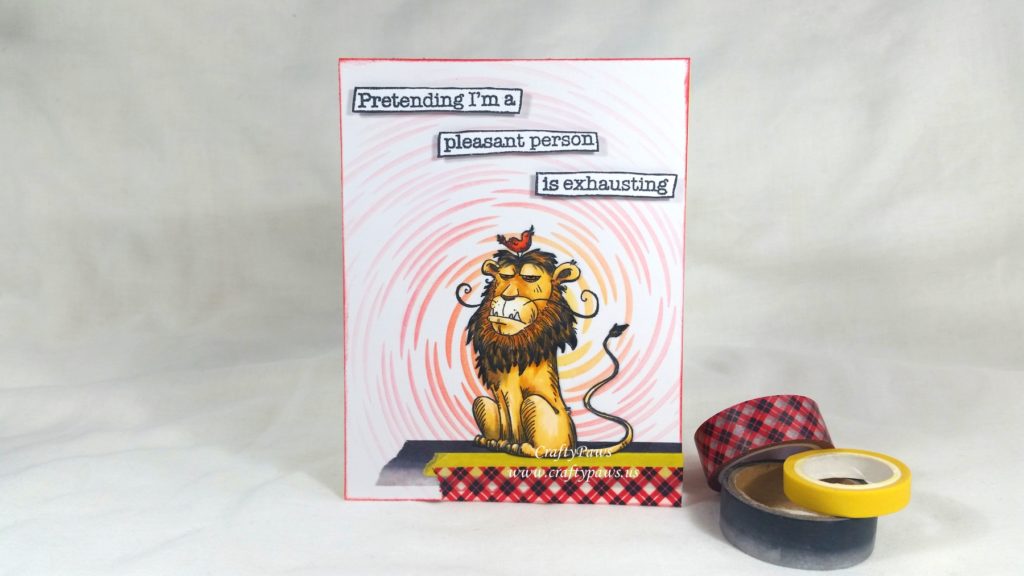 I was struggling a bit, thinking about what sentiments would work with and highlight these animals that were so full-of-personality, when I remembered some funny Dylusions sentiment stamp sets that I had fallen in love with and had to have in my stash but had never used. The sentiments for the horse and the lion are from the "Quote Bubbles" Stamp Set (this link is a different set, but has these quotes). The horse with the rainbow colored sweater says, "I'm a rainbow sprinkle in a vanilla world," and the exasperated lion with a bird on his head says, "Pretending I'm a pleasant person is exhausting."  The quote for the elephant comes from the Dylusions "Quote Medley" Stamp Set (this link is for a different set, but has this quote) and says, "I don't like morning people…Or mornings.. or people.!" I mean really, these quotes seemed made for these animal stamps! To give these sentiments a bit of visual weight, I heat embossed them with charcoal colored American Crafts Zing! embossing powder, fussy cut each segment out, inked all the edges with a Momento Tuxedo Black Marker, and popped them up on thin double sided foam dots.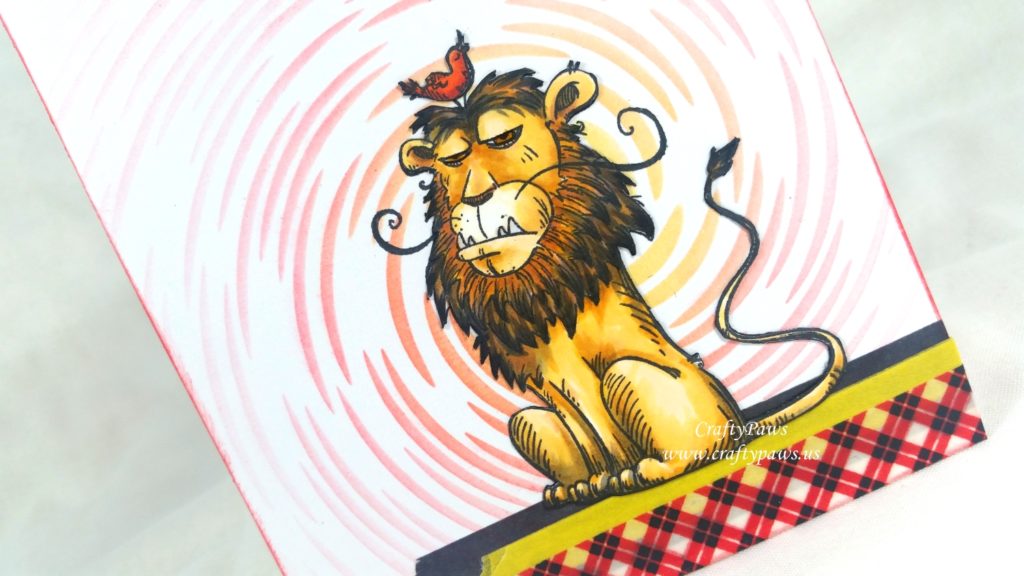 To create coordinating card liners, I matched the washi tapes used on the card fronts with the card liners and/or I used the same stencils and Distress Inks to stencil matching backgrounds for the insides of the cards. I like how the cards are finished both inside and out.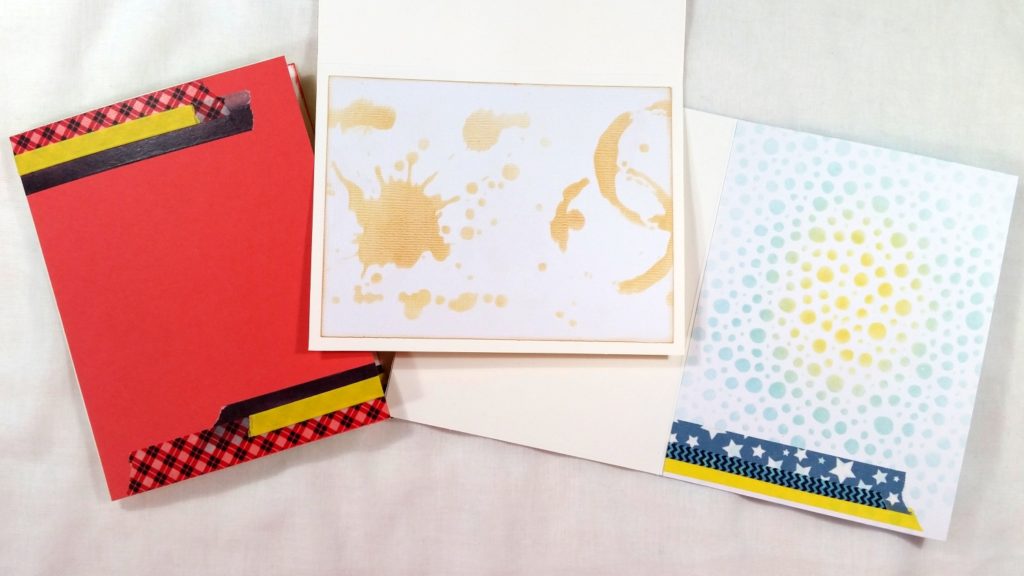 GIVEAWAY ON MY YOUTUBE CHANNEL: To celebrate my birthday, I'm giving away a $25 gift card to the craft store of the winner's choice. You must subscribe to my YouTube channel and leave a comment on the video (not on this blog post) by April 7, 2018 (12 pm ET).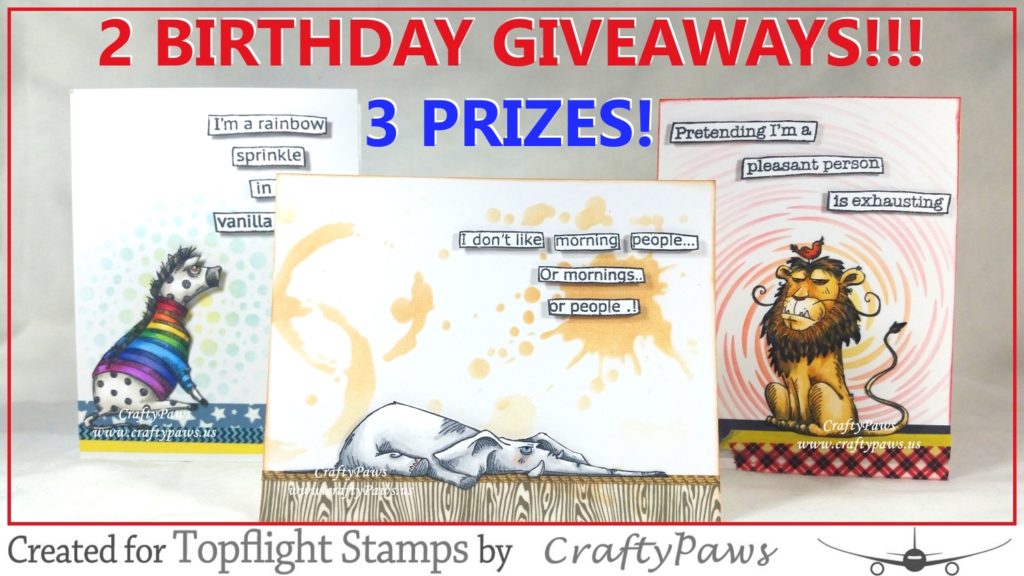 GIVEAWAYS FOR TOPFLIGHT STAMPS 1ST BIRTHDAY BLOG HOP: Be sure to comment on this blog (please include your email so I can contact you if you win). Each of the designers on this blog hop are giving away a $10 gift certificate to Topflight Stamps. PLUS all the blogs on the hop to be eligible for the GRAND PRIZE $50 Topflight Stamps store credit!!! You have until March 31, 2018 (12 pm ET) to comment. I will announce my $10 GC winner here on my blog on Monday, April 2. The $50 Grand Prize winner will be announced on the Topflight Stamps Blog the same day. Be sure to check out all these blogs and comment for your chance to win the grand prize!
SALE: Topflight Stamps is having a Special Birthday Discount from March 27 – March 31, 2018. Get 20% off your entire purchase by using the code: BDAY20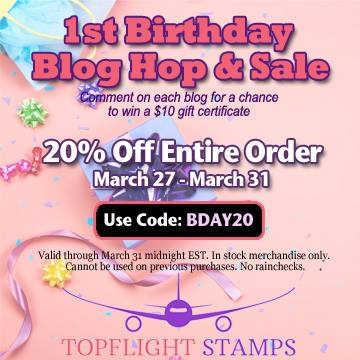 Disclosure: Many of the supplies I've used for today's project are linked. Some may be affiliate links, which means if you make a purchase I receive a small commission at no extra cost to you. I truly appreciate your support toward the costs of running this blog!