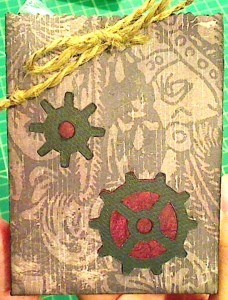 Ok, I may be the last crafty person to try these Tim Holtz magnetic dies, but I really didn't understand their point–until now. I recently received a large format "Movers & Shapers" die called "In the Bag" from a dear friend, Myra (YT: Craftyrats). I didn't have any Movers & Shapers small dies to insert so I just didn't get it.  Why does magnetizing dies make any difference, and why should we pay more for these?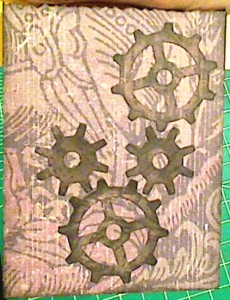 Then today, I picked up a couple of Movers & Shapers insert dies on clearance at Tuesday Morning (both for under $2!).  Oh happy dance!
Anyway, when I used the "Mini Gears Set" insert dies with the In the Bag die–oh magic happened!  I was able to make these fun, interesting Steampunk treat bags, line them with beautiful translucent hand made papers, and wrap up little gifts with a twine ribbon. Easy peasy!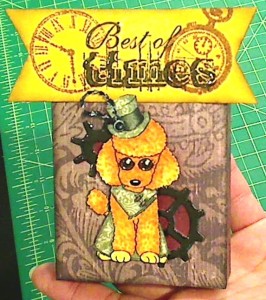 The next one was a little more intricate, as I used my free digi "Kentucky Derby Biscuit" that I colored with my Copic markers and paper pieced with some gorgeous scraps of the My Mind's Eye "Traveler" paper collection.  I added Glossy Accents to her eyes, the gears behind her, and even on the lettering on the banner I made using my 7 Gypsies Hampton Arts mini stamp set.
I inked the edges of both bags and the banner with my walnut and black soot Distress Inks, which I thought gave it a nice finished look.  HINT: As the little treat bags made with the In the Bag die are 3″ x 4″, they could be used to create the perfect packaging for ATCs!
The following is a video tutorial in which I make these two bags:
Thanks for stopping by! Please subscribe if you wish, and have a great day! WOOF