When a sweet crafter, Shirlene (YT: LadyScrafts) wanted to raise awareness about thyroid cancer, which she has been fighting over the past year, I knew I wanted to support her and help raise awareness about this horrible disease. Cancer is a scary and horrible thing. However, rather than trying to ignore it, if we can raise awareness, perhaps we can help diagnose it earlier (and thereby more effectively eradicate it) or support research for curing it. While I don't have this particular cancer in my family (we have breast, esophageal, liver and prostate), and it can strike anyone.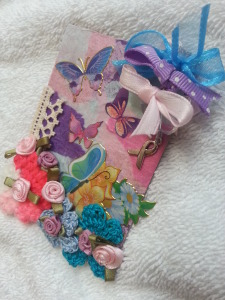 Shirlene shared that the colors and symbol for fighting thyroid cancer are pink, purple, teal and butterflies. What crafter couldn't work with that?  She asked folks to just make and share 1 ATC and to keep it for ourselves, to help remind us about all the folks battling this cancer.  I decided to make 2. One to keep (as she requested) and one to send to her.
Both ATCs started with chipboard bases that I covered with small torn pieces of appropriately colored tissue paper (upcycled from recent packages). I adhered them with Liquitex gel medium, which I love to use with thin papers like this because it doesn't cause bubbling or wrinkling. I then added bits of crocheted lace trim, crocheted flowers, and rolled ribbon roses with Fabri-Tac glue.
For the ATC for Shirlene, I had the perfectly colored sticker butterflies.  I placed them all over the ATC, cutting away some flowers that some of the butterflies were with in order to make them look like they were in flight. I also added a dangle from an old fashioned clothes pin.  I made the dangle with a little metal butterfly bead, a clear acrylic butterfly bead, a silver cancer ribbon, and 3 bows I tied using ribbons in the thyroid cancer colors.
For the other ATC, I added a beautiful fabric layered butterfly with a little tulle and a spray of pearls to give the impression of the butterfly flight path.  The two ATCs are named "Thyroid Cancer No More" 1 and 2.
The following is a video share of these ATCs:
The first ATC is being entered into The Paper Nest Dolls Anything Goes with a Bow Challenge and
the Craft-Dee BowZ Anything Goes with a Bow Challenge
Thank you for stopping by. Have a great day! WOOF