I wanted to make some special cutsie cards for crafty friends (who would appreciate the details and layering) who are going through some tough times of late. One is fighting cancer, another is dealing with pneumonia, and a third is going through some big life changes.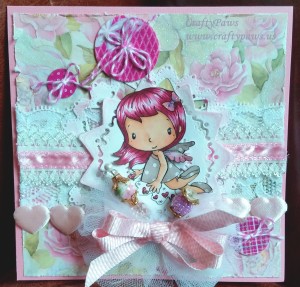 I used the adorable C.C. Designs Pixie and Cupid (both from the Not2ShabbyShop) as the focal points and colored them in to fit the person who would receive each one. Their skin was all colored with E50, 51, and 53 with R30 for the Cupid's blush and R20 for Pixie's blush. I also added glitter glue for some sparkle over the fairy wings an to little accessories like hair bows and the dandelion.
The pink Cupid's hair was colored with R81, 83, 85 and 89
The blonde Cupid's hair was colored with Y11, Y21 and YR02
The purple haired Pixie was colored with V01, 12, 15, 17, and 09. I also used V01 and 12 for her underskirt. Her wings and the flower on her head were colored with B00 and 01, and the dandelion was colored with V000 and YG13.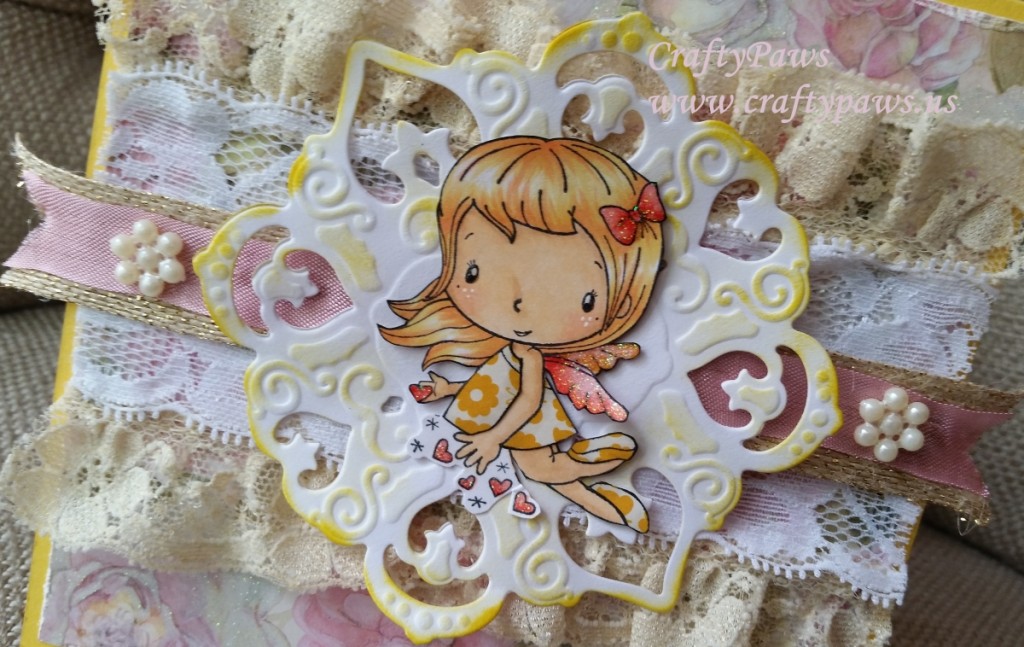 I also took great care to paper piece each of their dresses and shoes. I love using scraps of patterned papers to do this because, once shaded with W1 and edges inked with a black marker, I think the paper piecing adds some fun more realistic details to most stamped images.
After coloring in the images, fussy cutting them out, and inking all of these edges too, I placed each image on pretty background die cuts, which I cut using Spellbinders Shapeabilities Pendants in Spades or Spellbinders Nestabilities in Majestic Elements. To help them pop from the backgrounds, which were chock full of laces, punched papers, chip board buttons, flat back pearls, ribbons, paper doilies, uniquely assembled paper flowers, stick pins, and patterned papers, I inked the edges of the die cuts with Tim Holtz Distress Inks in Victorian Velvet, Mustard Seed, and Peacock Feathers.
The following is a video share of these cards:
These 3 cutsie cards are being entered into the Simon Says Stamp Monday In the Middle Challenge

The blonde hair Cupid card is being entered into The Pink Elephant Photo Inspiration Challenge
The purple hair pixie card with all the flowers is being entered into the following challenges:
Simon Says Stamp May Flowers Challenge
Naughty Or Nice In Bloom Challenge
The pink haired Cupid card is being entered into the Craft-Dee Bowz Anything Goes with a Handmade Bow Challenge
Thanks for stopping by! Hope you're having a wonderful crafty day! WOOF