I woke up this morning so inspired! My hubby just booked our wedding anniversary vacation trip (coming this September) and it got me in the mood to make him a card.  I am a bit of a tomboy so I thought Leslie from The Greeting Farm's Creepin: Creeper Crew Collection 1 would be the perfect image to represent me on the card for him.  I know, a Creeper Crew image for an anniversary card? Crazy! LOL  But I love the idea of mixing things up and doing the unexpected. 🙂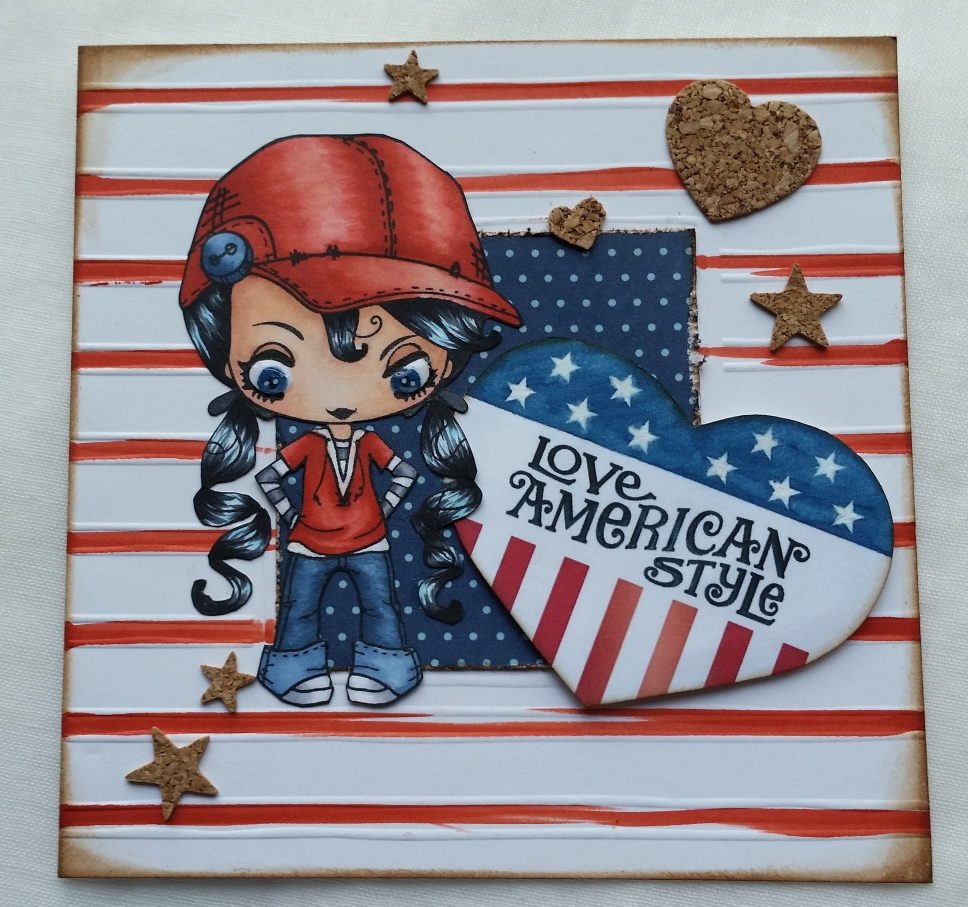 I colored her up in the following Copic colors and made this Americana style card (in honor of our planned vacation out West):
Skin: E000, 00, and 11 with R30 blush
Hair: B01, C5 and C9
Hat and shirt: R30, 22 and 08
White accents on shirts, sneakers, and striped long shirt: C1, 3, 5 and 0
Jeans, hat button and eyes: B93, 95 and 99
I also used my white Gelly Roll pen to add highlights to her eyes and covered the eyes with Glossy Accents for high shine.
I then took a simple embossed card base from my stash and used a ruler and R08 to loosely color in the embossed striped areas. Then for the center square area, I used a little blue polka dot scrap from the My Mind's Eye "Moments" collection, roughed up the edges with my scissors, and inked it with Tim Holtz Distress Ink in Vintage Photo. I also used the same ink to distress the edges of the card base.
I wanted to add a woodsy touch to the card as well, so I added some American Crafts "do it yourself" cork star stickers and die cut some small hearts with a scrap of adhesive-backed cork paper.  These little embellies also helped me cover up some accidental stray R08 marks that somehow appeared on my card base (it's like when I eat spaghetti wearing a white shirt–it can't be avoided. LOL)
Lastly, I hunted for a clean logo image of the old cheesy television show "Love American Style" that I used to watch with rapt attention as a kid (ever wonder how our tastes develop and change as we get older?). I found a great one, printed it out, fussy cut it, and inked the edges with Vintage Photo. I popped up one side of it with double sided foam adhesive and glued down the other side under one of Leslie's pony tails.
This is a video share of this card:
This card is being entered into the following challenges:
July Farm Fresh Greeting Farm Red White and Blue Challenge
MarkerPOP Anything Goes Challenge
Challenge Up Your Life Wood/Cork Challenge
Simon Says Stamp Anything Goes Wednesday Challenge
Simon Says Stamp No Ordinary Paper Monday Challenge
Thanks for stopping by and have a wonderful crafty day! WOOF