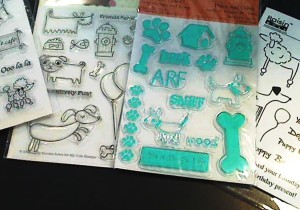 This will be a quick post. I just wanted to share a 4×6 PL style card that I made for my crafty friend JamiLola (YT: Poetspice). She is collecting these from her crafty friends and asked them to make something in their own style to represent them.
Well, I love tv (esp from the 70s and 80s), and I love dogs so I thought, why not put the two together to create a Brady Bunch-esque card with lots of cartoon dogs!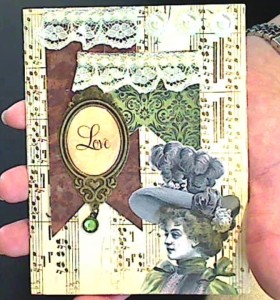 I used dog stamps from the following stamp collections: Penny Black, "Mimi in Paris;" My Cute Stamps; Raisinboat Stamps, "Puppy Love;" and The Paper Company Studio, "Paws and Claws". I created a grid with strips of cardstock and downloaded a free Brady Bunch font to make the center title. Easy breazy and oh, so much fun!
The other card I made was for JamiLola's aunt, who likes vintage and traveling. I started with a ready made card base, and then went to town on the embellishments. I used lace, pearl trim, pearl buttons, a metal and epoxy love sticker with a bling dangle, and a gorgeous Victorian lady image that I lightly colored by dabbing it with Tim Holtz Distress inks.
The following is a video sharing a vintage birthday card I also made for JamiLola's aunt and this CraftyPaws Bunch card:
The CraftyPaws Bunch card is also being entered into the Naughty or Nice Challenge Anything Goes Challenge
Thanks for stopping by and have a great day! WOOF