This card is for my dear Mr. CraftyPaws. I wanted to express to him how thankful I am for the bountiful life we have together and how much I appreciate the great sacrifice he made last year (we're just two days from the one year anniversary of the surgeries) donating one of his kidneys to my brother who had suffered renal failure. Both men are doing really well, and my entire family is so thankful.
I crafted a CAS card with lots of details in the design and coloring because I know that is the style Mr. CraftyPaws likes most. The scene is all on one layer, with the critters and cheese (there was a lot of masking to make that pile of cheese) stamped in Momento Desert Sand ink. I stamped the sentiment in an arch with Momento Tuxedo Black ink by bending the sentiment on a stamping block. I thought this arch stretched across and kind of framed the scene nicely.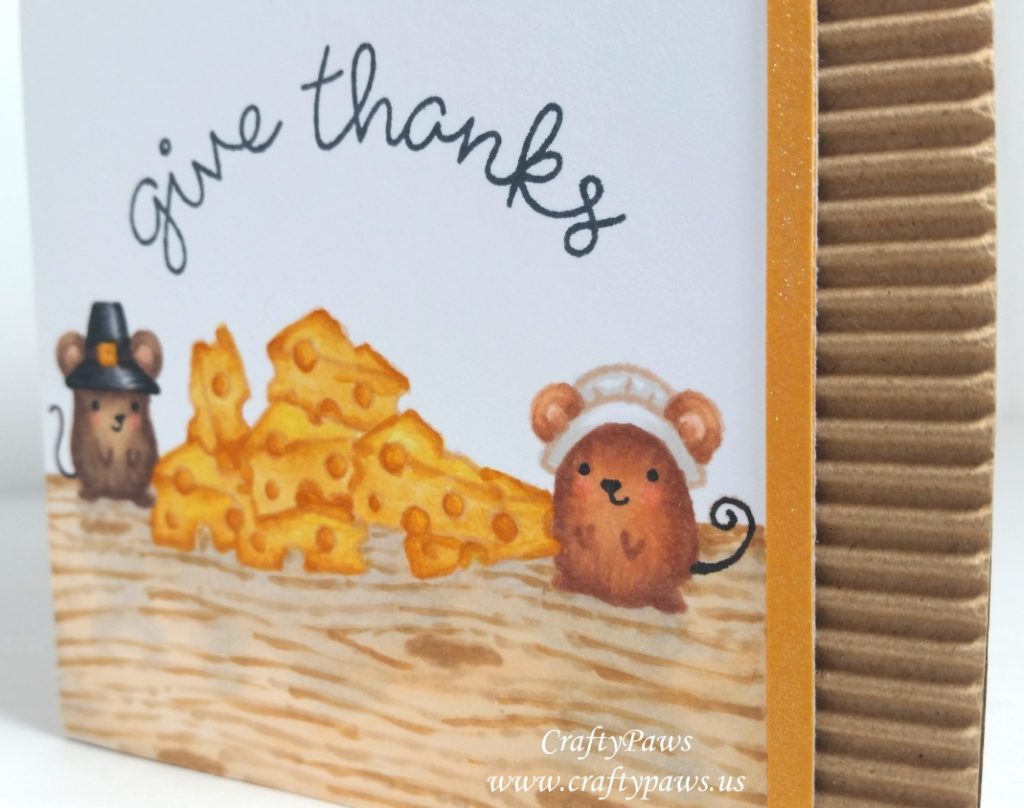 These are the Copic colors I used:
Pilgrim boy mouse: E41, 43, and 47 with ears in R30 and blush in R20
Pilgrim girl mouse: E21, 23, and 25 with ears in R30 and blush in R20
Pile of cheese and pilgrim hat buckle: Y11, Y21 and YR24
Pilgrim hat: N1, 5, 7, and 9 and E79 for hat band with some texture details with a 0.03 Copic Multiliner Pen
Pilgrim bonnet: N0 and 1
Wood grain tabletop with shadow cast from mice and cheese: N0, N1, C00, E51, E55
I am particularly proud of the faint cast shadow (I didn't want to make this darker, even though a cast shadow probably would have been, because I didn't want to detract attention from the cute mice and cheese pile) and the wood grain that I free hand drew/colored (following tips I learned in a Sandy Allnock Copic coloring class).
The card base is actually just a piece of kraft card stock, and I used some kraft corrugated card stock across the entire card front. Then I cut off about 1/2″ from the right side of the image panel so that the corrugated card stock would finish off one side of the card. Lastly I added a double layer of gold card stock strips topped with a heavy coating of Clear Wink of Stella to define the edge of where the image panel meets the corrugated card stock. It's amazing what a little strip of color and shine add to a card!
The following is a video share of this card and yesterday's card that I made for my brother:
This card is being entered into the following challenges:
Simon Says Stamp Monday Thanks/Thanksgiving Challenge
MarkerPOP Give Thanks Challenge
Simon Says Stamp Wednesday Thanks/Thanksgiving Challenge
Lawnscaping CAS Challenge #141 – WINNER