When I am at a loss for what to create for someone, a "go-to" for me is a tag. I feel like they are a little more elaborate than a card, but less detailed than a canvas.  Depending on my mood, the style may be totally different, but usually when I am just plain happy, I will do a cutsie tag. There is often a colored image as the focal point, surrounded by a bed of flowers and bling, lace and pearls.  Who wouldn't like to receive something like that?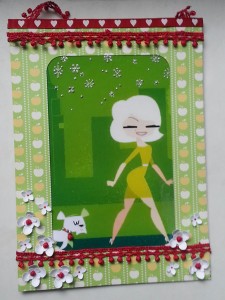 Tags can come in any size. The one on the left, which was a gift for a YT friend, Nae Nae, who loves all things Marilyn (YT: Renea Villanueva), was just the size of the die cut frame I used to frame the animated picture of Marilyn Monroe and her dog, Maf.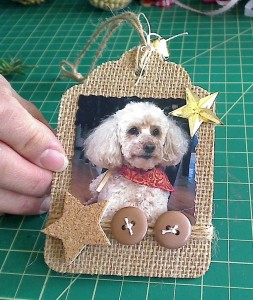 They can be tiny gift tags that you might put on a wine bottle to as a hostess gift or medium size tags like the ones I cut out of burlap paper using a Sizzix die to make a Christmas ornament featuring my dogs, Biscuit and Bandito (see top photo and photo at left). However, the typical tag in crafting circles is an 8.5″ x 3.5″, which can be cut from any sturdy paper (e.g., cereal boxes, packaging from craft embellishment packages, heavy weight card stock, manila file folders or chipboard).
I have recently made two tags for YT friends Yurlady (YT: Yorlis07) and Anna (YT: Anna Vlasova). The first one was in blues using a Greeting Farm "Miss Anya Loves" stamp sitting on a die cut bench and the second one was in brown and pink using "Java Queen" from WickedDesignsbyBrenda. Once I colored the images with my Copic and Chromatix markers, the rest of the tags just seemed to come together.  I pulled out embellishments, bling and flowers in the colors I had used on the images and everything just flowed. The extra "jazziness" comes from the lush tassles at the top of the tag (something cards generally just don't have).
The only tricky part with some images is that they appear to be sitting so if you don't have a bench or chair, you may have to stamp in a tree trunk, bench, or something else on which the image can "rest".  In my second tag, I combined two chairs to create a kind of settee so that the pretty details of the chair backs would not get completely obscured by the cute image.
The following are links to my videos in which I share the details of the last two tags.  Thanks for watching.
Thank you for stopping by. Please subscribe if you want to see more CraftyPaws posts!