Do you ever feel like you are friends with someone in the crafting community, even though you've never met them? That's how I feel about so many folks, and in particular this last week my heart went out to Jessica Frost-Ballas (YT: Jessica Frost-Ballas , @jessicafrostballas and Blog: All the Sparkle). We are all blessed that Jessica has been sharing her amazing crafty projects with us for years. However, shockingly this past week, some people attacked her, mistakenly assuming she had copied Jennifer McGuire about a technique. If any of these folks knew Jessica even a smidgen, they would have known that she would never do such a thing, and if they had any idea of how much work it takes to create a card, an accompanying blog posts and a fully edited video, they would have realized that she could never have posted her card so soon after Jennifer's.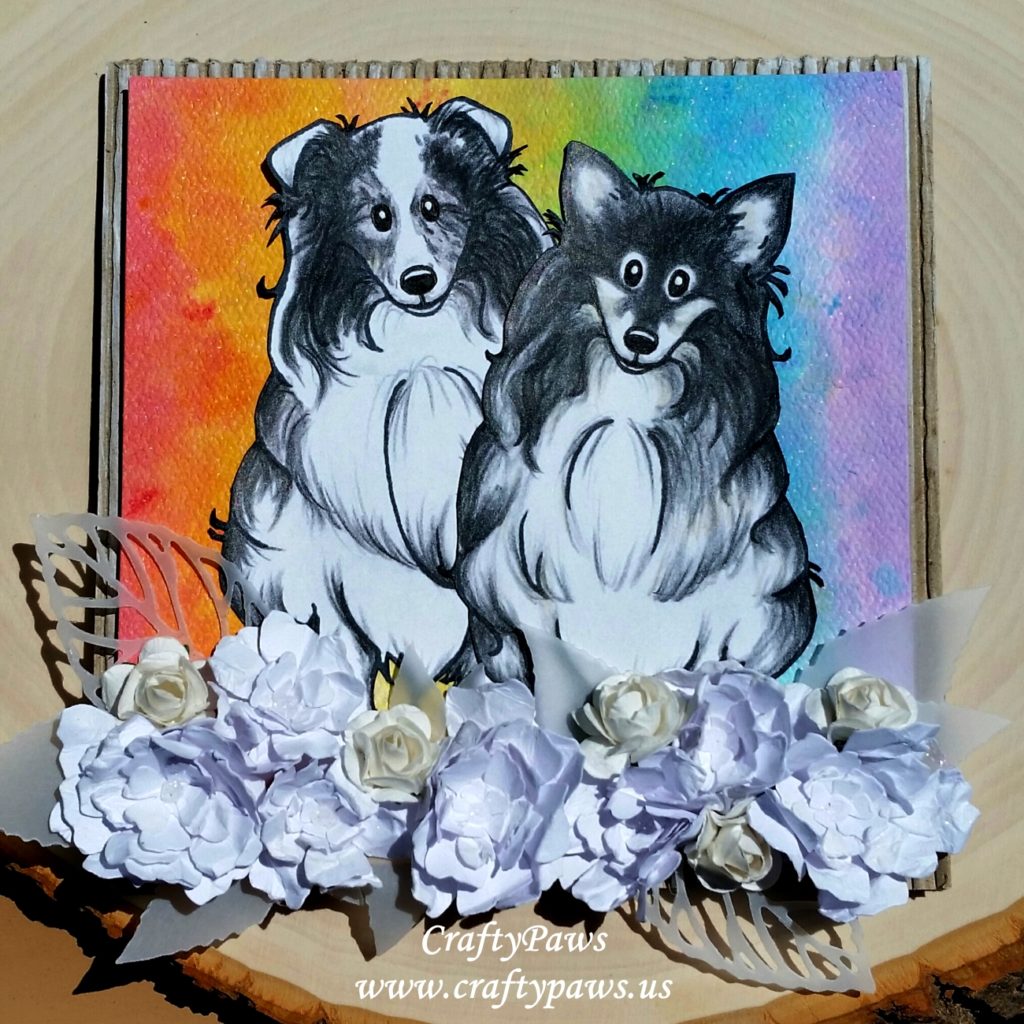 Anyway, while all of this was going down, I created a couple of FREEBIE Sheltie Dog Digis for you all and in honor of Jessica's Merlin (her Sheltie with semi-pricked ears) and Archimedes (her Sheltie with prick ears) (she loves her fur babies the way I love mine) — just to let her know I was thinking of her. Then 4 days ago, tragedy struck. Her sweet Merlin passed away. As I read about her loss, I could not stop crying and kept thinking of my own dear Biscuit who has become so frail this past year. I hope her Archimedes is able to comfort her, and I hope she likes this card I created for her.
The card base is made from a 5.5″ x 5.5″ corrugated kraft card stock. I streaked on Adirondack Lights Snow Cap Acrylic Paint with a Dabber to soften the kraft color and texture. The card background was made with watercolor paper that I painted with the following Distress Inks in Festive Berries, Spiced Marmalade, Squeezed Lemonade, Twisted Citron, Salty Ocean, and Wilted Violet mixed with Heidi Swapp Color Shine in Sheer to create a rainbow.
Then I colored up the two Sheltie Digis like Jessica's pups using Prismacolor Premier Color Pencils in Black (PC 935), Beige (PC 997) and 70% Warm Gray (PC 1056) (I'm new to color pencil coloring, but I thought I would finally start practicing with this awesome 132 Prismacolor Premier Color Pencil Set (on sale now for under $68!) and was fingers crossed that I was capturing Merlin and Archimedes' markings from pictures I'd seen on Instagram).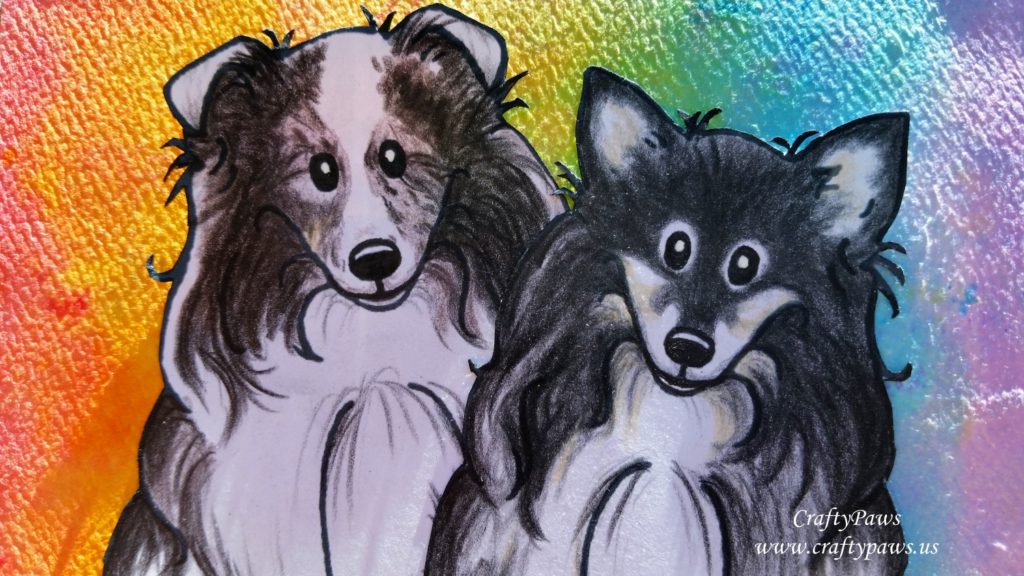 To add a luxe feel to the card, I added some handmade shimmery white flowers that I made with the fabulous Diemond Dies Sugar Plum Flower Die Set and more of the Heidi Swapp Color Shine in Sheer. I love how quick and easy it is to make these beautiful flowers that I think rival Prima flowers and are a fraction of the cost! I also die cut some vellum leaves from the Diemond Dies Medley of Leaves Die as well as a couple of more intricate leaves with the Diemond Dies Skeleton Leaf Die. Adding these floral pieces along with a few small mulberry paper roses to the base added interest and dimension.
NOTE: Diemond Dies is having a spring sale thru April 30, 2017. Use the coupon code: spring20 and get 20% off and free worldwide shipping on all orders of $25 or more. After that time, my readers can always get 10% off and free worldwide shipping on all orders of $35 or more at Diemond Dies by using the coupon code: thankskristina
Lastly, for the inside, I inked the edges of a plain piece of white card stock with some Tim Holtz Distress Ink in Tumbled Glass and stamped out a sentiment that reads, "Dogs leave pawprints on our hearts" from an old Sparkle N Sprinkle "Scratchy" stamp set. I used more of the Tumbled Glass ink to stamp a trail of paw prints diagonally across the inside liner.
The following is a video showing how to make the sugarplum paper flowers:
This card is being entered into the following challenges:
Simon Says Stamp Monday Make a Rainbow Challenge
Word Art Wednesday Anything Goes Challenge
Creatalicious Anything Goes Challenge with Optional Add Flowers – WINNER
Simon Says Stamp Work It Wednesday Spring (flowers, bunnies, etc) Challenge
CAS-ual Fridays Rainbows Challenge
Lil Patch of Crafty Friends Anything Goes Challenge
Card Mania April Showers Bring May Flowers Challenge
Crafts Galore Encore Anything Goes Challenge
613 Avenue Create Anything Goes Challenge with Optional Anything Spring
Crafty Purple Frog Lovely Ladies Challenge