My friend Marla (YT: Marla H) is celebrating a birthday so I wanted to make a special pocket letter for her with things I knew she would like–tea, hearts, and sweet Gorjuss Girl images (she doesn't color but likes colored girl images).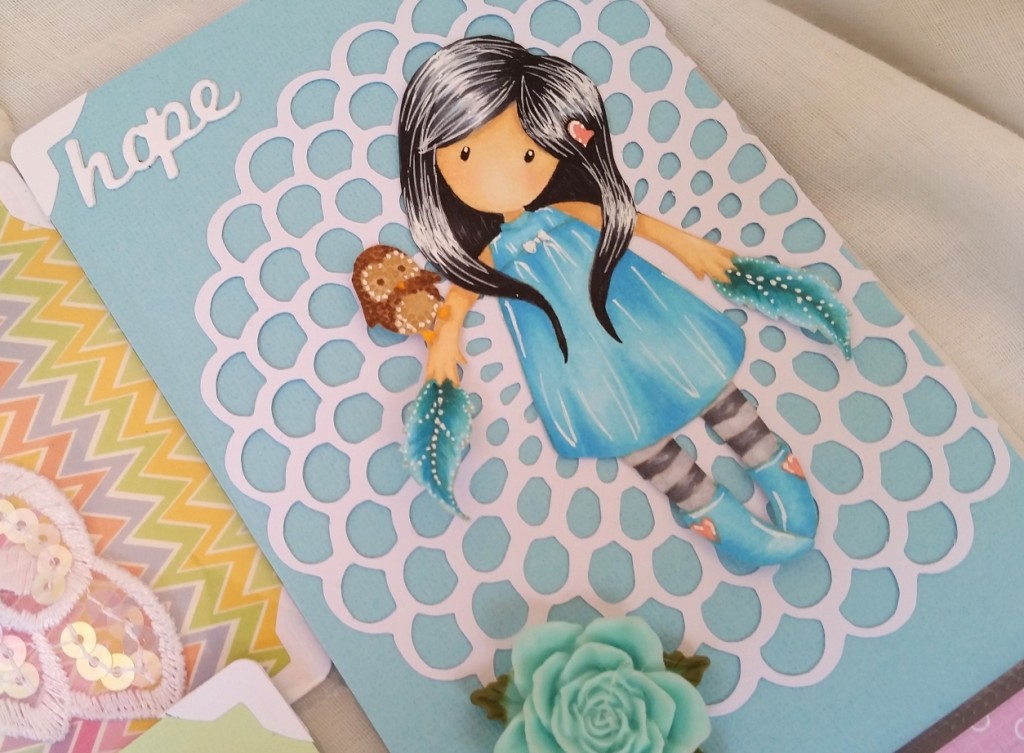 This was my second try at no line coloring and I really like the softer look of the images with new favorite technique. I used Memento Desert Sand Ink
to stamp the images and used the following Copic colors (skin for all 3 girls was with E50, 51 and 53 with R30 blush), white Sakura Gelly Roll pen for highlights and 0.03 pt Copic Multiliner pen for drawing in eyes:
The Owl Gorjuss Girl:
Hair: C5, C7, C9, B00
Feathers: BG13, BG18, B00, B01 and B04
Dress and boots: B00, B01 and B04 with
Pink hearts: R32
Owl: E53, 55, 57 and 59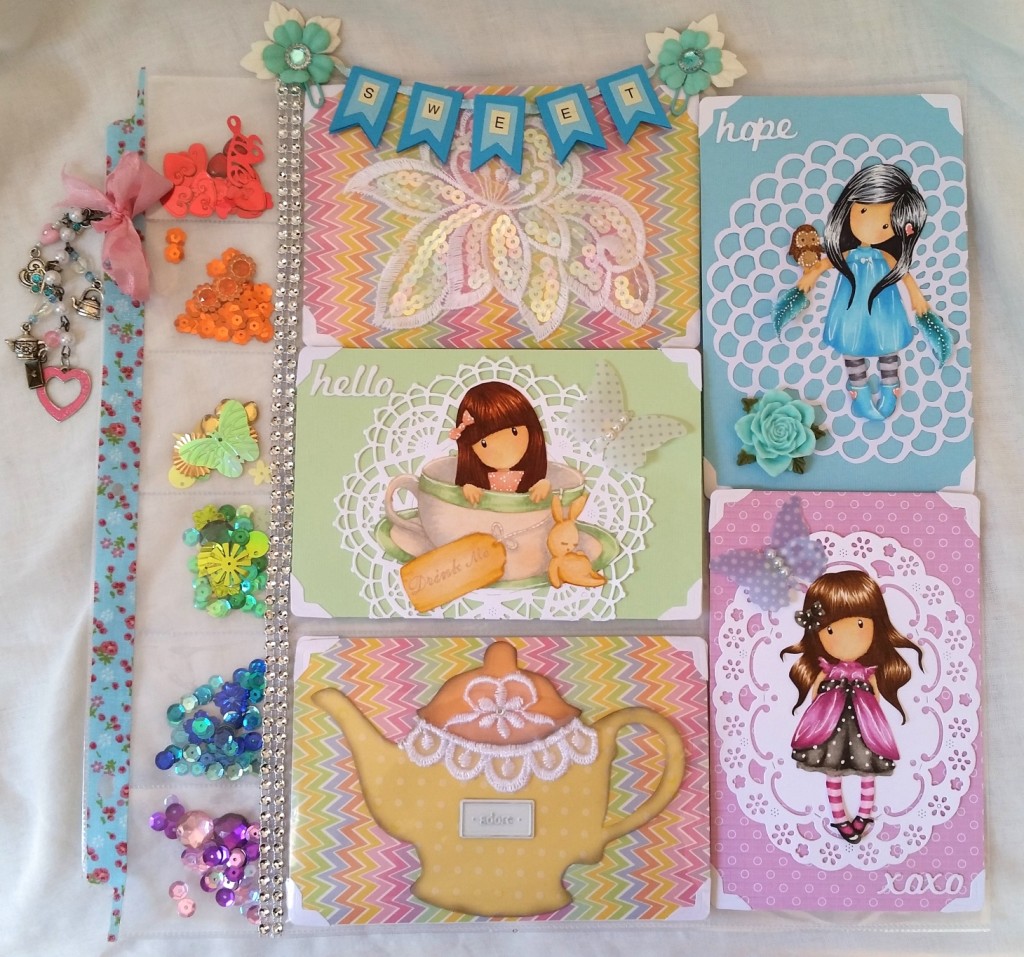 Sweet Tea Gorjuss Girl:
Hair: E97, 99 and 29
Dress and hair bow: R11, 30 and 20
Teacup and saucer: E000, G20, G24 and W1
Bunny and drink me tag: YR20, YR31 and YR24
Ladybird Gorjuss Girl:
Hair: E55, 57 and 59
Dress: RV52, 55, and 66
Top petticoat: W1, 3, 5, 7, and 9
Underskirt: W1, 3, and 5
Striped stockings: RV10, 52, 55 and 66
For each card with a Gorjuss Girl, I started with a pastel colored base, layered a white die cut doily and white photo corners that I die cut using my Tim Holtz Sizzix ATC and Photo Corners die. I also used the words "hope," "hello," and "xoxo" from the Diemond Dies Word Die Set #1 to add a kind of sentiment to each girl card.  For small extra touches of embellishing without over stuffing the pockets, I added a couple of Jenni Bowlin Studio vellum butterflies and a resin aqua rose from my stash.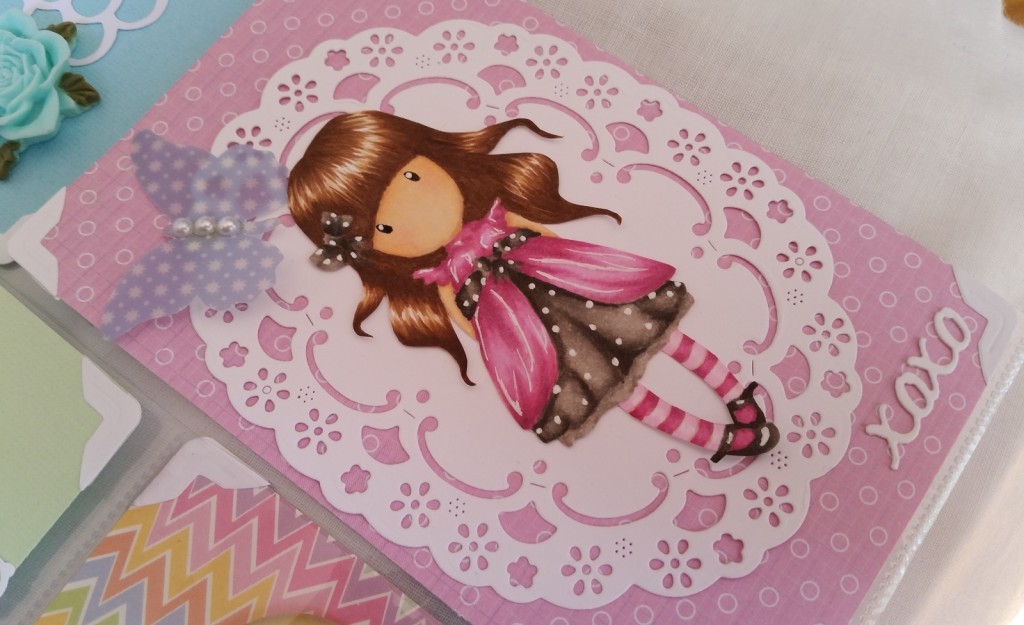 For the other two large pockets, I used fun zig zag patterned paper from a DCWV Flowers & Butterflies mat stack.  In the top pocket, I added a fancy lace sequin floral applique from my stash, and on top of the pocket altogether I added a banner that reads "SWEET" made using the Diemond Dies Mini Pennants Die Set, some thin aqua satin ribbon, some alpha stickers, and two handmade flower paper clips (to anchor the banner).
My readers can get 10% on orders of $35 or more at Diemond Dies by using the coupon code: "thankskristina".  Diemond Dies is having a 25% off SALE through June 24, 2015–on all orders of $99 or more, use the code "save25".  Only 1 coupon per order; cannot combine coupon codes.
In the bottom pocket, I die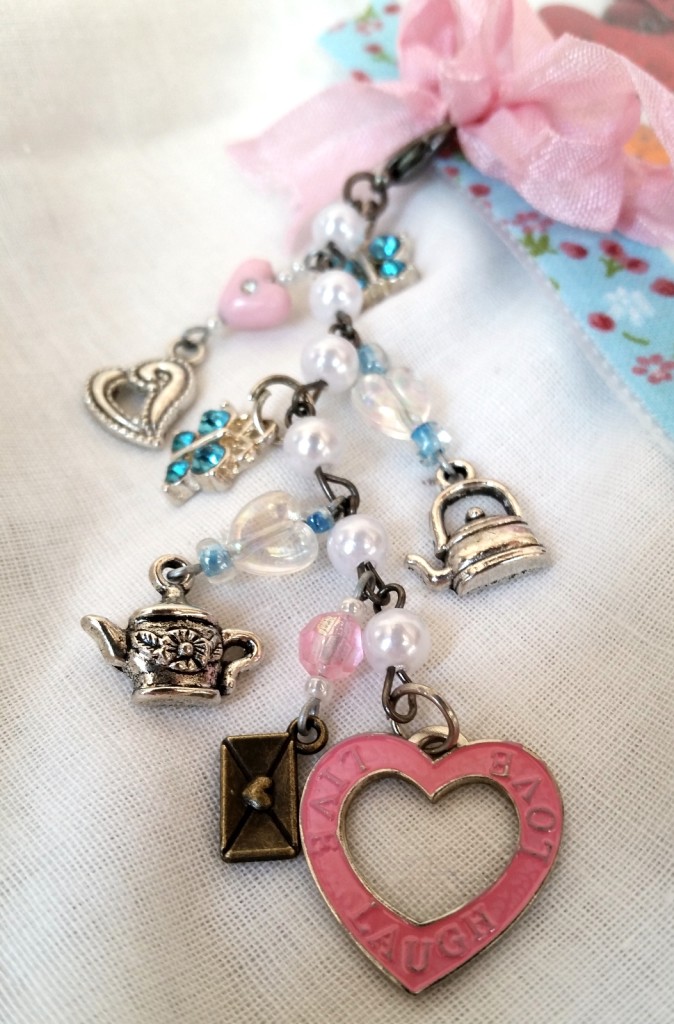 cut a tea pot using the Diemond Dies Mini Album Tea Pot Die.  I separately cut out the top again with a different colored card stock to add interest and to cover up and shorten the neck of the tea pot so that it would fit into the horizontal pocket. To add a little interest to the tea pot, I added a polka dot vellum on top of the yellow card stock, a metal word embellishment that says "adore" and some scalloped lace to decorate the pot and lid.  There are more fun crafty die cut and tea themed gifts in the back of each pocket , but I want to keep some of those a surprise for Marla so I won't go into them here.
One of the fun things I got to do with this larger, non-standard sized pocket letter was to use the three skinny pockets on the left to make six shakers. I used the Becky Higgins Project Life Fuse Tool (which I LOVE) and gathered up sequins, confetti, bling pieces, and embellishments in all the rainbow colors and made a pocket shaker for each color.  Then to finish off the edges, I added a couple rows of silver bling with hot glue over the right seam and floral fabric washi tape over the hole punched left side.
Lastly, for some added movement, I made a chunky dangle using tea pot charms, heart charms, blue crystal butterfly charms and various beads in clear, white, teal and pink.  The dangle base is a beaded pearl chain with a lobster claw clasp by Spare Parts.  I softened the hardness of the metal clasp and bit of chain at the top with a double loop pink seam binding bow.
The following is a video share of this Sweet Tea themed pocket letter:
This pocket letter is being entered into the following challenges:
Simon Says Stamp Work It Wednesday Rainbow Challenge
Simon Says Stamp Wednesday Favorite Technique Challenge
613 Avenue Anything Goes with an Optional Twist of Sights, Tastes, and Sounds Challenge (Winner)
One Sweet Challenge Die Cuts or Punches
Card Mania Metal Embellishments Challenge
Thanks for stopping by and have a wonderful crafty day! WOOF