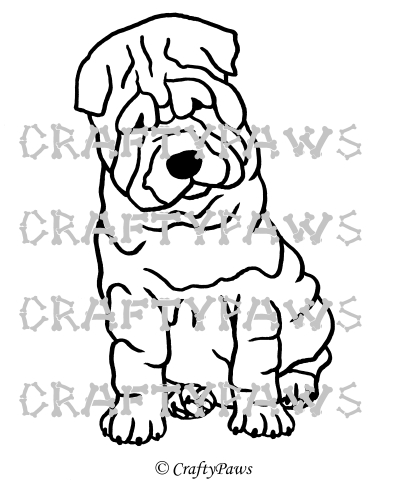 This digi is dedicated to a sweet princess who's gone through some very trying times but has come out the other side as strong and beautiful as ever.  My friend, Jamie (YT: ScrappinStampers and the owner of the Not2ShabbyShop on Zibbet) has an adorable Shar Pei who went through serious cancer surgery. With my Biscuit's recent cancer scare, this hit very close to home. Happily, she is doing great after the surgery, and I wanted to draw this digi for all those dog lovers out there who love their fur babies like family members, and especially Jamie. 🙂
I know it is the holiday season and some folks might be wondering why I didn't add a Santa cap or jingle bells or something, but I wanted to make this digi more versatile and usable year round.
For the card I made, I created a background using a stamped and stenciled background patterned paper created and gifted to me by my friend Rosa (YT: ColorXplosion by Rosa).  I thought the primarily turquoise color matched well with the card base and helped the light browns of the Shar Pei pop nicely. I then hand cut a little snow ground (which I shimmered up using Clear Wink of Stella) around which I scattered bits of a snowman (LOL) from the Diemond Dies Build a Snowman Die Set.
Coupon code for Diemond Dies: "thankskristina" gets you 10% off your entire purchase, and if your order is $35 or more, you also get free worldwide shipping. PLUS Diemond Dies is having a fantastic Christmas Giveaway. Check it out HERE on their Facebook page!
I colored up the digi with the following Copic colors: Muzzle and paw pads: W5 and 7; Shar Pei: E50, 51, 53, 23; and Shadow in snow: C1.  To add a little more realism, I also used Glossy Accents
 on the nose, eyes, claws, and paw pads of the Shar Pei and the discarded carrot. 🙂
Lastly I used a stamp from the C.C. Designs "Snarky Christmas" stamp set that says, "Dear Santa, define naughty…"  I thought this was perfect for the expression and stance of the Shar Pei surrounded by the bits of the snowman.
The following is a video share of this card:
This card is being entered into the Naughty or Nice Winter Holiday Challenge
The winner of the Christmas Blog Candy Winner is: Barbara Alexander!  YAAAAY!
Barbara Alexander commented: Congrats on all the subbies…love this cute little kitty..hugs barb
Thanks for stopping by and have a great day! WOOF