I wanted to make a thinking of you card for a dear friend who was recently laid off from a job she's had for over 20 years. I'm hoping this brightens her day, reminds that I may be thousands of miles apart but I'm just a phone call away and thinking of her.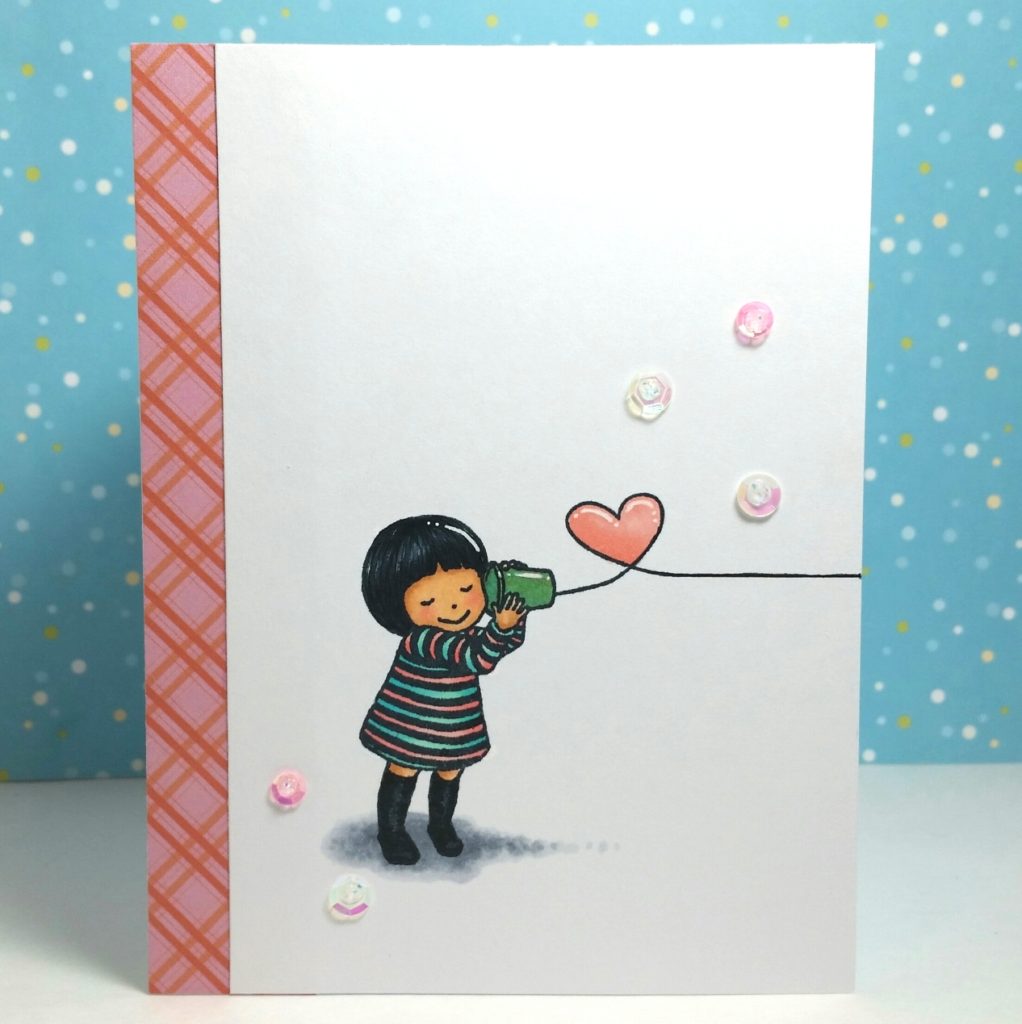 I fell in love with this sweet girl from Pinkfresh Studio the instant I saw her. She's from the Sweet Songs stamp set. She's got the most adorable expression and body stance. She's also super easy to color up! I masked off the right side of the tin can phone and bird, and I stamped her out with MFT Black Licorice Hybrid Ink because at first I couldn't decide if I was going to Copic color or watercolor her, and this MFT hybrid ink is good for both! 🙂
I used the following Copic colors:
Skin: E50, 51, 53 and R20
Hair: BG32, C7 and C8
Dress: BG32, BG45, R20 and R22
Cup: G24, G85 and BG32
Heart formed by tin can phone cord: R20
Shadow to "ground" the little girl: C1 and 4
Boots: W9 for a little shadowing around the edges of the black stamped boot
I also added some white highlight lines with a white Sakura Gelly Roll Pen.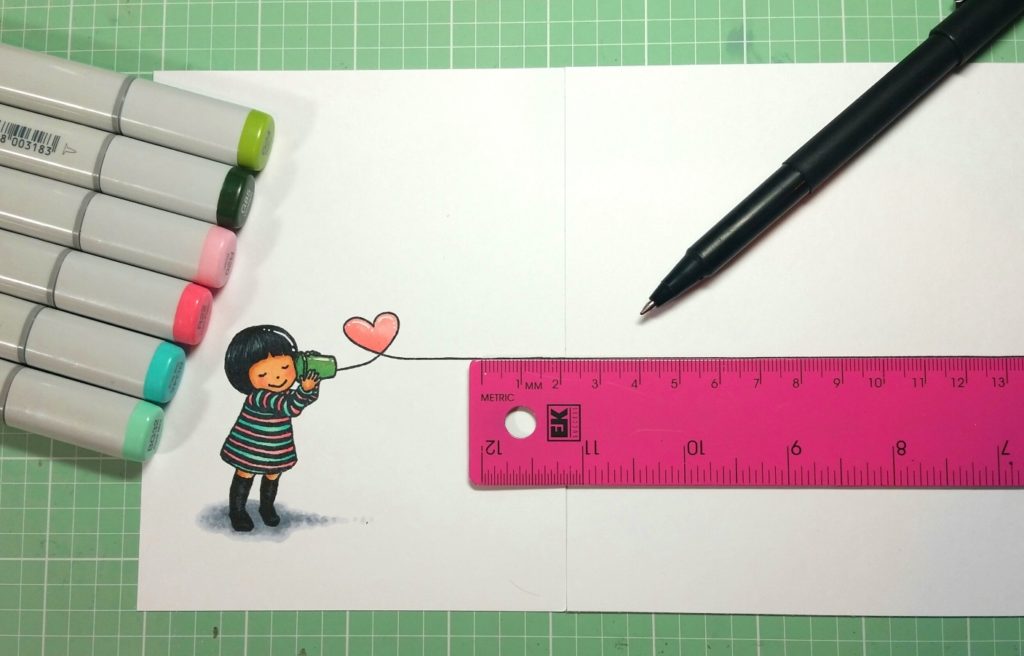 Then I took a ruler and a black Uniball ink pen and drew a line from the heart to the edge of the card front. I next took a cardstock card base (before creasing it) and lined it up to continue the line from the card front through to the inside of the card. I left a little room to the right of the line so that I could simply type in, "Thinking of you. Ring me."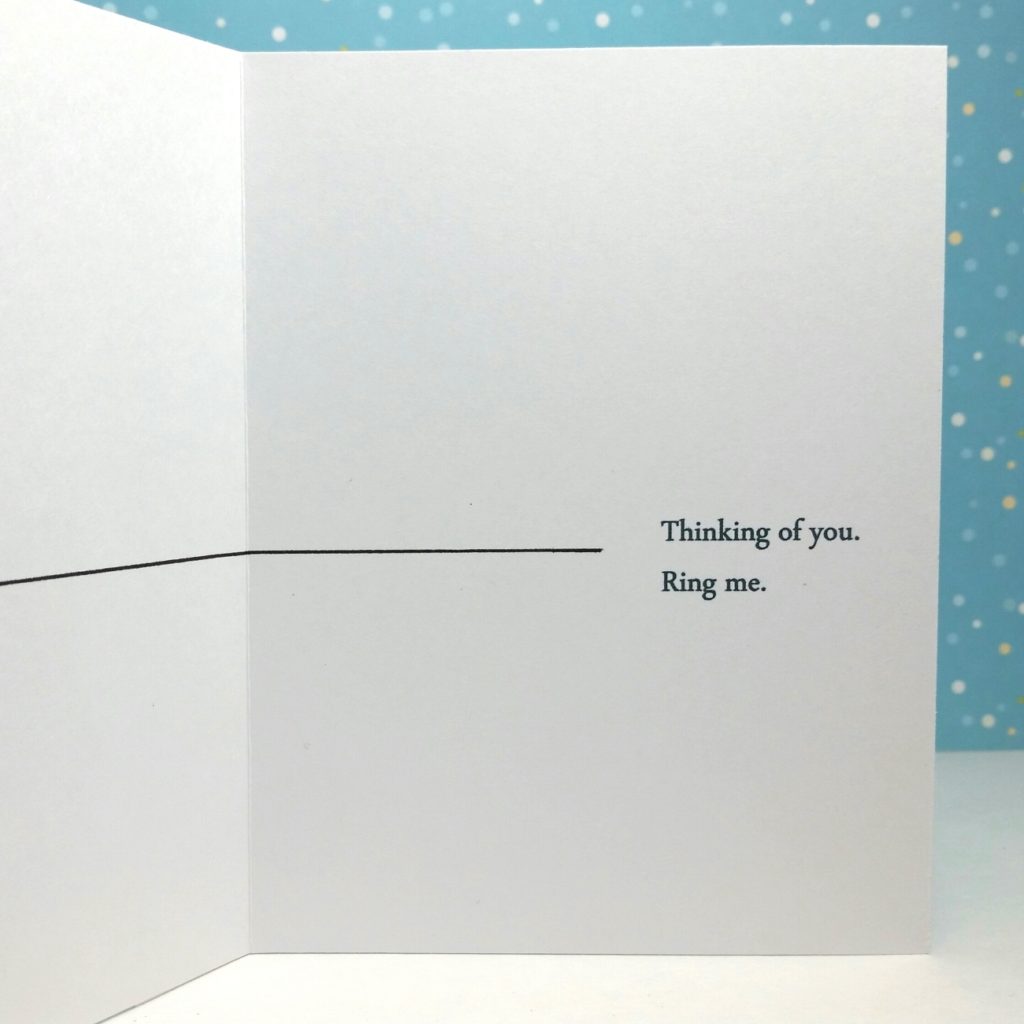 To add a little more visual texture and interest to the card, I decided to add a vertical strip of the perfect plaid in coral colors that matched the coral in her stripey dress from the Studio Calico Here + There collection. I cut about 1/2″ from the right side of the card front and glued the plaid strip to the left side. Lastly, for a little sparkle, I had to add some pale pink and iridescent sequins topped with Icicle Stickles over the center holes.
This card is being entered into the following challenges:
Simon Says Stamp Monday Thinking of You Challenge
Simon Says Stamp Wednesday Thinking of You Challenge
MFT Color Challenge #56

Virginia's View Stripes and Plaid Challenge