I used the adorable C.C. Designs Sweet Pixie Rose stamp from the Not2ShabbyShop on Zibbet and made four magnets.  As a member of the design team, I am so happy to offer a 10% discount coupon code (which applies even to sale items) "CRAFTYPAWS" through the month of February 2015.  NOTE: Jamie's moving her shop to her own website, so if the link above doesn't work or if there are other items you are looking for, please check HERE.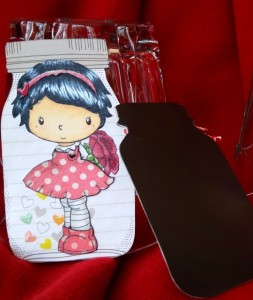 I colored up the image 4 times just to play with some different Copic color combinations for different hair colors. All the skin colors are E50, 51, and 53 with R30 for blush and the rose leaves are YG61 and 67.  To add a little interest, I paper pieced some of the girls just using up some patterned paper scraps.
The brunette is colored with C7, C9 and B01. Her Headband and the roses in her hand are colored with E04 and R85 and R39. Her tights are colored with W1 and blended with 0.
The red head is colored with E97, 07 and 19. Her tights are colored into light and dark grey stripes with W1, 3, 5, and 7. Her dress is W1 and W3 with little dots I added with a Copic Mulitliner in 0.3. Lastly her boots are W9.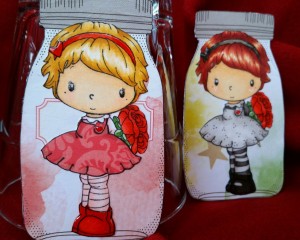 The brown haired girl is colored with E55, 57 and 59.  Her roses are R81, 83 and 85. Her tights are a light pink in R30 and 20.
The blonde is colored with YR 20, 31 and 24. Her roses are R14 and 08, and her tights are again in R30 and 20.
I fussy cut out each girl as well as a few mason jars from the from the American Crafts Dear Lizzy Neapolitan 12 by 12 Inch paper pad
.  I only had 3 jar images left so I cut a fourth jar out of another scrap kraft colored paper using the small mason jar die from Diemond Dies.  Using Matte Finish Mod Podge, I adhered the girls to the mason jars and then the mason jars onto a sheet of magnetic vent cover sheeting. To ensure a secure long-term hold, I also used E6000® Craft Adhesive
.  I also put on a top coat of Mod Podge over the top of the girls on the mason jars for a good protective seal.  HINT: If you are going to use Glossy Accents, Stickles, and Wink of Stella on the images (like I did), you could save yourself a step and do that after this top Mod Podge coating. I had to do these applications twice because the Matte Mod Podge top coat dulled all these shiny and sparkly materials.
Finally I took a pair of multi-purpose scissors (this is not the time to get out the good scissors because the magnetic sheets will dull them) and fussy cut the mason jars out.  By the way, this is why I adhered the girls to mason jars. I figured fussy cutting these jars out of the magnetic sheeting would be easier than trying to fussy cut out the little girls directly out of the magnetic sheeting. I kept these magnets pretty clean and simple, adding just a little bow using some Lawn Fawn help cording to the kraft background one to add a little something, but you could really have fun decorating these cute image magnets.
The following is a video share of this project:
These magnets are being entered into the
CASology Love Challenge
The Pink Elephant Be My Valentine Challenge
The blond girl magnet is being entered into the
Simon Says Stamp Wednesday All Things Bright and Beautiful Challenge
Simon Says Stamp Monday Red and Pink Challenge
Thanks for stopping by. Please subscribe if you wish and have a great day. WOOF