I was so shocked, honored, and humbled when I found out that I was voted "Best Steampunk Crafter" in the 2014 YouTube Crafty Academy Awards. I was so thrilled when I was nominated and then stunned when I actually won. It means so much to me that my fellow crafters thought enough of my Steampunk projects to vote for me in this category.  When I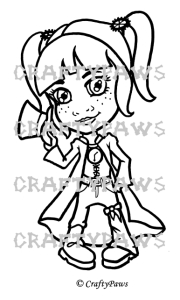 started crafting on Youtube just over a year ago, I would never have dreamed that I would have won in any category.  And in fact, I didn't even know what Steampunk was when I first started!
As a special thank you from the center of my heart, I wanted to draw a digi in a Cutsie-Steampunk style.  So here is "Steampunky Brewster!"  For those of you who grew up in the 80s, you might recognize this warm, sunny, and spirited little orphan who stole the hearts of millions. I have tried to capture her spunky character in this digi and added some Steampunk-style elements like gears instead of yellow sun ponytail holders, a large clock rather than an apartment key on a shoestring necklace, and a long coat instead of a casual vest and T-shirt.  In a direct nod to Punky Brewster, however, I kept her in jeans, left her in two pony tails with chunky bangs, mismatched her pant legs, and tied a bandanna around one of her legs.
As I am dealing with a lot of pain right now (the dental work saga continues–going back to deal with misfitting crown put in today), I haven't been able to color up the image to share a more finished look.  In the meantime, I hope you enjoy playing with her!
PS: I'll be going on vacation next week so there will be fewer posts, but I am going to try to prep a digi in advance. Fingers crossed!
Thanks for stopping by and have a great day! WOOF!