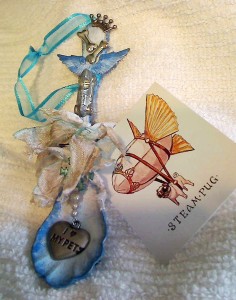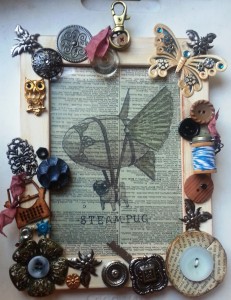 I just love Steampunk. There is something mysterious about it.  It is supposed to be modern and techie, but also retro somehow. Whatever the convoluted magic is, I am a fan. But let's be honest. It is a very intimidating style to craft. There are lots of layers, it's not "pretty" in the traditional sense, and the colors are often dark and sharp.
This top photo was my 4th and 5th attempts at Steampunk.
The first try was a frame for I made for a friend, Traci (YT: ChitownTraci) (left photo), the second was an altered spoon for my Christmas tree (right photo), and the third was a doggy-themed tag for the same tree (part of the 30 days of ornaments series) (photo below).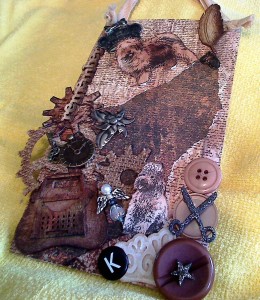 This following first video is a process video (please forgive the error on the title slate–I wrote in "Tinker Girl" when I meant "Tinker Boy"):
This second video is a share of the coordinating tag of Tinker Girl:
If you are interested in buying either Tinker Boy or Tinker Girl, they are available at
WickedDesignsbyBrenda
.
Through March 31, 2014, if you use the friend code CP15, you'll get 15% off your purchase (even sale items)!
Thanks for stopping by! Please subscribe if you wish and share with your fellow Steampunk fans!