I am super excited and honored to have been nominated in the Steampunk category of the YouTube Crafty Academy Awards. As a thank you to those who have nominated and are/will vote for me I wanted to create this special digi, "Steampunk Scarlett."  She is available for free download HERE.
If you'd like to check out the Second Annual Crafty Academy Awards and vote, please watch this YT video by Betty (YT: Scrappassion01), who is hosting this, getting so many incredibly generous sponsors, and is doing so much untold work to make this huge event a spectacular success (like it was last year), please watch this HOW TO VOTE VIDEO.
The following is a video share of this digi and some of my thought process as I was drawing and prepping Steampunk Scarlett:
The paper that I used to paper piece her dress and hat is a beautiful soft patterned paper from the My Mind's Eye "Everyday Tango" collection. The forest green with the bluish purple has a rich autumn feel to it–with a hint of Halloween dress up.  🙂  To create shadows for the folds and the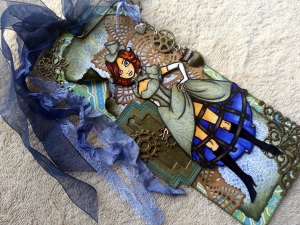 edges of the dress and hat, I used W1, 3 and 5.  For the under part of the dress, I picked up the blue from the patterned paper and used B63, 66 and 69. I am super excited about the new color combination I tried to create an auburn hair color: E97, 99 and 29. For her boots, I used W9 and 100.  Her fingerless gloves I wanted to keep looking white, but with "realistic" shading so I used W1 and 3.  Lastly, for her skin, I used E50, 51, 53 and R11.  I also used Glossy Accents for her eyes and her boots and some clear Wink of Stella for her hat and dress; a girl can never have too much shimmer! LOL
I made a Steampunk tag for a dear crafty friend using Steampunk Scarlett.  I started with a light weight chipboard that I covered using a glue stick with Graphic 45 Bohemian Bazaar paper and another patterned paper from the My Mind's Eye Everyday Tango collection. I distressed the edges and inked them up with Tim Holtz Distress Ink in forest moss. I even tore a little of the top paper and rolled it back to reveal more of that gorgeous G45 print. Then I took a kraft doily , inked the edges of that with Tim Holtz Distress Ink in walnut stain, cut it two and used it to "finish off" the background.
I wanted to keep the materials more limited to stay closer to the Steampunk style so I added only metal and some ribbons and lace.  I used a metal lock plate called "stamped geometric metal tags" from Graphic 45, a metal safety pin from which to add a chain and various small metal charms, small Tim Holtz gears, and two ornate metal flourish corners.  All the metal pieces were in the antique brass finish and were adhered using E6000.  To counter balance all the hard metal, I added pretty ribbons and laces in various hues of blue (to coordinate with the inside lining of Scarlett's dress) as a tassel for the top of the tag and a little bow at the top of the dangle.  I think the colors, the distressing, and the antique brass metals lend a luxe autumnal feel to the tag.  Finally, I fussy cut Steampunk Scarlett out (very carefully with all those tiny curls in her hair!) and popped her up on foam adhesive to match her height up with some of the metal embellishments I added to the tag background.
The video in which I share the final tag project I made with Steampunk Scarlett is below:
This tag is being entered into the Kraftin' Kimmie Wonderful Wednesday Anything Goes Challenge and
the Craft-Dee Bowz October Anything Goes with a Handmade Bow Challenge and
the Simon Says Stamp Monday Fall Challenge and
the PunkyouGirl Anything Goes Steampunk October Challenge (Winner)
A Step In The Dark Anything Goes On the Darker Side Challenge
Thanks for stopping. Please subscribe if you wish, and I hope you enjoy my free digis. WOOF!