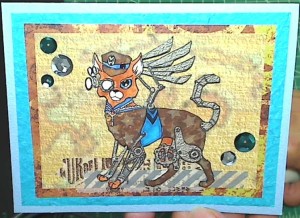 I had so much fun drawing this new digi, "Steampunk iKitty". There are lots of intricate details, but if you are a neater colorer and paper piecer than I am then you won't have to do all the intricate fussy cutting that I had to do in order to create this card.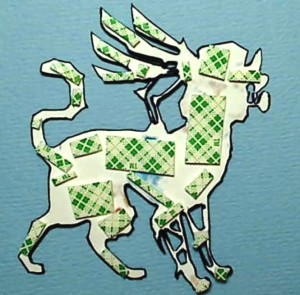 I printed out the digi 3 times. Once was on white to color with my Copics, clear star Gelly Roll pen, and Glossy Accents. The other two were on patterned papers that I used to fussy cut and paper piece the body, back legs, and the "mechanical" parts of iKitty.   HINT: Color everything first on the base white cardstock so that if you get some glue seepage from the paper piecing, the glue does not block or resist the ink.  XD
I created the card just layering on a pale blue cardstock, a beautiful handmade textured paper, and then two patterned papers that had a kind of traveler or explorer feel. After spending hours coloring, fussy cutting (inner sections had to be precision cut with an Exacto knife), edging with black marker (so you don't see the white edges of the image, including each fussy cut paper piecing piece), and gluing; I cut thin strips of foam adhesive to pop up iKitty off the background.  Just before placing him down, I also added a couple strips of washi tape for iKitty to stand on. 🙂
The inside of the card I left simple, but with a funny sentiment that I thought the young man who is receiving this card would like.  I thought a tough cat like iKitty would say something like this: "A little birdie told me that it was your birthday….  I ATE HIM." LOL!
This card is being entered into the Paper Crafting Journey Special Man Challenge
The following is a video share of this card:
Thanks for stopping by. Please subscribe if you wish, and have a great day!  WOOF