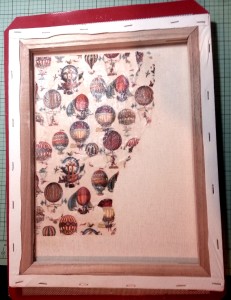 This was a multi-day Steampunk project that took as much thinking time as creation time.  I am so glad I tried this and got to use some items that I have been "hoarding" for a while. XD This was truly a "labor of love" and I love how it came out.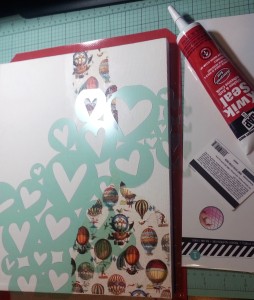 I started with a plain 11″ x 14″ canvas that I had picked up on clearance for $2 at Big Lots. Using matt finish Mod Podge
, I adhered a gorgeous napkin with a fabulous hot air balloon pattern on the front and back of the canvas (I had been saving this napkin for a special project for months). I knew I wanted to split open the canvas and fold the two sides forward to reveal the balloon pattern from the back.  The napkin picked up the canvas texture beautifully.
I then used the 12″ x 12″ Heidi Swapp Heart Cluster Stencil
and some latex caulk from the hardware store to add some heart texture to the background. Once that had dried, I kept the stencil in place and sprayed some Chromatix ink using the Ranger Tim Holtz Distress Marker Spritzer Tool
to lay down some gorgeous vibrant color.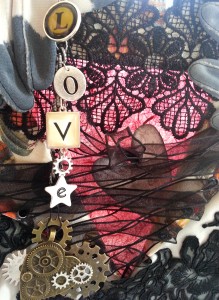 I finished off the front edges of the canvas with a ink dauber and some Tsukineko Memento Tuxedo Black ink
.  I used a hodge podge of blue and black acrylic paints to create a dark dusty blue, which I painted all along the sides of the canvas. Over top of that, I used this beautiful embroidered heart trim from MelsCraftBoutique, which started the hearts and valentines theme of the project.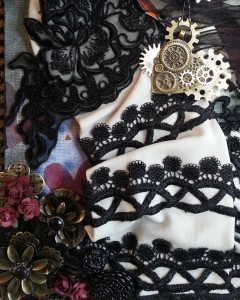 For the corseting detail of the canvas flaps, I used a We R Memory Keepers Crop-A-Dile Eyelet and Snap Punch, Blue Handle
and some black organza wired ribbon I had in my stash (I may swap this out for a thinner ribbon to reveal more of the back but haven't decided yet). For the backing of the opening I had created, I used some treasured hand made burgundy paper as well as a toile patterned paper die cut heart that had been recently gifted to me (and seemed to perfectly match the heart shapes of the stencil I had used). I thought the flaps cleverly referenced the lapels of a jacket and this area with the heart a person's chest.
I had also been hoarding some beautiful vintage white opera length gloves and thought they would be perfect for this Steampunk project once I punched them up. I used these stunning organza flower trims at the wrists and three rows of this bold and whimsical Venice lace with tassel (kind of pom pom like, but more sophisticated) up the length of each arm.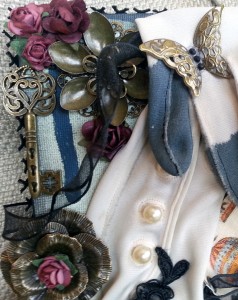 To bring in more romance, but with a metallic edge, I used various antique bronze flowers from MelsCraftBoutique as well as a butterfly from this collection for a faux ring.  I also decided to "splurge" and added this hammered gun metal chain that was once a bracelet, some Blue Moon Tokens alpha charms to spell out LOVE (I couldn't find this set again, but HERE
 is one that spells "AMORE"), and fantastic metal gear heart that I further embellished with more metal gears I had in my stash.
To soften where the metal flowers were added I also layered in a large black rose from this Venice floral trim underneath and some small mulberry paper wine colored roses above and next to the metal flowers.  I used some faceted and glittery brads (snipping off the prongs with wire cutters) to some of the flower centers to add a little sparkle as well. In the main cluster in the lower left, I also added a small fancy glass button and a gorgeous large beaded button to fill in some empty spaces and add an even more luxe look.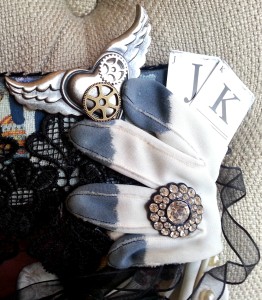 At the top of the canvas opening, I thought the raw edge was looking too bare, even though I had some of the beautiful napkin paper there. So a small segment of this gorgeous black Venice trim made a wonderful lacy topper, creating a kind of valance appearance.
With so much going on everywhere, I wondered if I should leave a kind of space for the eyes to rest and leave the glove on the right empty.  Well, I couldn't do it. LOL   I decided to tuck in J and K cards from the Alpha Cards by Tim Holtz Idea-ology
 set to represent me and my hubby as well as a metal heart with wings metal embellishment (to which I added a couple more metal gear charms) that I've been saving for that special project into the fingers.  Lastly for that WOW moment, I added a huge midnight rhinestone button as another faux cocktail ring.
The following is a video share of this project:
This altered Steampunk Valentines canvas is being entered into the Simon Says Stamp Anything Goes Wednesday Challenge
Thanks for stopping by. May 2015 bring you and yours much happiness, great health, and wonderful crafty adventures! WOOF