I have been wanting to make a name sign for my YT channel for a while now and I finally got around to it last night and today. I did it in my favorite style, Steampunk, and used some of my digis (Steampunk Barbie, Steampunk Willy, Steampunk Scarlett and McSteamy), an image from the Graphic 45 Steampunk Debutant collection, along with some gorgeous products from MelsCraftBoutique.  For my subscribers, MelsCraftBoutique is offering 10% off plus free U.S. shipping on orders of $40 or more.  Use coupon code: CraftyPaws10 at checkout.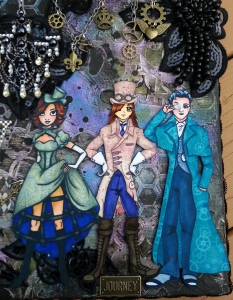 Let me back up and share the process of how I prepared the canvas. I used Liquitex gesso to prime the 11″ x 14″ canvas. After drying for a few hours, I used three different stencils and some latex caulk (purchased at the hardware store) to create a fun textured background. I let that dry overnight and in the morning I started adding color.
First I used my Tim Holtz marker spritzer and Chromatix markers (I can't bring myself to use up Copics or even Distress Markers for this) in Grape 3 and Marine 3 to create a fine misted bright color layer.  Then I took my Tim Holtz Distress Ink in Forest Moss and Walnut Stain to add some darker shades to the tops of the caulked areas.  I added even darker splatters with watered down black acrylic paint.  Lastly to really deepen the canvas base and bring out all the textures, I dry brushed on black acrylic paint. Ohhh that last step really made the background complete because it brought to bear the power of using the full range of light to dark.
The lushness of the canvas comes from the gorgeous black organza and sequin appliques from MelsCraftBoutique. There is a larger flowers one and a medium rose one.  Both are stunning. I cut them up to spread across the top and bottom of my canvas. I layered in one spray of vintage style black flowers that I also cut up to form two clusters.  Around the whole canvas edge, I painted a purple mauve base to peek through the dainty black heart design lace. That combination of colors adds a romantic Steampunk feeling. To add a little movement, I topped the right flower applique with a black beaded applique (sorry there is only a similar white version in the shop now, but Mel is going to update the shop later this week).
The Copic coloring of the Steampunk characters was relatively simple. For their skin, I used E50, 51 and 53.  Where I wanted blush, I added R20.  The gloves, which I wanted to keep "white," were colored with C1 and 3.  Metal goggles were colored with C3, 5 and 7.  Brown boots were E57 and 59.  All paper pieced clothing was shaded with W1 and 3.  Steampunk Barbies's blonde hair was Y 32, YR24 and E23.  Her blue green eyes were BG 72 and 78. Her ruffled skirt is BG70 and 72 with a top coating of clear Wink of Stella.  Her jacket is paper pieced from a patterned paper from K & Company Designer Paper. Steampunk Willy's tie and pants are BV13 adn 17 and his jacket and top hat are paper pieced from the DCWV "The Once Upon a Time" collection. The accents on his jacket are colored with V15 and 17.  His brown hair is E55, 57 and 59. For Steampunk Scarlett and McSteamy, I followed the same coloring and paper piecing as I shared HERE and HERE.
I blinged out a wood veneer chandelier (which I first painted black and then made look metallic with silver Rub 'n Buff) with black, clear, and champagne colored rhinestones.  This was a tedious and time consuming job, but the wow factor definitely made it worthwhile. I hung it from a chain, which I swagged so I could add more movement to the project and additional interest with some small antique bronze charms.
In addition to my own digis, I wanted my YT crafty name sign to include references to what I think and how I feel about crafting. My blog slogan is "remember to PAWS and enjoy the journey."  I wanted to reference that and found the perfect metal word sticker "journey" that Steampunk Willy could stand on.  The flying man from the Steampunk Debutante paper is a great expression of taking risks and exploring the unfamiliar.  The metal sticker with the arrow and the word, "explore," that I could position by the flying man was perfect. Lastly, I wanted to include a metal compass to reference traveling in different directions and hopefully to reach new crafty destinations.  Finally, I used some 7 Gypsies chipboard letters from their Venice collection, which I thought was whimsical and represented the fun that I have on my crafty adventures.
The following is a video share of this project.
This altered canvas is being entered into the following challenges:
SanDee & Amelia Steampunk November Destinations Challenge
Miriam's Crafting Blog Steampunk Challenge
Challenge Up Your Life Anything Goes Challenge
Simon Says Stamp Wednesday Anything Goes Challenge
The Aviary Paper Wings Anything Goes Challenge

Thanks for stopping by. Please subscribe if you wish, and have a great day! WOOF