We had the great blessing of being able to have a Christmastime family vacation in St. Augustine, FL this year. My sister's family, my parents, Mr. CraftyPaws and I along with our pups (unfortunately my brother's family couldn't make it) spent a week in a beachfront home and spent wonderful quality family time together.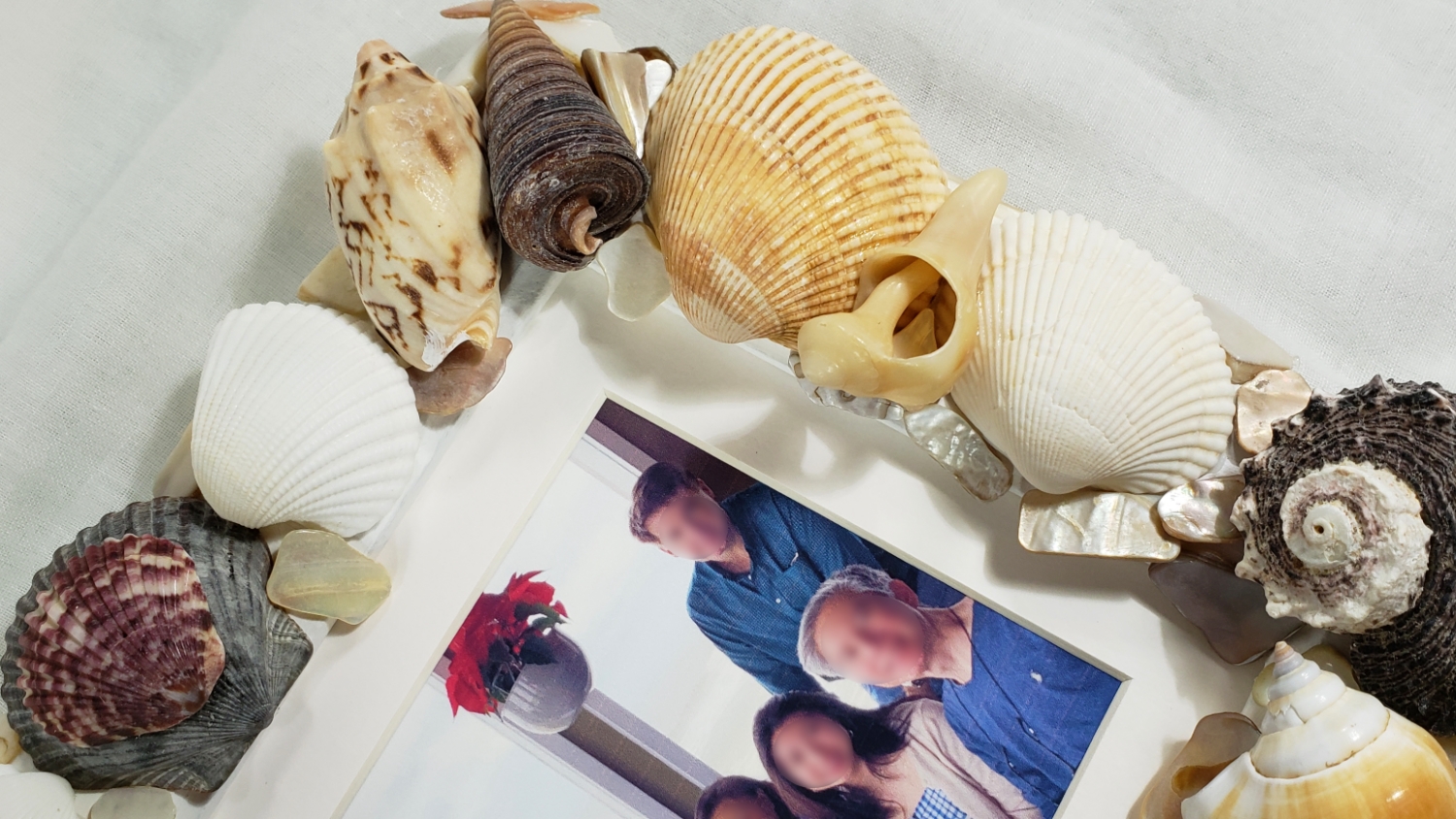 From our many walks along the beach, we picked up lots of beautiful seashells, and when I got home I knew I wanted to try something new and craft a special keepsake frame with them for my parents.  Using a spare IKEA frame, I prepped the base with some Liquitex Gesso and white acrylic paint. Then after spending some ridiculously long futzing time with the collected shells (and some supplemental craft shells from the Dollar Tree), I designed what I think turned out to be a wonderful, meaningful gift.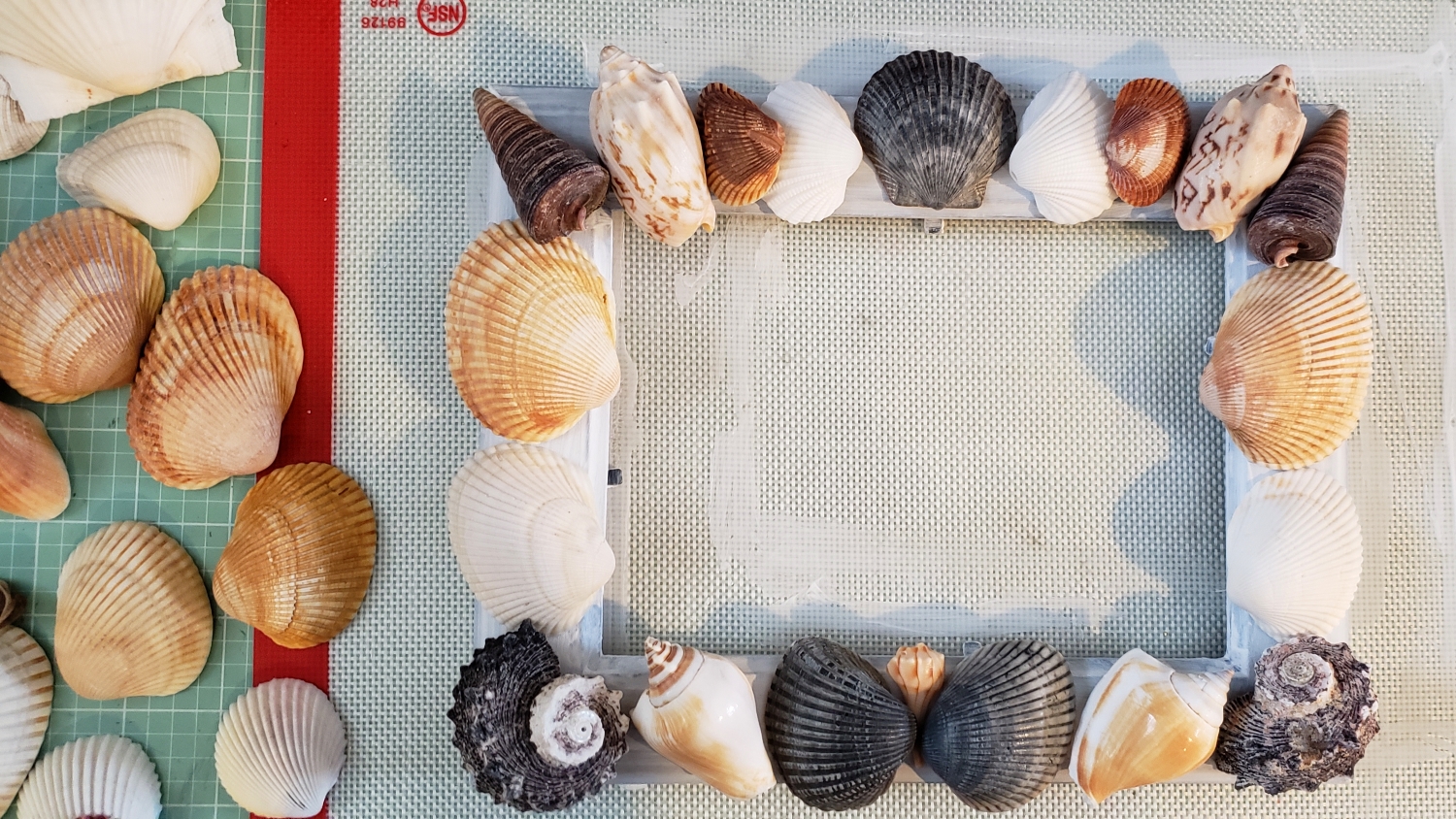 I tried various arrangements for the shells. Mostly I wanted the shells on the left and right sides of the frame to be mirror images of each other. I also wanted the biggest, roughest and dark shells in the four corners, largest on the bottom to visually weight the frame properly. Finally, I added a few unique shells from our beach combing adventures into prominent positions on the frame without regard for symmetry to highlight these special shells (each one has a little discovery story). When I was satisfied with the look, I used E6000 glue (this stuff is super strong but takes 24 hours to fully cure) to secure each piece in place.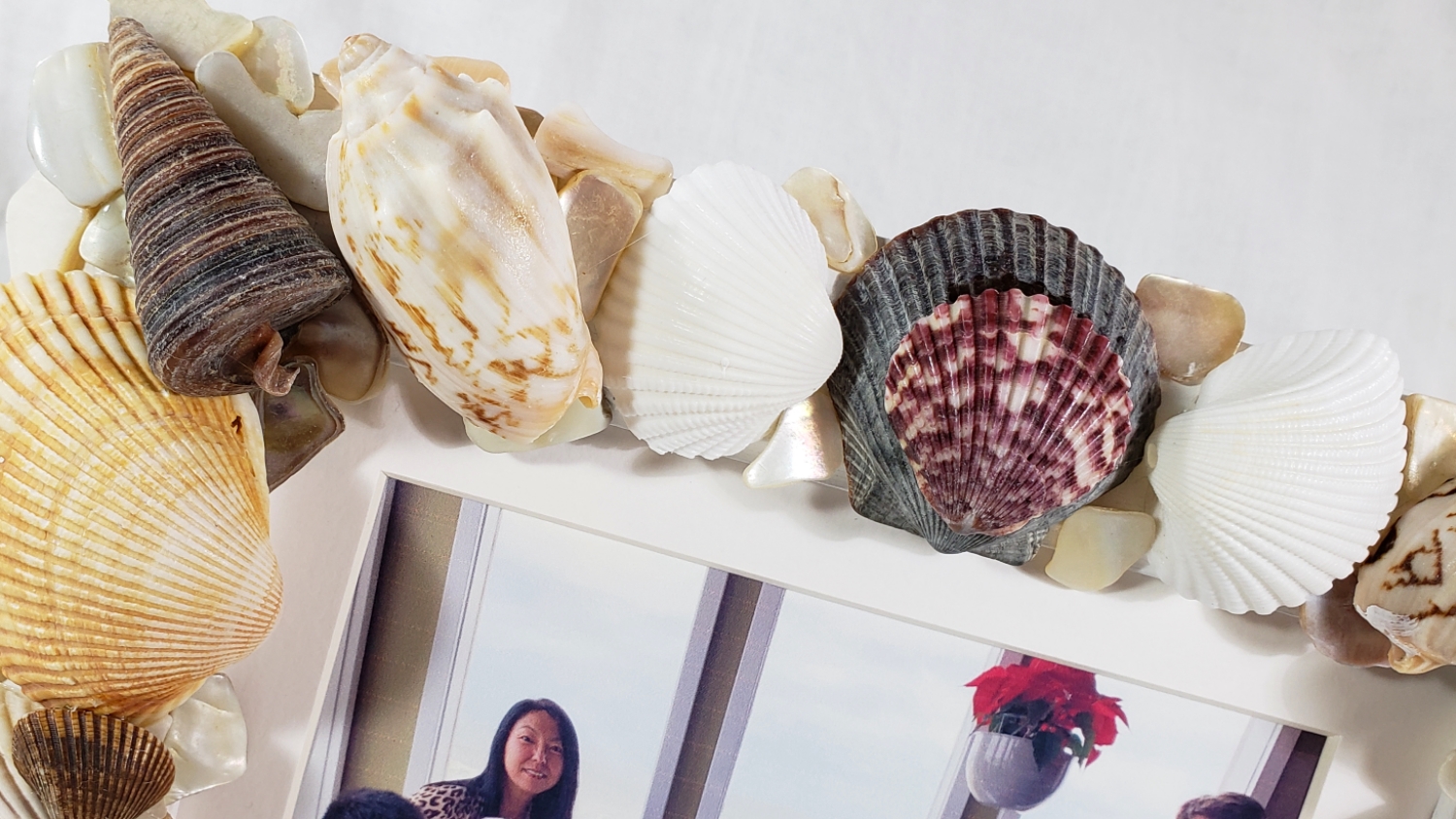 Then to fill in the gaps between the shells, I used crushed pearlized shell pieces that are sold as vase fillers. The resultant very heavy, luxe and naturally elegant frame went perfectly with the family picture we took at our Christmas lunch at The Reef Restaurant. I just gifted this to my parents (today is 3 days after our return home from this vacation), and they both got teary eyed and seemed to really be moved. While this is a small, inexpensive new year's gift, it truly comes from the heart, and their reaction showed me that it was what they wanted more than any of the extravagant gifts we gave them for Christmas.
The following is a process video of crafting this seashell frame:
This keepsake frame is being entered into the following challenges:
Simon Says Stamp Wednesday Something New Challenge
Word Art Wednesday Anything Goes Challenge
Creatalicious Anything Goes with Optional Something New Challenge
Simon Says Stamp Work it Wednesday Try Something New Challenge
Lil Patch of Crafty Friends Anything Goes Challenge
ABC Christmas Challenge – A is for Anything Christmas Goes
Through the Craft Room Door Anything Goes Challenge
Crafts Galore Encore Anything Goes Challenge
The Corrosive Challenge Anything Goes