A lovely crafty lady (YT: Justine Stone) is hosting a challenge in honor of her mother and to support the ICU ward where her mother had received care.  It is always a wonderful feeling to be able to share crafty projects for a good cause so when I heard about this, I jumped on it.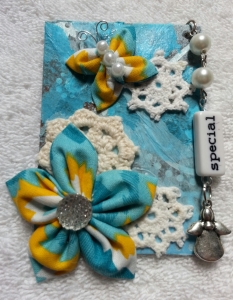 The ATC I made started from the last of the bases I made a couple of weeks ago. I liked the paper I used, but it seemed to CAS for the mood I was in. I decided to alter it with a little tissue paper layering technique. I covered it with bits of pale blue and aqua tissue paper that some gifts had been wrapped in. I love being able to upcycle in crafty projects too. I used an old paint brush to apply thin coats of Liquitex gel medium to adhere the tissue and it seemed to work fabulously (no buckling or warping). This added layer softened and lightened the colors of the patterned paper but still let the metallic silver bits shine through.
Then I rummaged through my stash of flowers and came across these beautiful fabric flowers and butterflies that were made for me by my friend, Jackie (YT: JKolbe). The colors of these pieces matched perfectly the hue of the tissue paper. I was off to the races. She had also gifted me a few word tiles/beads and a little angel charm. Ahh everything seemed to come together like magic. I layered in some small crochet doilies from a crafty friend (YT: Terese Renken) to soften the background wile adding some more texture. All the fabric pieces I adhered using Fabri-Tac (which dries relatively quickly and is great with absorbent materials).  I picked out a couple of pearl beads from a doodad bag from my friend Stephanie (YT: 2muchhurt), and attached everything with my jewelry wire and pliers after punching a small hole with my new Crop-A-Dile from We Are Memory Keepers (I picked this up at Michaels with a 50% off coupon yesterday for $15–woot woot!).
To accompany this ATC I also picked up some puzzle books as small gifts for folks who have to spend a lot of time in the ICU. I also had a little composition book so I added some sweet pom pom trim, some crochet lace, and a beautiful ribbon/flower cluster that had been on a cute package from my Canadian crafty friend, Cheryl (YT: delygirl1961) (I wanted this to be pretty but practical/not too bulky). I figured these things might help the family members or care givers pass the time in the ICU.
The following is a share of the ATC I made:
The ATC and the layering of tissue paper on it is my entry into the Simon Says Stamp Monday Techniques Challenge
Thanks for stopping by. I hope you are having a great day. WOOF!