A sweet crafty friend (YT: Gracie21) is not well enough to travel to visit her grandmother who is turning 99 in South Korea. Inspired by the challenges I've hosted for my grandmother-in-law when she turned 99 and 100, Gracie has asked her crafty friends to make handmade cards for her grandmother.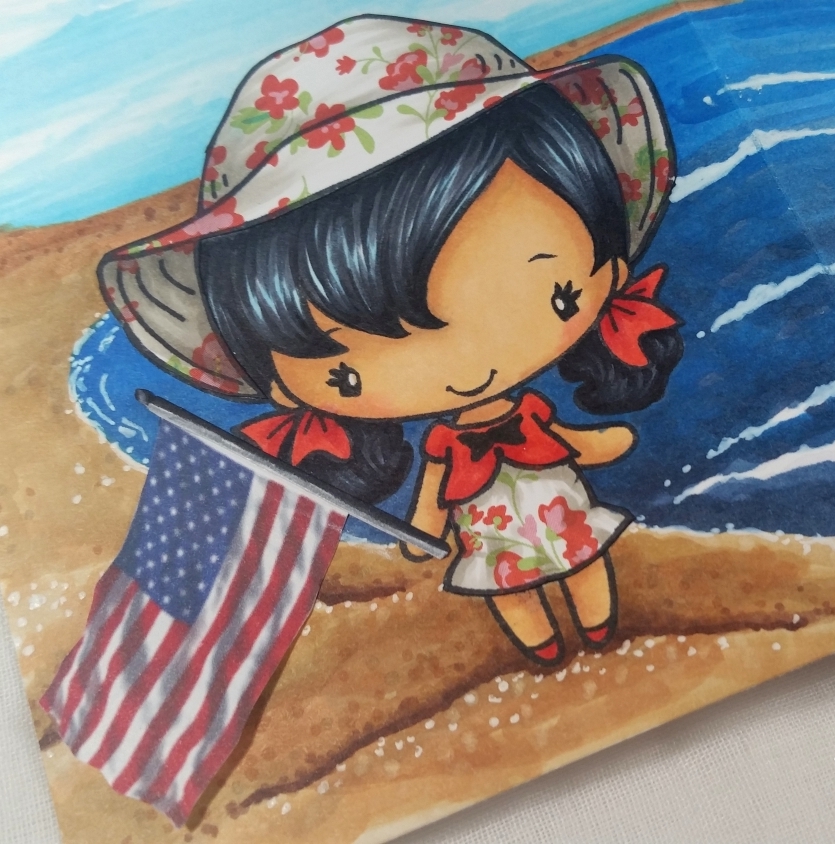 Well, of course I wanted to make a special card so I decided to create patriotic and summer beach-y scene card with a cutie representing my friend who lives in the U.S. on one side a senior cutie representing her grandmother on the other side.
I printed out U.S. and South Korean flags from my computer and fussy cut them out so the ladies could each hold a flag showing where they are. I glued down the staffs and popped up the ends of the flags with double side foam dots for a bit of dimension (I don't want too much dimension since this will have to be mailed to South Korea).
While an ocean separates them, they are joined in love. The sentiment is stamped out with Hangul alpha stamps, and says "Congratulations!" and "I love you!" in Korean. I doodled some wonky hearts with a Black Copic Multiliner Pen in 0.03 and 0.1 pt to fill out the off-kilter sentiments (the Hangul alpha stamps are very blocky and had a childish crooked look so I thought these hearts added to that free spirit).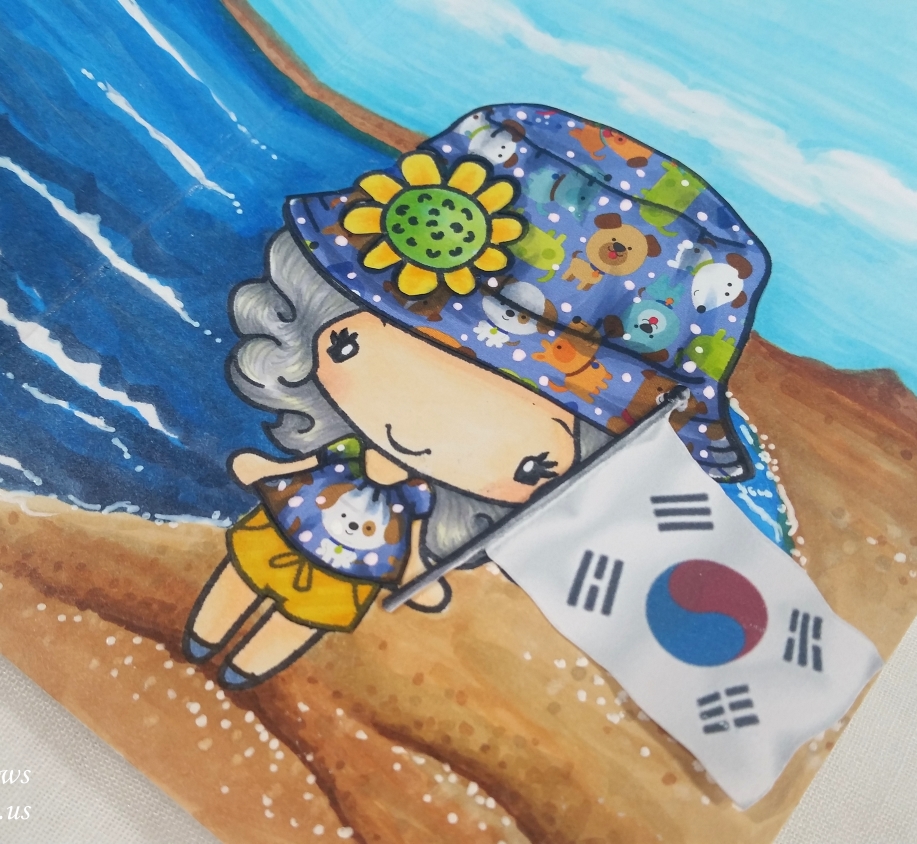 I Copic colored the ladies, who are from The Greeting Farm's "Sunny Kit", and I paper pieced their hats and outfits with papers from American Crafts "Spring" collection and the Doodlebug Designs "Puppy Love" collection. For the puppy paper, I also added some white Gel Pen dots to brighten up the patterned paper a bit. I used the following Copic colors:
Young girl: Hair: B01, C7 and C9; Skin: E51, E21, E53, E11 and R20; Bows and jacket: R14 and R27; Shading on paper pieced hat and dress: W1, W3 and W5
Senior lady: Hair: Y00, W1, W3 and Warm Gray Copic Multiliner Pen for detailed strands; Skin: E00, E50, E51, and R30; Shading for Hat and top: B45, C3, and C5
As you may have noticed, I slightly altered the stamped images to remove the bare midriff of the younger girl and eliminate the stripes and adding short sleeves for the older lady. Since this is a birthday card for a 99 year old, I thought making the outfits a bit more modest would be the way to go. 🙂
For the scene, I used lots of Copic colors to create two coasts for the ladies to stand on, an ocean to separate them, and a sky that connects them all together. These are the colors I used: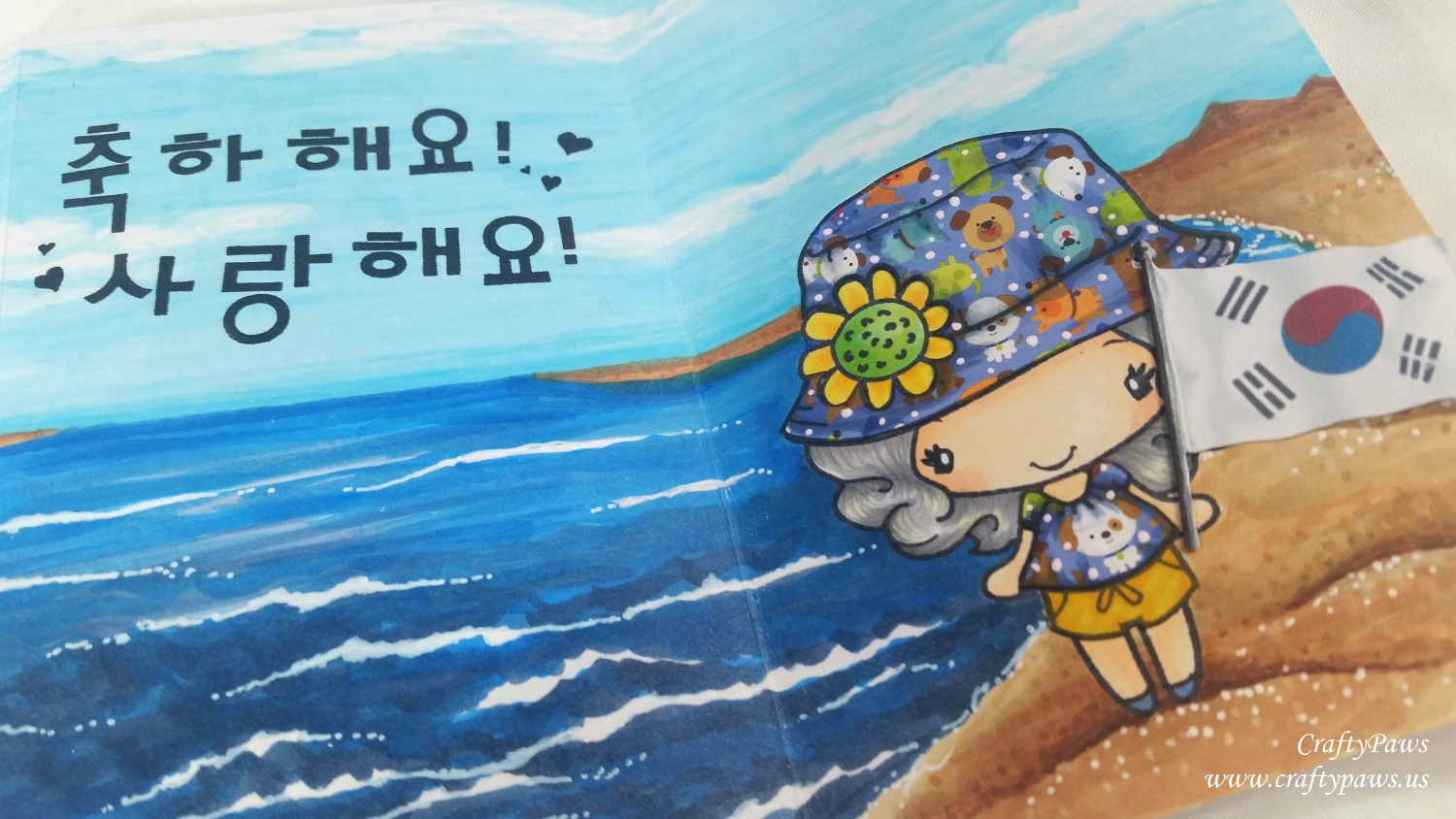 Coasts: E31, E33, E41, E43, E55, E25 and Stabilo Uni-ball White Gel Pen for extra highlight dots for sandy texture
Ocean: B93, B06, B95, B97, B99 with the bare white card stock and added Stabilo Uni-ball White Gel Pen highlights for the foaming waves
Sky: Bare white card stock left for clouds and B000, B00 and B01
The following is a video sharing the card and includes a tutorial on how to paper piece stamped images with patterned paper:
This special birthday card is being entered into the following challenges:
The Greeting Farm Farm Fresh Summer Fun Challenge
Simon Says Stamp Work It Wednesday Summer Challenge
Simon Says Stamp Wednesday Anything Goes Challenge
Creatalicious Anything Goes Challenge with Optional Red White and Blue
Word Art Wednesday Anything Goes Challenge
Through the Craft Room Door Anything Goes Challenge
Crafty Gals Corner Anything Goes Challenge
MarkerPOP Summer Fun Challenge