It came to me a few nights ago when I was thinking about what card I could make next. Everything on the news has been about Covid-19 and so it was natural to think about cards for front line workers (like medical personnel, postal workers, grocery store employees or truckers). Then it came to me. I remembered there was a super cute little girl with arms fully outstretched in the Mama Elephant "In My Heart" stamp set from 6 years ago. It could be perfect for indicating #sixfeetapart social distancing!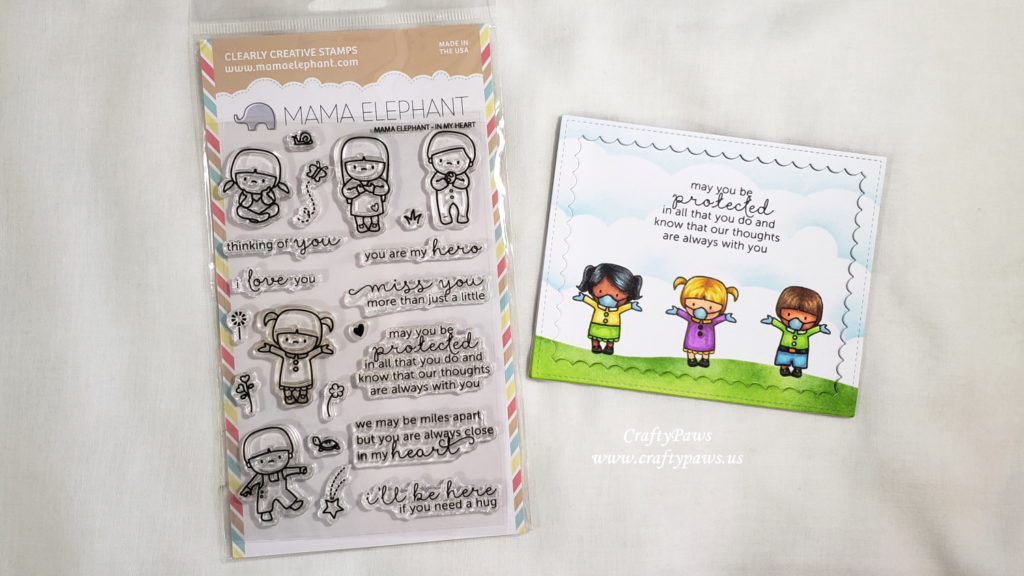 When I pulled the stamp set out, I realized there were amazingly appropriate sentiments in the set too. For my card, I used, "may you be protected in all that you do and know that our thoughts are always with you" (I mean how perfect is that for the times right now?). For the inside liner, I also used: "you are my hero".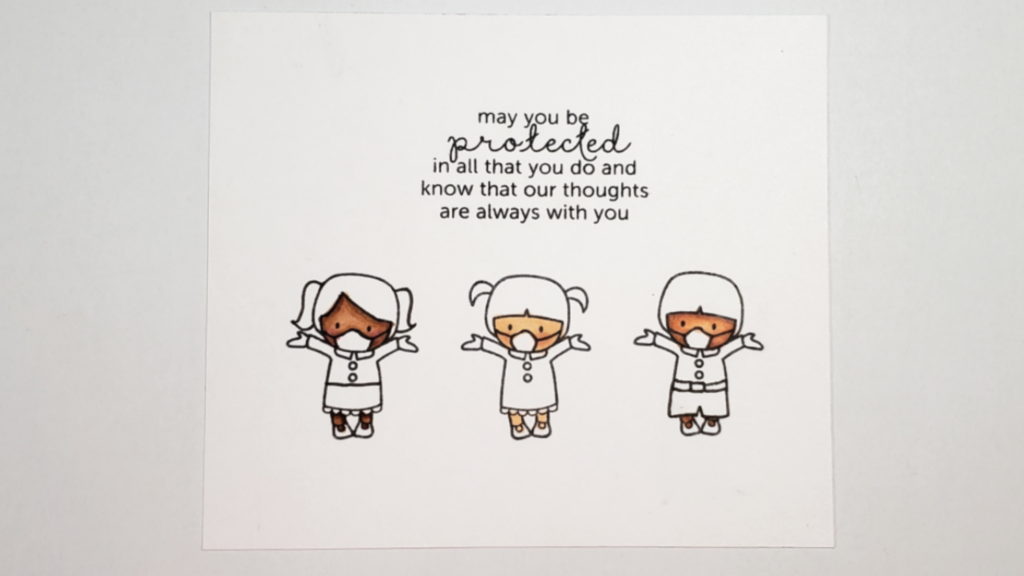 I masked off certain parts of the little girl stamp with bits of washi tape, inked up the stamp, removed the washi bits, and stamped out 3 kiddos! Then I used a 0.1 pt Copic Multiliner Pen to doodle on some changes to the kids' hair, clothes and added masks! I also colored up and fussy cut out another girl from the stamp set (the one grasping her chest) to decorate the inside liner.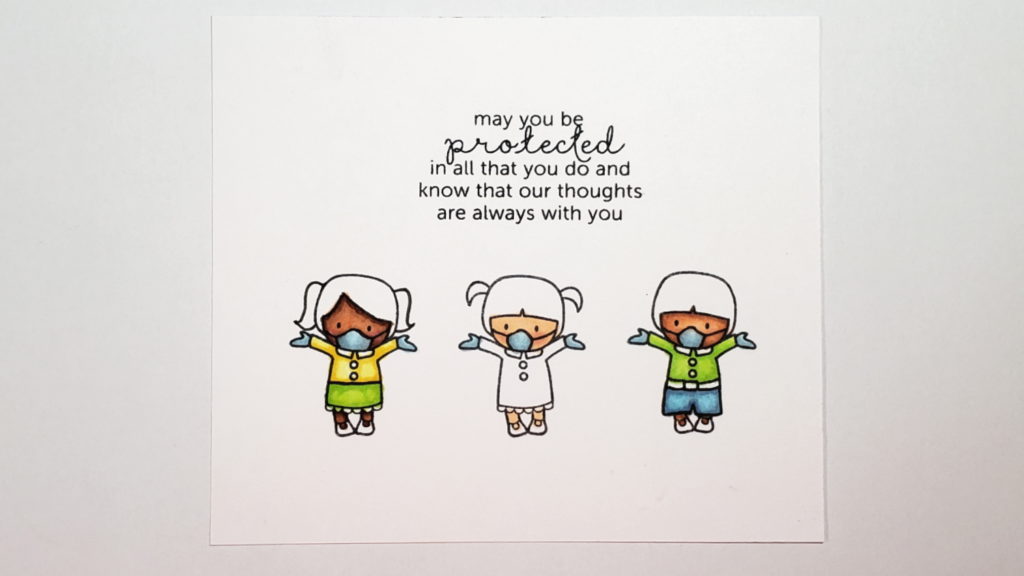 Then I used the following Copic colors to bring the kiddos to life. Note that I used different color combinations for the skin tones because I wanted to represent the human rainbow of our front line heroes and bright spring colors for the clothes to suggest hope and life for the future:
Girl in Skirt: Skin: E11, E13, E25 and RV34 (blush); Top: Y11, Y15, N1 (collar) and YG05 (buttons); Skirt: YG01, YG03 and YG05; Hair: B01, N6 and N9
Girl in Dress: Skin: E00, E01 and R20 (blush); Dress: Y15, V04 and V06; Hair: Y11, Y15 and YR24
Boy in Pants: Skin: E01, E02, E11, E13 and R20 (blush); Top: YG01, YG03, YG05 and N1 (collar); Pants: B00, B52 and B45; Belt: YR16, N6 and N9; Hair: E55, E57 and E59
Masks and Gloves: N1, B00 and B52
All Shoes: N6 and N9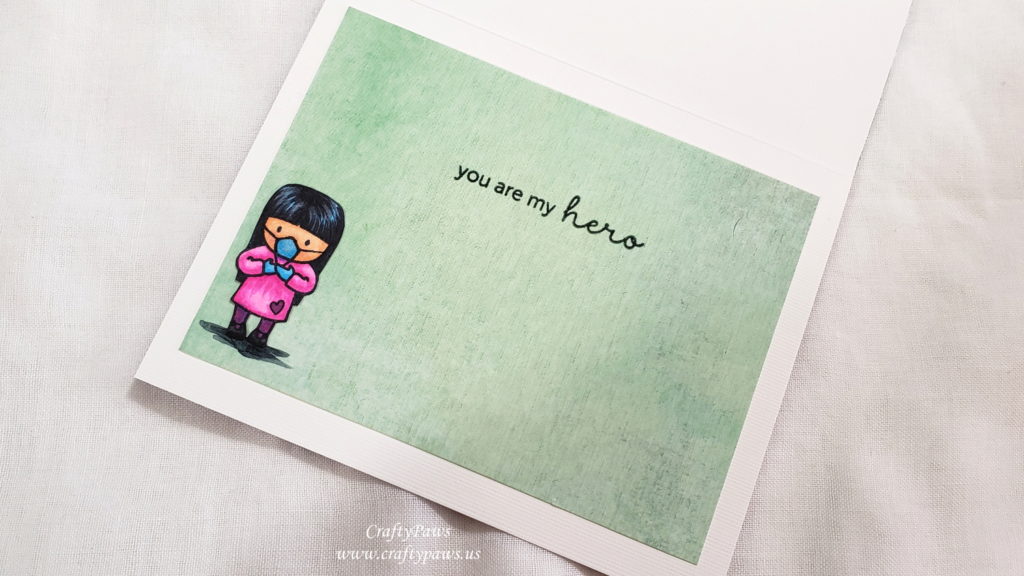 Girl with Long Hair (on inside liner): Skin: E01, E02 and R20 (blush); Hair: B02, C4, C6 and C8; Dress: RV02, RV04, RV06 and V06 (heart); Tights: V06 and V17; Mask and Gloves: B02 and B04
The backgound sky was made with a My Favorites Things Cloud Stencil and some Tim Holtz Distress Ink in Tumbled Glass blended on. The grass/ground was made against a simple homemade stencil and Tim Holtz Distress Ink In Twisted Citron and Mowed Lawn. I was just careful to lighten the blending around the sentiment and the kids' feet since I was too lazy to make masks. 😀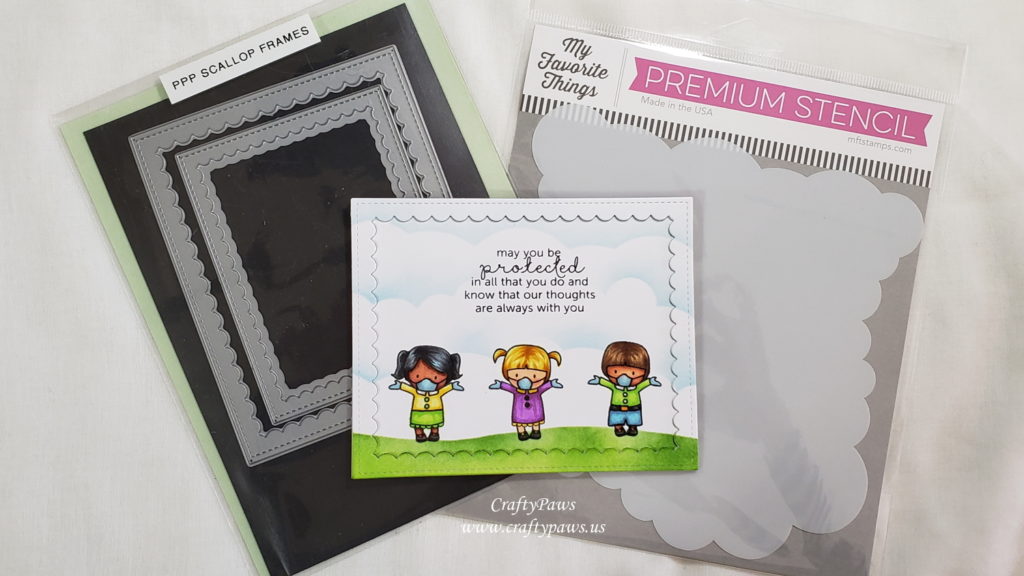 To add a little dimension to this otherwise single layer card, but keep it looking crisp and simple in the style of the stamps, I used the large Pretty Pink Posh Scallop Frames die. I cut the scallop frame 4 additional times from card stock scraps and stacked them under the finished card front frame. I love how that came out looking more "finished" while not distracting or cluttering the general CAS style.
CLICK on the photo below to watch my process video: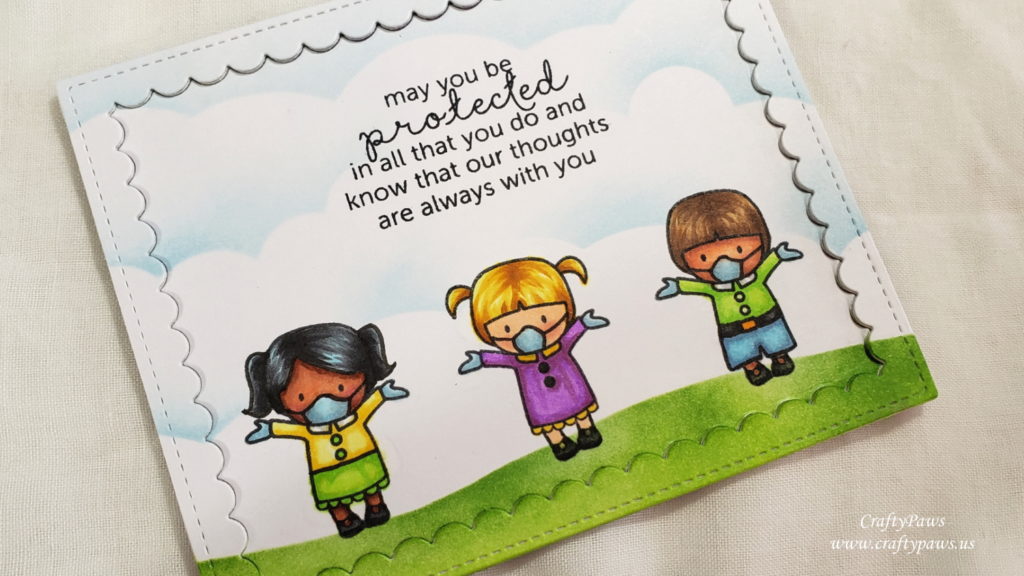 Disclosure: Many of the supplies I've used for today's project are linked. Some may be affiliate links, which means if you make a purchase I receive a small commission at no extra cost to you. I truly appreciate your support toward the costs of running this blog!
This card is being entered into the following challenges:
Crafts Galore Encore Anything Goes Challenge
Crafty Gals Corner Easter/Spring Challenge
Creatalicious Anything Goes with Optional Wedding Challenge
Word Art Wednesday Anything Goes Challenge
Penny Black and More Anything Goes Challenge
Simon Says Stamp Wednesday Mood Board Challenge